U.S. Apartment Rent Growth Streak Reaches 34 Quarters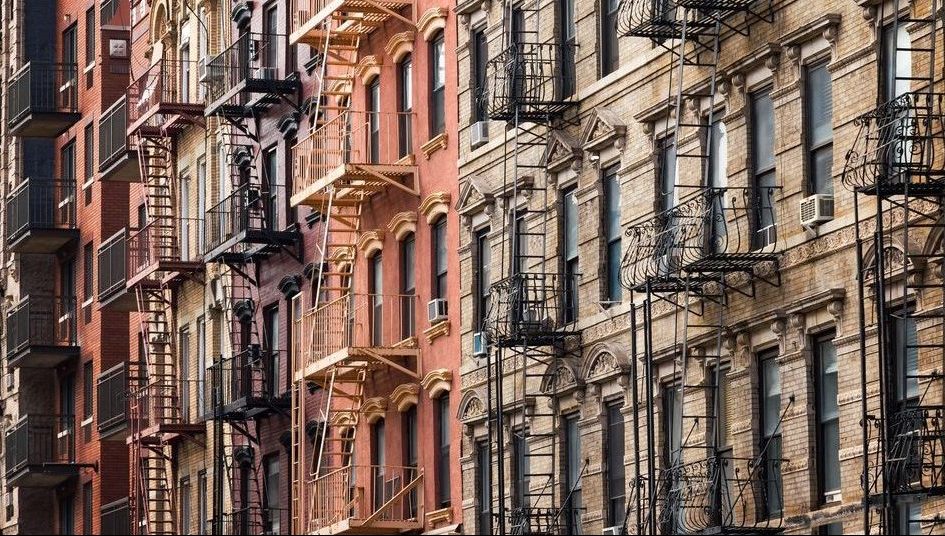 U.S. apartment rents for new-resident leases climbed 3.3% in 2018. Pricing power realized by property owners and operators gained some momentum during the last half of the year, after the annual rent growth pace had hovered around 2.7% from early 2017 through the middle of 2018.
Rent growth strengthened despite the continuation of big deliveries. New supply totaled some 287,000 units in 2018, sustaining the run of completions near the 300,000-unit mark for a third consecutive year.
Taking a step back to examine the bigger picture, apartment rents now have been rising on an annual basis for 34 quarters – eight and a half years! One of the key characteristics of this apartment cycle is simply its length. Adding up those rent increases logged quarter after quarter after quarter, today's rents are up a third from the prices recorded at the beginning of the cycle.
The nation's average monthly rent has reached $1,353.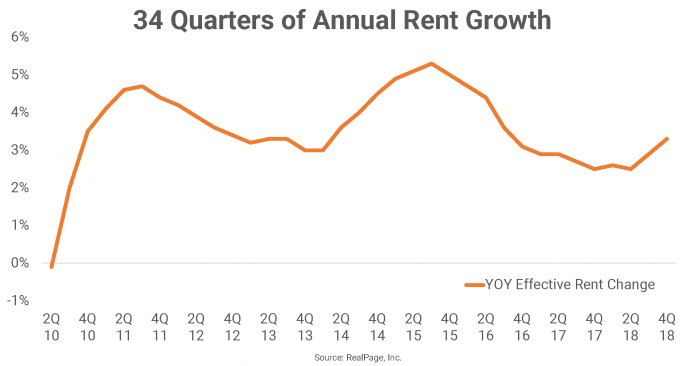 While sizable apartment rent growth registers across all types of apartments during this cycle, performances are especially noteworthy among properties in the middle tier to lower end of the quality spectrum.
Influencing the performances of middle-tier Class B properties, the extremely high prices of this cycle's luxury Class A deliveries have left lots of room to push rents in the Class B sector. Indeed, in many cases, it has been possible to do Class B product upgrades that drive rents higher, while still leaving lots of room between prices in the Class A and B stocks.
Nationally, there remains an average difference of nearly $500 in monthly rents for Class A versus Class B product, although that gap can be as small as $200 or so in some individual metros.
Turning to the lower-end Class C segment, rent growth in this cycle has been fueled by drastic tightening in occupancy. The big price increases that have occurred in the Class B stock mean that more and more households now can only afford the lesser-quality Class C properties. The country's Class C apartment occupancy rate of 95.9% is the tightest in any product niche, and there are essentially no vacant Class C apartment units in some metros.
While minimal availability of Class C apartments long has been the norm in expensive gateway metros, extremely tight occupancy at the bottom end of the product spectrum is new in much of the rest of the country, especially historically more affordable metros in Sun Belt locations across the Southeast and in Texas.
Pricing power in Class C product will be interesting to watch as this apartment market cycle continues to evolve. Rent-to-income ratios in Class C properties tend to be high, so there is a ceiling on what today's Class C apartment residents can afford to pay.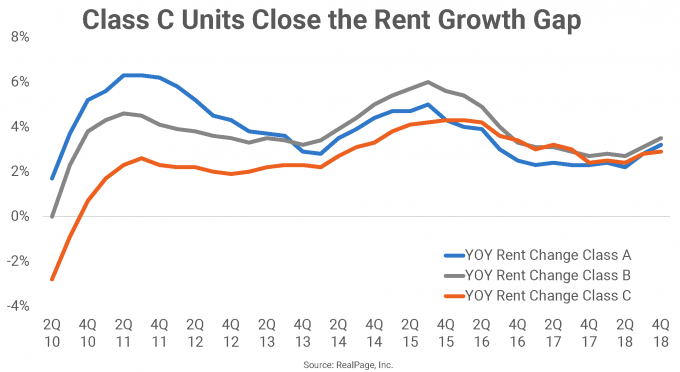 The long period of sustained rent growth in the country's apartment stock obviously has been supported in part by the length of the current economic cycle. As with annual apartment rent change, annual job change has been in positive territory since the last half of 2010. This is the second-longest expansion posted in the nation's history. The streak of year-over-year job additions will hit an all-time record in July, if expansion continues for a few more months.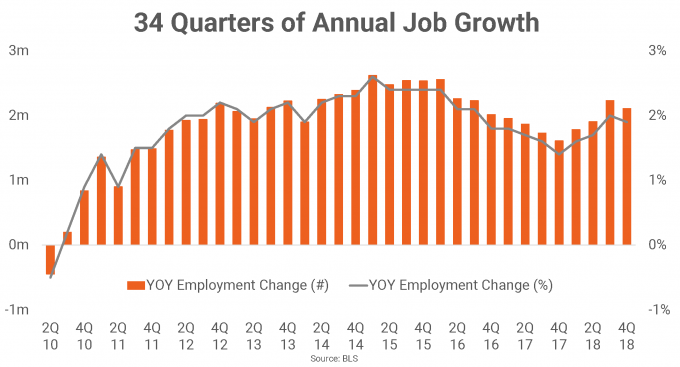 RealPage forecasts call for U.S. apartment rent growth to continue throughout the near term, although at a mildly slower pace than has been realized of late. For an overview of these expectations, visit our 2019 Apartment Market Outlook webcast.