U.S. Apartment Occupancy Holds Up as Rent Performance Split Among Markets Widens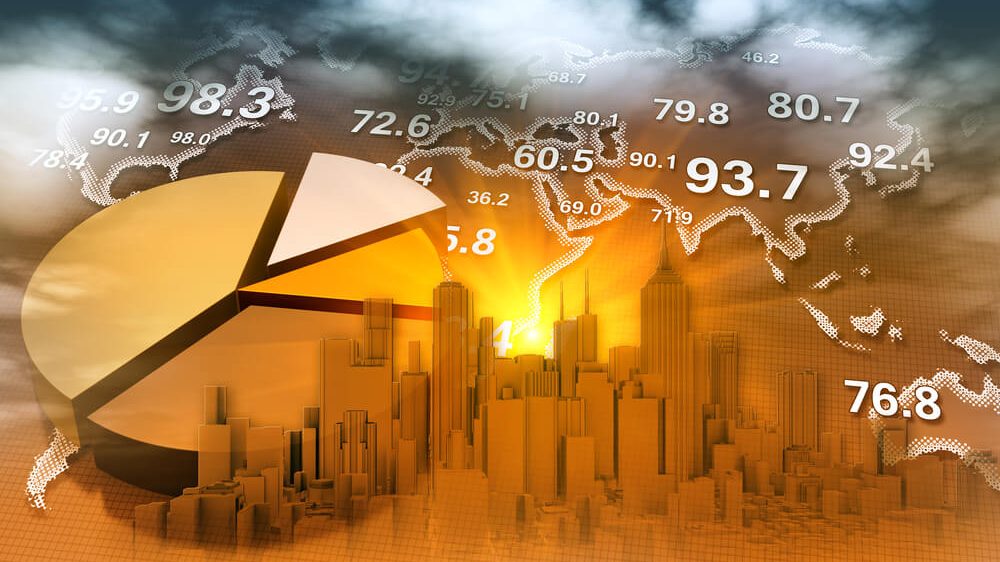 Though occupancy held up, U.S. apartment rents continued to decline in November as the divergence in performance widened among individual local markets.
In the year-ending November, effective asking rents fell 1.1%, a slight improvement over October's decline of 1.3%. Performance across the nation's 150 largest apartment markets continues to split, with the nation's poorest performances found in large gateway markets while markets that have seen limited new construction in recent years maintain relative strength.
Performances range from year-over-year growth of 8.5% in the Los Angeles-adjacent Riverside to a cut of 30.3% in the West Texas market of Midland/Odessa. However, more markets are raising rents than not, as growth registered in 115 of the 150 largest metros in November. The overall U.S. rent performance was dragged down by severe cuts in the nation's biggest metros.
The nation's average price is now $1,408 per month.
Smaller Markets Better Insulated from New Supply and Economic Turmoil
While the U.S. averaged rent cuts of 1.1% annually, one-third of markets notched increases of 4% or more. Only seven of those high performers were large markets with more than 100,000 existing units. The remaining 42 were smaller markets.
Smaller markets generally have two factors working for them. For one thing, these markets are less dependent on the tourism and hospitality workforce that has been hit so hard in the pandemic. Second, these markets have seen much lower levels of construction. In fact, only about 15% of all new supply built in the U.S. since 2015 has gone to these smaller markets. And small markets make up only about 13% of the total units currently under construction across the country.
Fayetteville, NC; Grand Rapids, MI; Boise City, ID and Stockton, CA all saw rents grow between 8% and 9% in the year-ending November. Another seven markets including Flint, MI; Huntsville, AL; Fresno, CA; Johnson City, TN; Allentown, PA; Albuquerque, NM and Mobile, AL saw rents grow between 7% and 8% in November.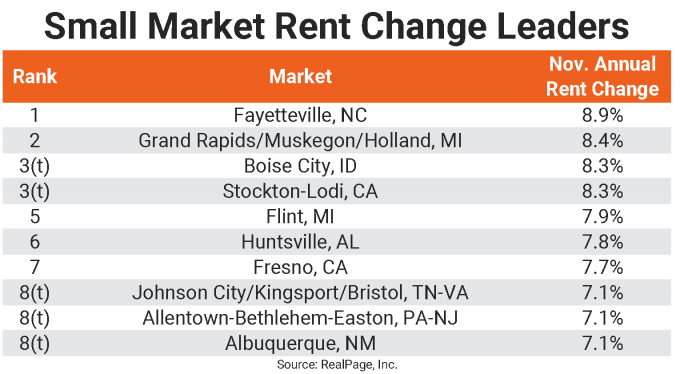 Some large markets that were among the nation's top performers for rent growth pre-pandemic have managed to either maintain or regain momentum. This list includes Phoenix, Memphis and Las Vegas.
Alternatively, the ranking of top-performing markets includes some newcomers that have seen increased pricing power since March, most notably Virginia Beach, Detroit and Providence.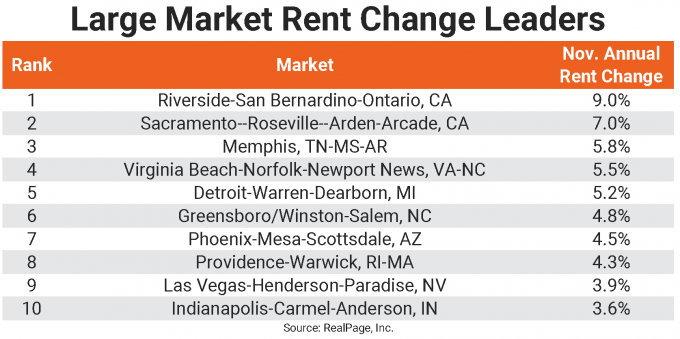 Similar to top-performing small markets, these larger markets have seen limited new deliveries of late. All but Phoenix has experienced a smaller total inventory growth rate since 2015 than the U.S. overall (10%). Among the top five performers for rent growth, only Virginia Beach has seen total inventory growth exceed 5% since 2015.
Gateway Markets Feeling the Most Pain
A ranking of the apartment markets with the steepest rent cuts in November reads like a laundry list of markets that have historically been seen as the most attractive. These markets generally have the priciest rents in the country and are experiencing a pronounced spike in resident churn as many renter households in major downtowns around the nation dissolve.
San Francisco reached a new low of 20% annual effective rent cuts in November, closely followed by New York, San Jose, Boston and Los Angeles.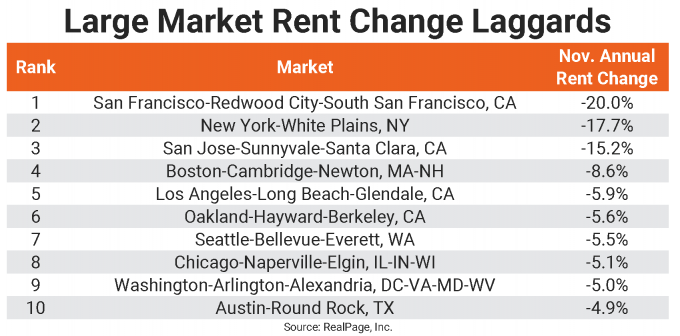 In an improvement from October, only 32 of the nation's 150 largest apartment markets cut rents on an annual basis in November, down from 41 in October. As has been the case for months, Class A rents are weighing down overall rent performance. In November, Class A rents were cut 2.1% annually, compared to much milder cuts of 0.9% in Class B units and 0.5% in Class C units.
The West Texas oil-dependent market of Midland/Odessa still claims the undesirable accolade as home to the steepest rent cuts in the nation at 29.1%, though that rate is a slight improvement over October's decline of 31.8%. Except for Midland/Odessa's poor showing, few small markets reported major rent cuts in November.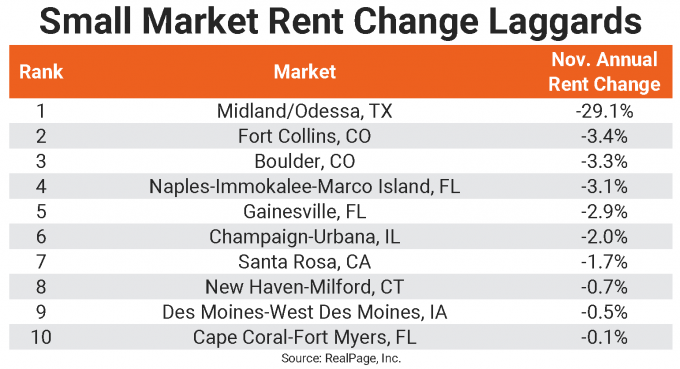 Occupancy Remains A Bright Spot
Nationwide, apartment occupancy maintains stability. At 95.7%, November's rate is unchanged from both the month-ago and year-ago figures. About half of the nation's 150 largest markets report a bump in occupancy from last month, despite the end of prime leasing season. And nearly two-thirds of markets report a bump in occupancy from last November, though this trend is almost exclusively in small markets.
Effective rent change isn't the only metric where Class A units are dragging down overall performance. Occupancy is weakest in Class A units, registering at 94.6% in November. Class B units were 95.8% full and Class C units were 96.3% full in November.