Already High U.S. Occupancy Keeps Climbing in August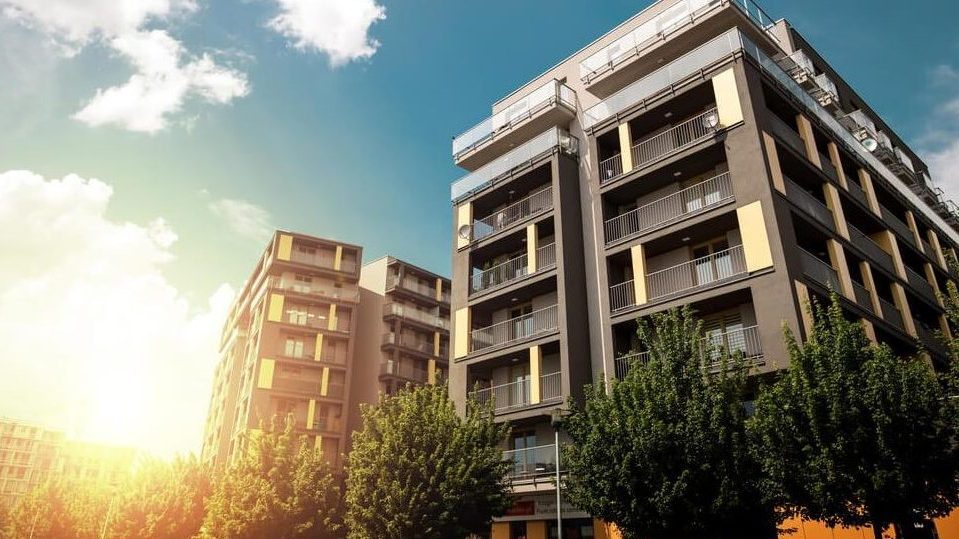 Posted September 10, 2019
U.S. apartment occupancy continues to climb, and strength among major markets is nearly universal. But while rent growth is holding steady around 3% in the nation overall, there are some big shifts in performance among individual markets in August.
The nation's 150 largest apartment markets averaged occupancy of 96.3% in August, the best rate since the height of the tech boom in 2000. August marks the seventh consecutive month of the current occupancy uptrend.
August's rate was up 10 basis points (bps) from July and 40 bps from a year earlier. All four regions of the country saw occupancy strengthen on both a monthly and annual basis, leaving rates at 97.1% in the Northeast, 96.6% in the West, 96.5% in the Midwest and 95.7% in the South.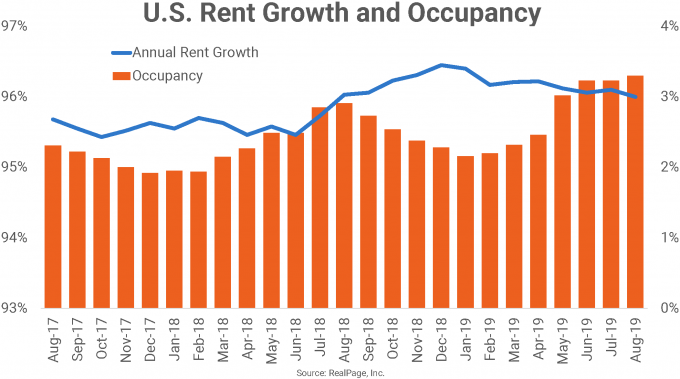 Among the 50 largest U.S. apartment markets, only eight saw occupancy weaken from August 2018. In turn, only three major markets posted occupancy below 95%, what is considered effectively full, and none of those three have occupancy below 94%. Conversely, nine major markets posted occupancy greater than 97% in August.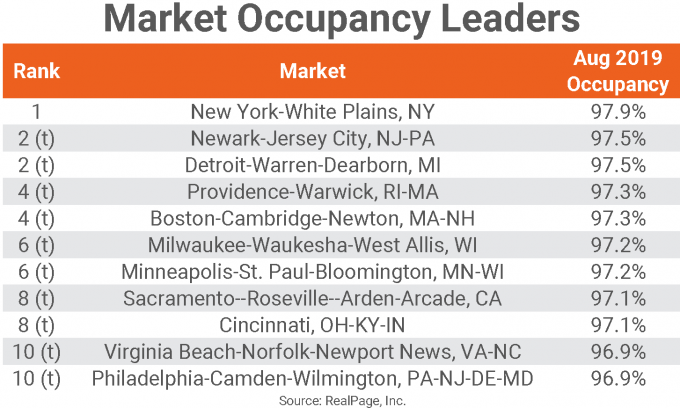 August also marked the 12th consecutive month that annual rent growth stood at or above 3%. Rent growth hasn't remained above that mark for this long since 2016. Across the U.S., monthly rents average $1,418.
The nation's top 10 rent growth leaders shuffled around quite a bit from July, though it includes only one newcomer. Phoenix (8.2%) outpaced Las Vegas (7.5%) to take the top spot for annual rent growth.
The North Carolina markets of Raleigh/Durham (5.4%), Greensboro/Winston-Salem (5.2%) and Charlotte (4.6%) all made top 10 showings. And of note, Memphis (4.1%) replaced Atlanta (4.0%) as the #10 spot.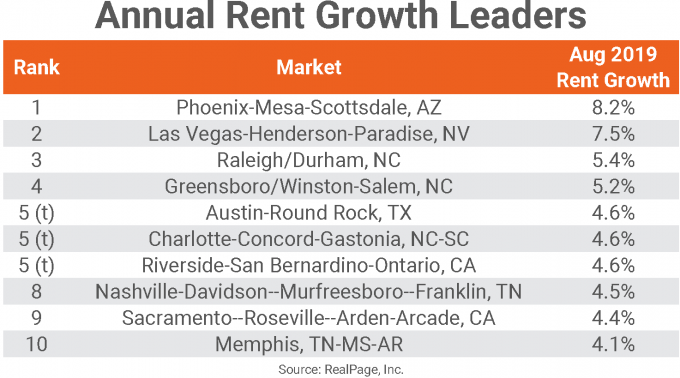 In terms of momentum, 33 major markets saw annual rent growth accelerate from year-ago levels, with the largest positive shifts seen in several Midwest markets and a handful of Southeast markets that have received a lot of new apartment supply this cycle – particularly in North Carolina.
Conversely, slowing rent growth was seen almost across the board in Florida and California.
St. Louis saw the most acceleration in rent growth in August. Rents in the Missouri market rose 4.0% in the past 12 months, well above the 0.5% annual increase recorded in August 2018.
In fellow Rust Belt market Milwaukee, the 3.7% rent growth was up from 1.6% a year ago. Other notable shifts in these large, post-industrial markets include Philadelphia, Cincinnati, Pittsburgh and Chicago, each of which saw the pace of rent growth increase 50 bps to 150 bps.
Raleigh/Durham saw the nation's second largest increase in momentum, as the 5.4% annual increase there was up from 2.5% in August 2018. Fellow North Carolina markets Charlotte and Greensboro/Winston-Salem also saw notable acceleration.
Nashville, another high-development market, recorded rent growth up 200 bps from a year ago.
Several Florida markets lost steam in the past year. The biggest slowdown occurred in Orlando, as the Central Florida market couldn't repeat the steep 6.5% growth from August 2018. Rents there rose 2.7% in the year-ending August 2019. Rent growth also tumbled in Tampa, Jacksonville and Miami.
California's Bay Area saw rent growth ease, with San Jose and San Francisco landlords pulling back on increases in the past year. Oakland operators held prices steady year-over-year.
Price growth was cut in half in both Los Angeles and San Diego, each of which recorded rent growth of less than 2% in the year-ending August 2019.