Making Life A Little Easier For You
Paying Your Rent: How to?
Utility Bill Payment Portals
Paying your rent and utilities online is a faster and safer way to take care of your obligations. Not sure which portal you should use? Simply match the images to your bills.
ClickPay ®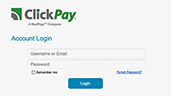 Frequently Asked Questions
If you have COVID-19 or CARES Act related questions, reach out directly to your property for guidance.
How Can I Pay Rent Using eMoney Order?
First simply find a
local participating retailer
, call ahead, and bring cast to complete your rent payment. Download the instruction PDF below for more details.
Can the Convenience Fee be Waived?
For SimpleBills and RealPage Utility Management, convenience fees are not being waived at this time.
How Do I Set Up Automatic Payments?
Setting up automatic rent and utility payments just takes a few minutes to set up. Simply log in to your respective portal and find the Payments option to get set up.
Paying Your Rent: How to?
Related Downloads
Explore and download these related solution fact sheets.
ActiveBuilding Resident Portal
Helping Communities Connect
Book amenities, pay online, turn on utilities and even request maintenance. It's all a snap and totally secure.