Young Couples Tend to Rent Larger Units and Own More Pets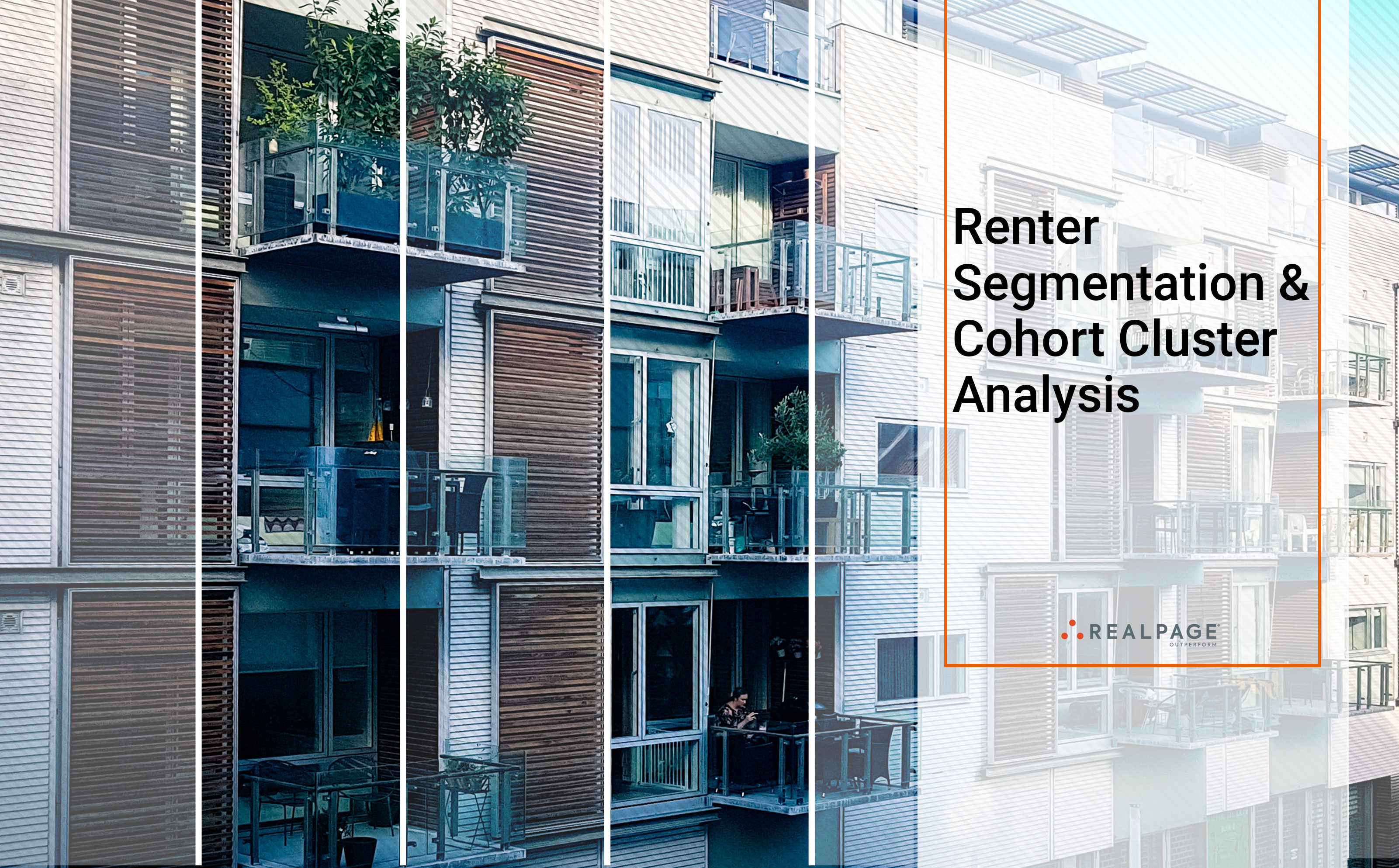 Young Couples are the nation's seventh largest renter cohort, making up about 5% of apartment renter households in the U.S.
RealPage performed a massive study of more than 11 million individual apartment leases to create an industry-leading cluster analysis of U.S. apartment renters. Those 11+ million leases were analyzed by our team of data scientists who crunched the numbers and identified the most powerful and explanatory variables. Then, with their help, RealPage's team of data and market analysts combined that intel into seven individual renter cohorts based on a suite of demographic variables, including renter income, age, marital status, kids, pets, cars and so forth. Apartment product selection criteria were also included, such as property age, class, location, number of occupants, lease term, effective rent, rent-to-income ratio, length of stay and propensity to renew.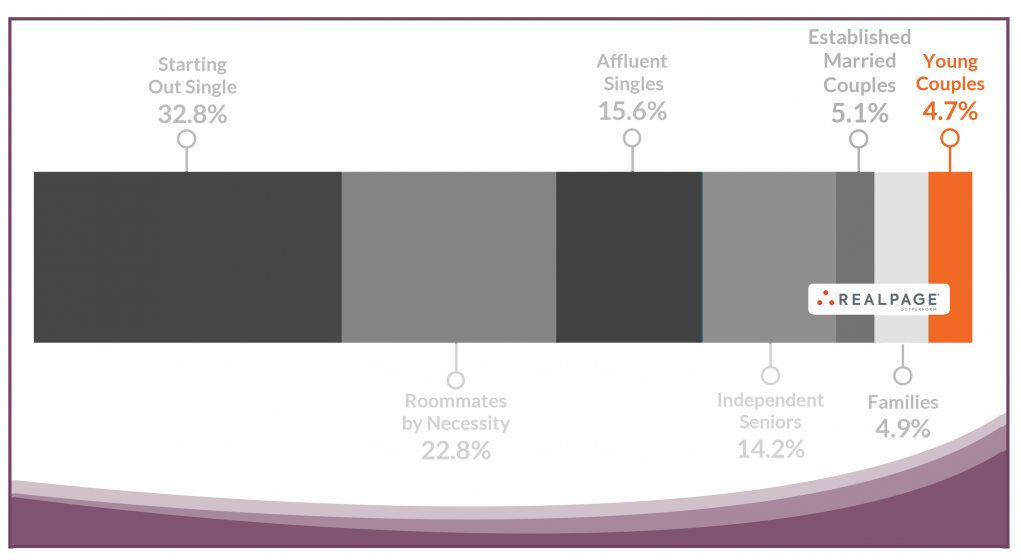 Our last group of renters is the Young Couples cohort, which represent 4.7% of the U.S. renter households included in the RealPage cluster analysis. The Young Couples cohort runs middle-of-the-road on most metrics. These renters have a median age of 32.3 years, earn a median income of $74,000 and have an average rent of about $1,400 per month.

There wasn't as much standout data for this particular group, but a few key themes do pop up. This group of renters lives together but is almost never married. This group also tends to love their pets. With an average of two pets per lease, they are the only cohort with more than one pet per household. Young Couples will no doubt look for pet-friendly properties, with ample room for outdoor walks or even dog park areas for healthy playtime and socialization.
 With more pets, it probably stands to reason that this group rents slightly larger units. Unit size for this cohort averaged about 980 square feet, which is about 80 square feet larger than the national average. In fact, this was the third-largest average unit size among our seven renter cohorts, just after Families and Established Married Couples.
Another interesting fact about these renters is that despite the fact that they are a couple, these folks are more likely to select two-bedroom units instead of opting to simply share a one-bedroom. A second bedroom or flexible den/study space likely provides these two-person households with extra space for storage as well as room for home office or other dedicated work or hobby areas.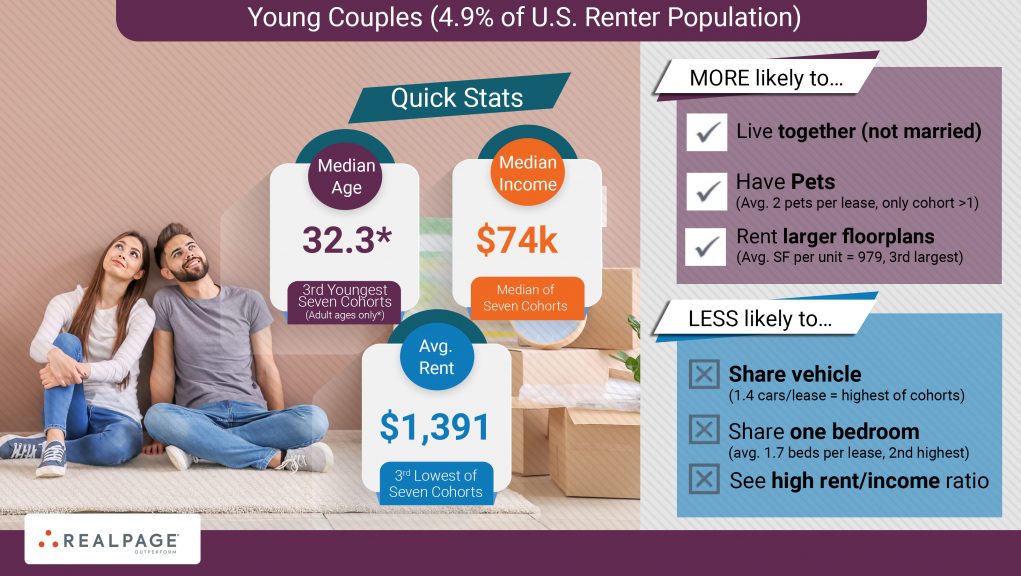 One other noteworthy component of this renter segment is the higher number of vehicles per household. With 1.4 cars per lease, this cohort is the most likely to own individual cars rather than share or walk to work. As such, this group of renters tends to concentrate in suburban areas which generally offer more plentiful parking options.

Young Couples have an average rent-to-income ratio of 21%, which is lower than the U.S. average of 22.6%. These households could easily be categorized as "renters by choice." These young renters are likely looking for a lot of flexibility in their lifestyles as well as careers, so renting an apartment makes perfect sense for them. Perhaps unsurprisingly, then, the average lease term for Young Couples sits just shy of the national norm at 12.6 months.
Looking at this renter cohort by geographical distribution, where are the largest clusters located?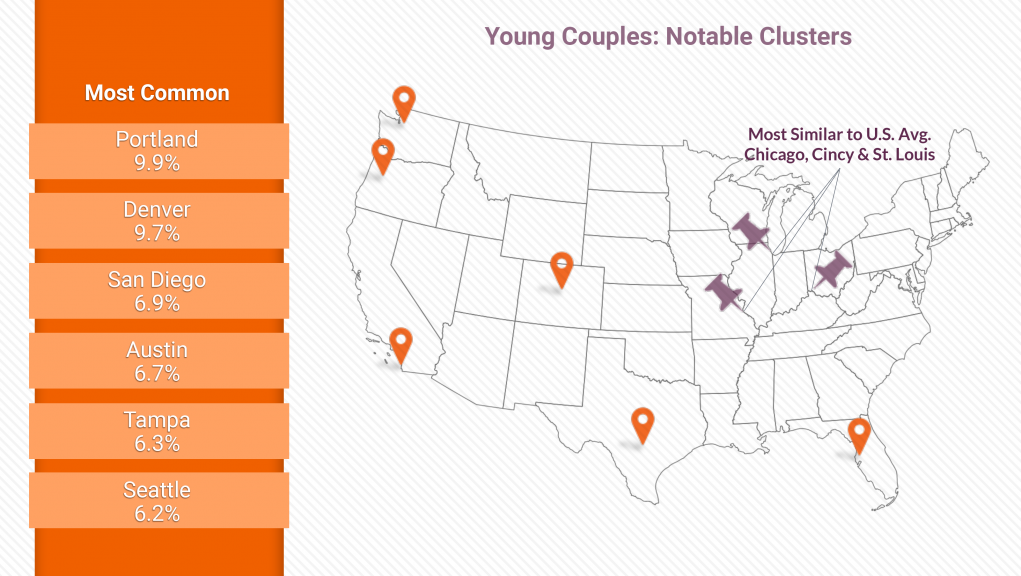 Markets that are generally good for outdoor activities such as Denver, Portland, San Diego and Austin see the largest share of Young Couple households. This probably points to decent availability of early career opportunities for higher wage sectors such as technology and professional/business services as well.

On the inverse, New York, Houston, Atlanta, Washington, DC, and Las Vegas don't see as many young couples in the market. But as you can see, the spread between most common and least common is fairly tight, so this particular cohort isn't terribly common in any one part of the U.S.
One last note, three Midwest markets tied for locations where Young Couple households essentially match the same share of the U.S. overall: Chicago, Cincinnati, and St. Louis.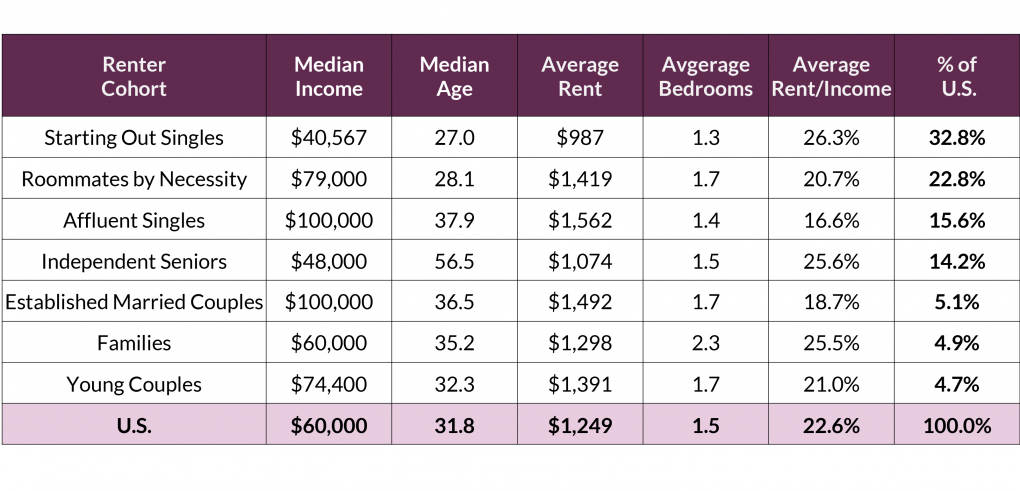 Learn more about renter segmentation by following along with our weekly renter cohort series, where we discuss each individual category of renter in the U.S. apartment market, pinpointing key trends and providing insights into business decisions, now and in the year to come.