Workforce Housing Neighborhoods Lead Rent Growth in Atlanta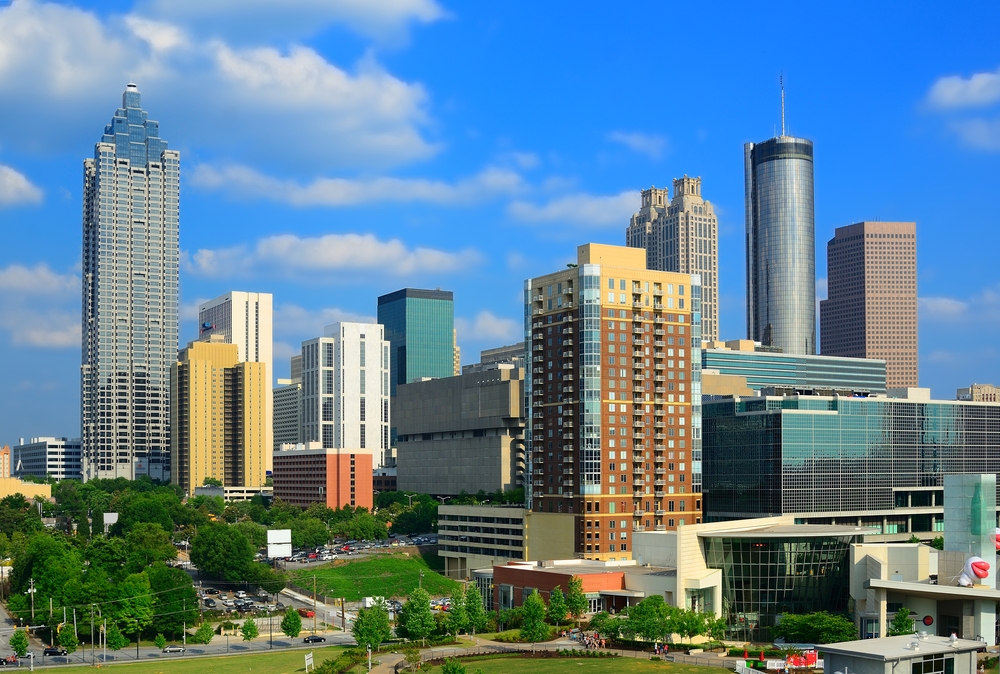 Atlanta's fastest apartment rent growth is occurring in far-flung small towns on the metro's east side, places like Conyers, Covington, Loganville and Winder. Rents are up 7.7% on an annual basis in the area that RealPage calls the Far East Atlanta Suburbs. Still, average rents of $931 per month in the area remain very affordable relative to the metro norm of $1,144.
Workforce housing neighborhoods, defined simply as areas where monthly rents meaningfully trail the metro average, dominate Atlanta's list of rent growth leaders on the submarket level. Eight of the 10 submarkets with the strongest rent growth register average monthly pricing of roughly $800 to $1,000.
In the two key exceptions, rents also are climbing sharply in the expensive Vinings area and in Northeast Cobb County/Woodstock, which is a mid-priced zone.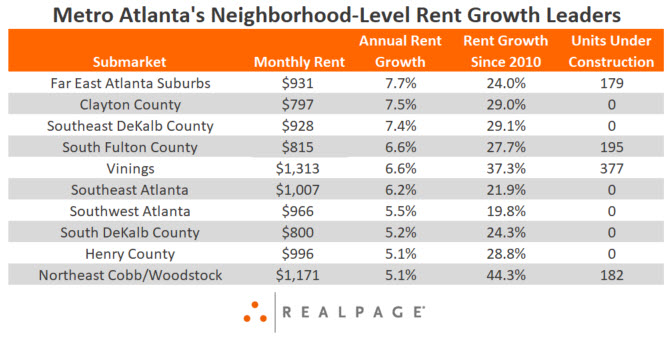 To some degree, substantial rent growth in Atlanta's workforce housing neighborhoods reflects some catch-up to the stronger pricing power seen earlier in more upscale zones.
All of the moderately-priced submarkets that now rank among the metro's rent growth leaders have recorded total rent upturns during this economic cycle (starting in early 2010) well below the metro Atlanta norm of 34.7%. Looking specifically at the Far East Atlanta Suburbs example, price growth since 2010 totals 24.0%, a notable 10+ percentage points below metro Atlanta's typical rent inflation.
In neighborhoods where it has taken rent growth longer to get going, it has also taken longer for pricing to reach levels that justify new construction. Thus, current rent growth leaders generally have few units on the way. That means these areas lack new properties offering discounts to build an initial resident base. Oncoming new supply is limited to fewer than 400 units in any of the submarkets registering the best rent growth, and quite a few of the spots with the greatest pricing power do not have any product under construction.
Looking to the other end of current rent change results, rent cuts are occurring in three metro Atlanta neighborhoods, and another half-dozen areas register rent growth of less than 2 percent.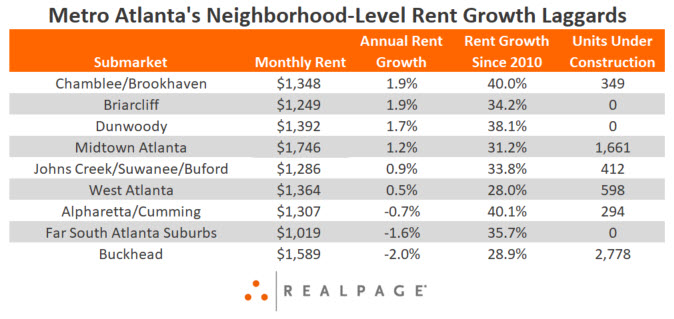 All but one of these submarkets (Far South Atlanta Suburbs) rank among the metro's more expensive neighborhoods, and they generally have experienced rent increases since 2010 at levels in line with or above the metro average.
Furthermore, substantial construction activity is leading to rent giveaways in some spots, most notably the Buckhead and Midtown Atlanta submarkets.
That pattern of workforce housing neighborhoods taking over as neighborhood-level rent growth leaders is a trend seen in metro after metro during 2018, reshaping the performance results posted throughout the previous few years.