Western Markets Begin 2022 With Stronger Job Gains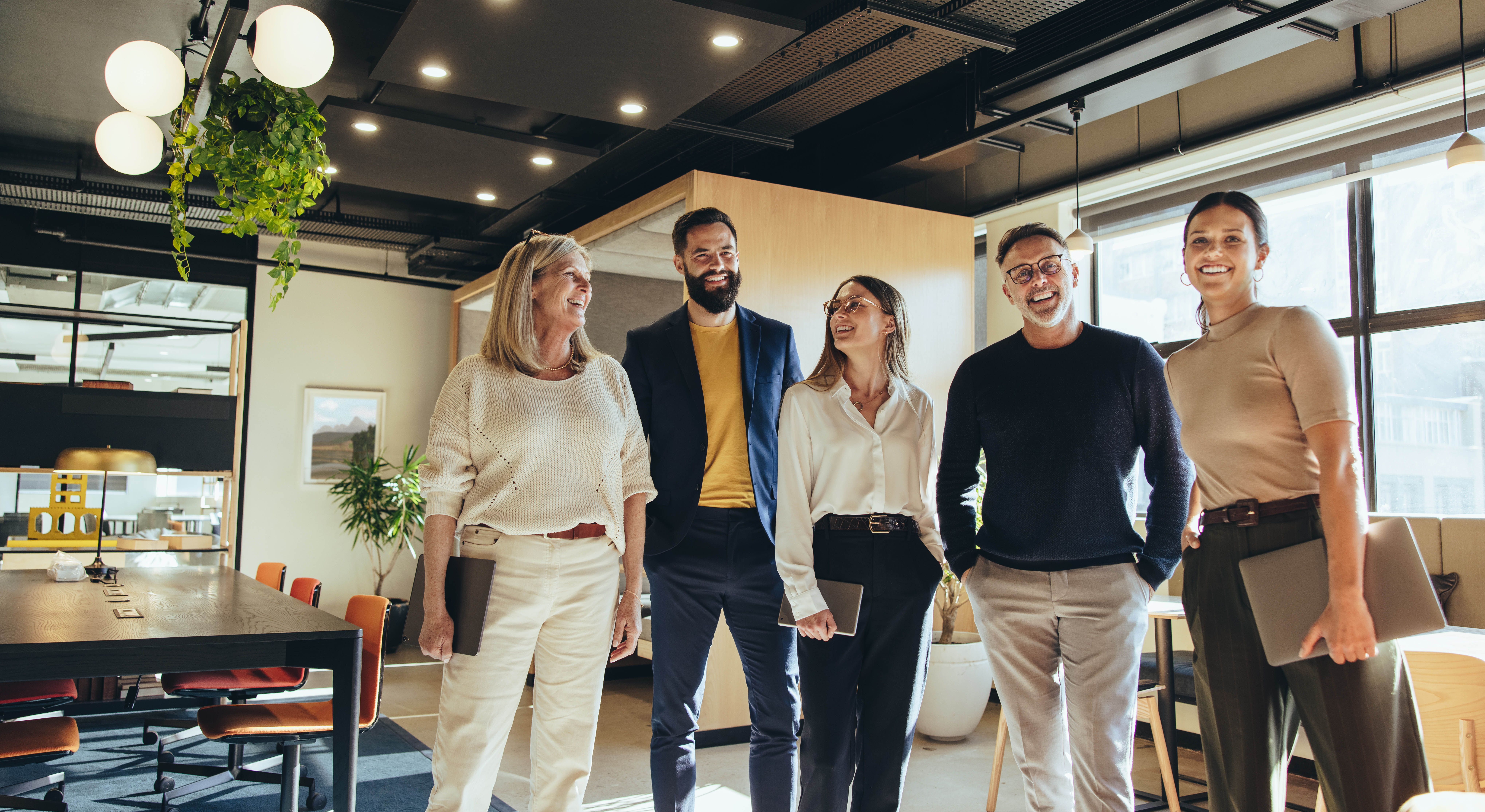 Several metro areas in the western states had stronger job gains for the 12-months ending January 2022, with California benefitting the most.
Eight of December's top 10 job creation markets returned to the list in January and a few of those moved around the list. New York again led the nation in job creation with 396.600 jobs added to payrolls, according to the Bureau of Labor Statistics (BLS). That was New York's best annual job gain performance since July 2021.
Los Angeles and Chicago returned in the #2 and #3 spots, respectively. Roughly 357,000 jobs were gained in LA, while the Windy City added 227,600 jobs for the year. Los Angeles had its best post-pandemic annual job gain, while Chicago had somewhat better gains early in the recovery months.
Dallas and Atlanta each jumped two spots to #4 and #5 in January with 186,100 and 164,900 jobs gained for the year, respectively. Houston slipped one spot to #6, gaining 153,700 jobs for the year-ending January, while Boston tumbled from #4 in December to #7 in January with 126,800 jobs gained.
Philadelphia moved up one spot to #8, gaining 125,000 jobs for the year, while San Diego and Las Vegas made their top 10 list debuts with 123,300 and 123,100 jobs gained, respectively. These western markets replaced the eastern metro of Washington, DC, and the southwestern metro of Phoenix on the list. Additionally, San Francisco, Riverside and San Jose moved up a few spots in January compared to December, while Anaheim remained just a few spots out of the top 10.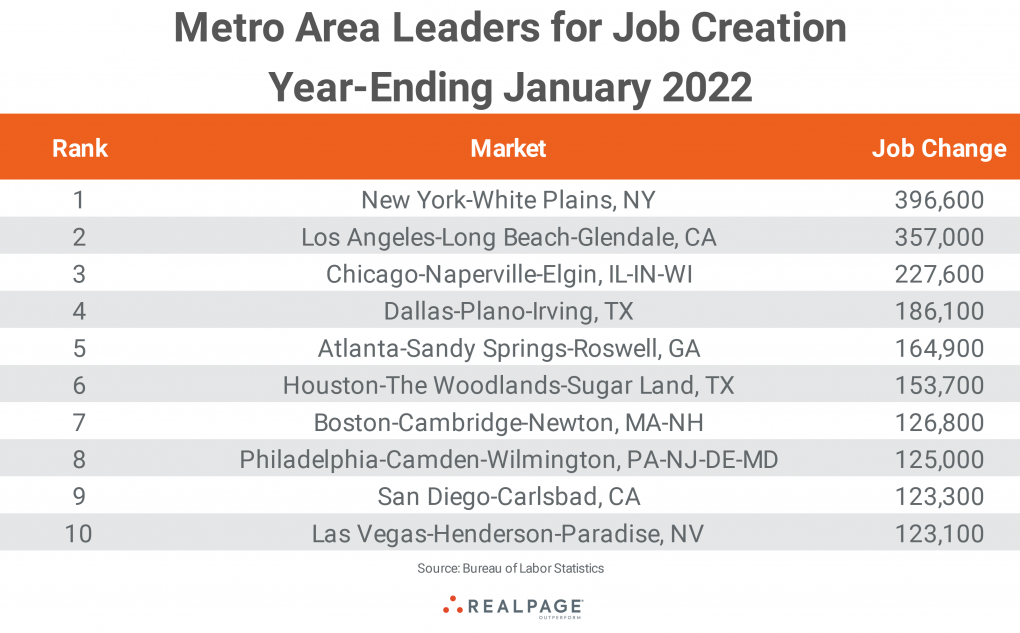 Despite strong month-over-month improvements in annual job gains in several markets, the list of markets that have regained all of the jobs lost during the pandemic shrank in January as the effects of both the Delta and Omicron variants on total employment were felt around the country. Only 33 markets have higher employment now than in February 2020, compared to 48 markets in December.
With Phoenix falling out of the top 10 in January, Atlanta and Dallas are the only top 10 job gain markets to have recovered all of the jobs lost since February 2020. Other major markets that have had strong recoveries include Austin, Salt Lake City, Riverside, Tampa, Phoenix, Raleigh/Durham and Nashville.
Top 10 markets that are continuing long recoveries include New York, Los Angeles Chicago, Boston and Philadelphia. Each of these markets need from 120,000 to more than 400,000 jobs recovered to reach pre-pandemic levels. Houston, San Diego and Las Vegas have fewer than 67,000 jobs left to regain their previous employment levels.
Minneapolis, Anaheim, Pittsburgh, San Francisco and Detroit have at least 60,000 jobs to recover before they reach their respective pre-pandemic employment levels.
Comparing annual job gain on a month-over-month basis, 80 of our 150 markets had higher annual job gains in January than in December – 22 fewer than in December – as the remaining 70 markets were unchanged or declined slightly. These month-over-month comparisons of not seasonally-adjusted labor data from the BLS can sometimes be misleading, but nonetheless give an idea of overall trends.
Despite continuing challenges for job gains by the COVID-19 variants and other hiring difficulties, 17 markets had annual job gains of 100,000 or more compared to 13 in December and 23 in April. Another 15 markets gained between 50,000 and 99,999 jobs, one more than last month. Only the small market of Champaign-Urbana, IL had an annual job loss from last January.
Annual percentage change in employment continues to be strong and with increasing job gains, the top performers have seen improving job growth as well. Only six of December's top 10 returned in January with more markets on the West Coast making the top job growth list compared to Florida and Texas markets earlier in the recovery.
Las Vegas continues to lead the top 150 for percentage annual growth in employment at 13.7%, an improvement over 8.8% in December. San Diego was the only major market to join the top job growth list in January, almost doubling the growth rate from December. Six of the top 10 are California markets, with two in Texas and one each in Florida and Nevada.
With the surge in growth in Las Vegas, the range of job growth shifted upward, with the difference between #1 and #10 reaching 540 bps compared to a 190-bps spread in December. Job growth in the top market rose 490 bps for the month while the #10 market was 240 bps higher than in December.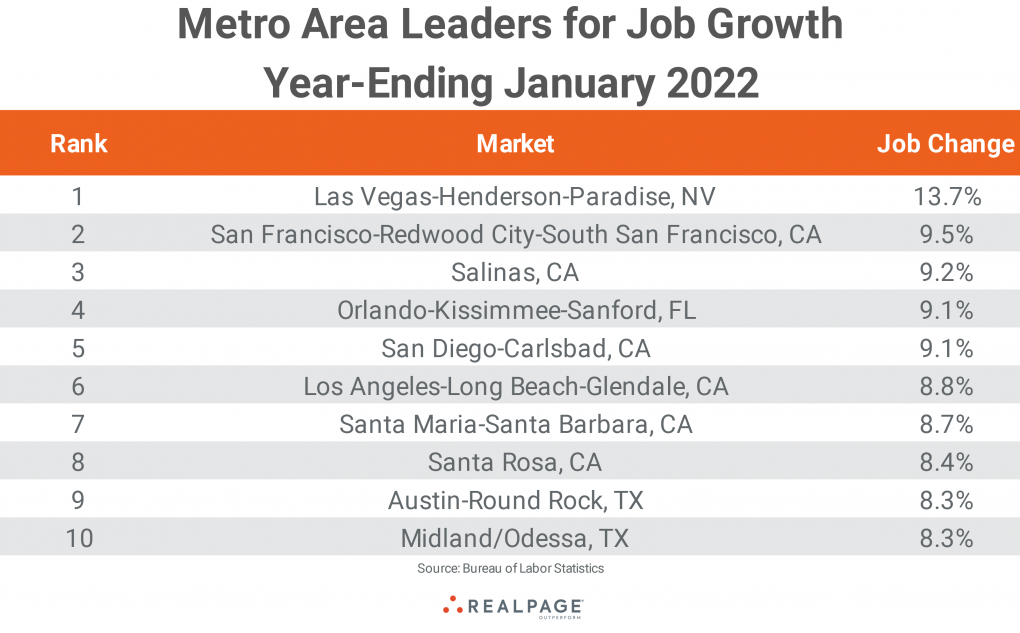 The weakest markets for percentage growth are primarily in the Deep South and Midwest, with a few Northeast markets in the mix. Major markets with sub-3% growth include Charlotte, Pittsburgh, Minneapolis, Cleveland, St. Louis, Kansas City, Columbus, OH, Cincinnati and Milwaukee. In addition to the top 10, strong job growth markets include Anaheim, Dallas, Miami, Riverside, San Jose and Seattle. As of January, 66 markets had annual job growth rates above the national average of 4.6%, compared to 61 in December.