West Region Dominates Rent Growth Leaderboard in the Current Cycle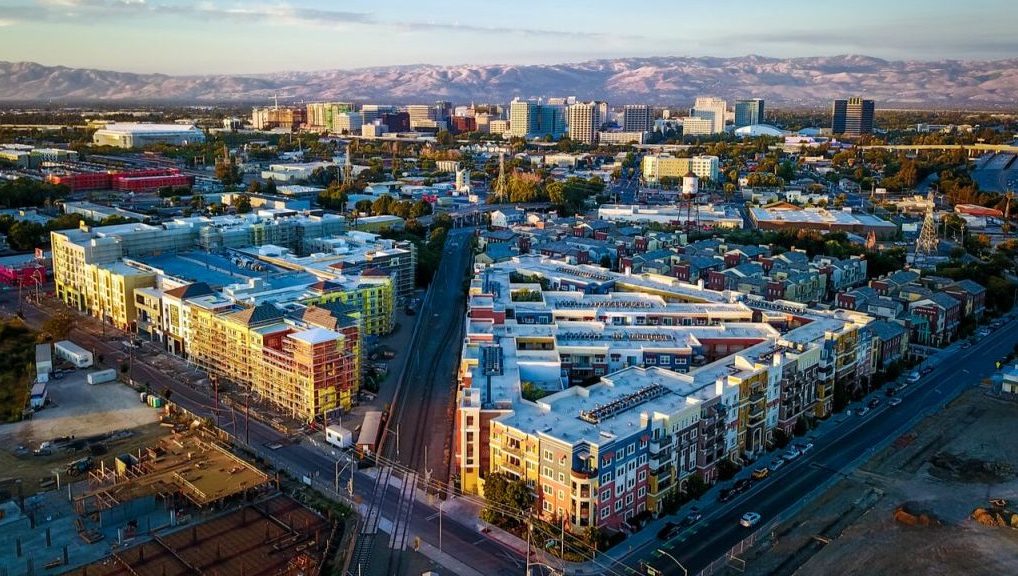 While the pace of progress is slowing, apartment rental rates across the country have been growing for eight consecutive years now, despite extensive construction activity. In all, average U.S. apartment rents have grown 28.5% over the current cycle, which began in 2010. Some individual markets, however, have achieved much more.
Looking at total rent growth during this cycle yields impressive results – especially for some West Coast markets, which filled six of the top 10 rent growth leader slots for that timeframe.
Of the 50 largest U.S. apartment markets, the three Bay Area metros were the national leaders for rent growth during the current cycle. San Jose led the pack, logging rent growth of 52.4% since 2010. Operators in Oakland pushed rents 51.1%, while San Francisco rents were up 48.6% for the current cycle.
Though each market has seen phenomenal growth, the peaks came at different points in the cycle. San Jose and San Francisco were early risers, with rent growth peaking early in 2011 and 2012, while Oakland saw crowning levels a little later in 2015. In San Jose and San Francisco, rent growth early in the cycle was explosive, regularly reaching double digits. For all three Bay Area metros, growth has dropped off significantly in recent years, registering below 3% in 2017.
Bay Area also ranked as a national leader for average effective rents at the end of 2017. San Francisco's average prices were at $3,288, a rate beat only by New York. San Jose and Oakland weren't far behind, with effective rents between about $2,260 and $2,680.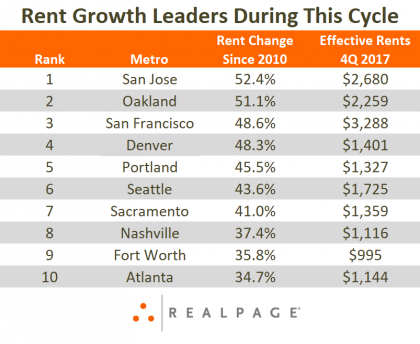 Operators in the Denver apartment market raised rents a total of 48.3% since 2010, despite the metro ranking among the nation's 15 most active construction markets during the current cycle. Model demographics and economic growth were among the reasons this market has done so well in the face of such heavy supply volumes. Like the Bay Area, Denver logged strong performances early in the cycle. But annual rent growth actually peaked near 12% in 2015 before coming down in more recent years. Average prices were at $1,401 in Denver at the end of 2017.
Portland, Seattle and Sacramento were three other West Coast markets with big rent hikes during the current cycle. Portland recorded a total increase of 45.5% since 2010, while rents went up 43.6% in Seattle. Portland rent growth peaked near 13% in 2015, but has come down significantly since then.
Seattle has managed to sustain strong rent growth levels throughout most of the cycle. That's remarkable, given a big volume of new apartment additions over the past eight years. However, the market has seen some moderation recently. While still solid, occupancy has come down from its recent peak and the pace of rent growth is nearing the U.S. norm.
Sacramento was a late-cycle recovery story. But rent growth has been in full swing lately. Sacramento has ranked among the top five major U.S. metros for annual rent growth in each of the past six quarters, as occupancy remained very tight and construction has remained limited. In total, this metro registered price increases of 41.0% since 2010.
Even with such strong pricing power, rental rates in Portland and Sacramento remain some of the most reasonable by West Coast standards, at around $1,330 to $1,360 at the end of 2017. Seattle commands prices quite a bit higher at $1,725.
Nashville, Fort Worth and Atlanta round out the national top 10 list, with each of these markets recording rent hikes between about 35% and 37% during the current cycle. Average rents in Nashville surpassed the $1,000 mark for the first time in mid-2015 and now sit at $1,116.
Like Seattle, Nashville has seen strong rent growth for the majority of cycle. Only recently have performances moderated as already elevated apartment completion volumes have climbed into record territory. In fact, Nashville's inventory grew 7.4% in 2017, the highest annual expansion rate among all major markets since 2010.
Fort Worth saw rent growth peak at around 7% in 2015 and 2016, but is now logging price hikes closer to the metro's historical norm as apartment deliveries have increased. Atlanta was also a relatively late-cycle achiever, with rent growth peaking in 2014 and 2015 before coming down to a more moderate positioning at 3.3% in 2017. Fort Worth averages effective rates of $995, while prices in Atlanta were at $1,144 at the end of 2017.
Just missing the top 10 list for national rent growth leaders in the current cycle were Phoenix, Orlando and Austin, where effective rents came up around 34% since 2010.