West Palm Beach Leads High Performing South Florida Markets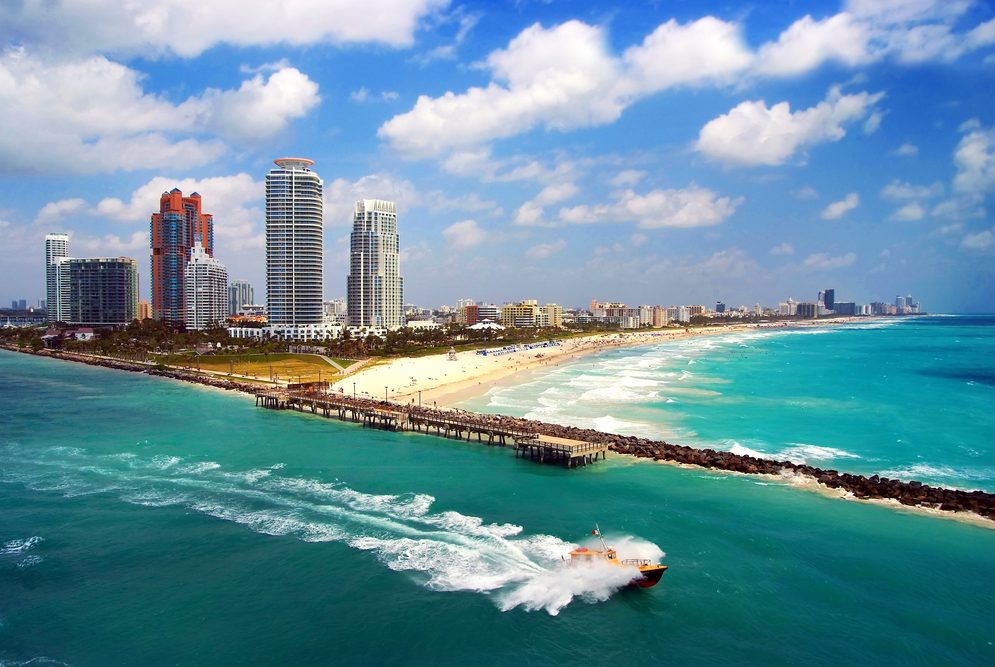 As the national landscape for apartment performance improves, the forecast in the trio of South Florida markets looks sunny. While Miami and Fort Lauderdale report strong occupancy and rent change, West Palm Beach is the clear darling of the region as of June.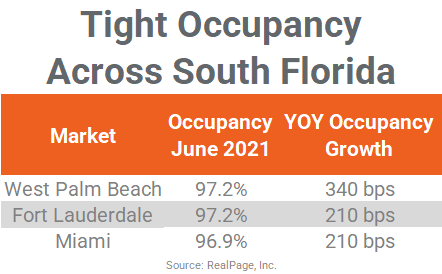 By some metrics, the three markets report very similar performances. As of June, occupancy across Miami, Fort Lauderdale and West Palm Beach varied by only 30 basis points (bps). Although occupancy looks similar on the surface, West Palm Beach has showed the strongest improvement, climbing 340 bps since last June. Meanwhile, Fort Lauderdale and Miami both saw occupancy improve by 210 bps in the last year.
Annual effective asking rent change in all three South Florida markets outpaced the national norm of 6.3% in June by a wide margin. Staggering annual rent growth of 15.9% in West Palm Beach and 12.4% in Fort Lauderdale put those markets among the top 10 nationwide. (Two other Florida markets – Tampa and Jacksonville – also made the top 10.) Miami saw rent growth of 8.3% as of June.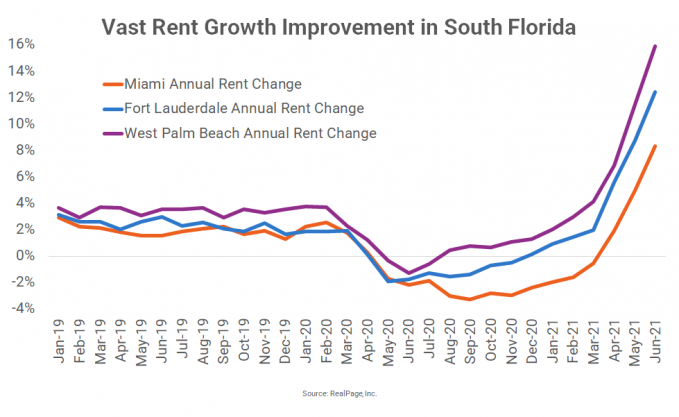 Across asset classes, Class A properties have improved considerably since softness was first felt in that sector earlier in the pandemic. Across all three South Florida markets, Class A rents are climbing fastest. But the extent to which that is true in West Palm Beach is more prolific. As of June, Class A rents grew a staggering 20.1% in West Palm Beach, 14.3% in Fort Lauderdale and 13.4% in Miami . Class B rents were also strong performers in West Palm Beach, with growth of 16.3%, while Class C rent growth dragged down overall performance at 5.3% annual growth.
West Palm Beach again runs above its South Florida neighbors in pricing. As of June, monthly rents averaged $1,909 in West Palm Beach, compared to $1,860 in Fort Lauderdale and $1,846 in Miami.
West Palm Beach has the smallest employment base in South Florida. For the coronavirus-induced recession, that smaller employment base meant it had fewer jobs to gain back when the economy rebounded. As of June, West Palm Beach has come closest to its pre-pandemic employment base at just 40,000 jobs short of its February 2020 job count, still down by 6.1%. Fort Lauderdale runs about 58,000 jobs short (down 6.6%) and Miami runs about 97,000 jobs short (down 7.8%) of pre-pandemic norms.