Weekly New Apartment Lease Signings Match 2019 Levels, While Rents Decline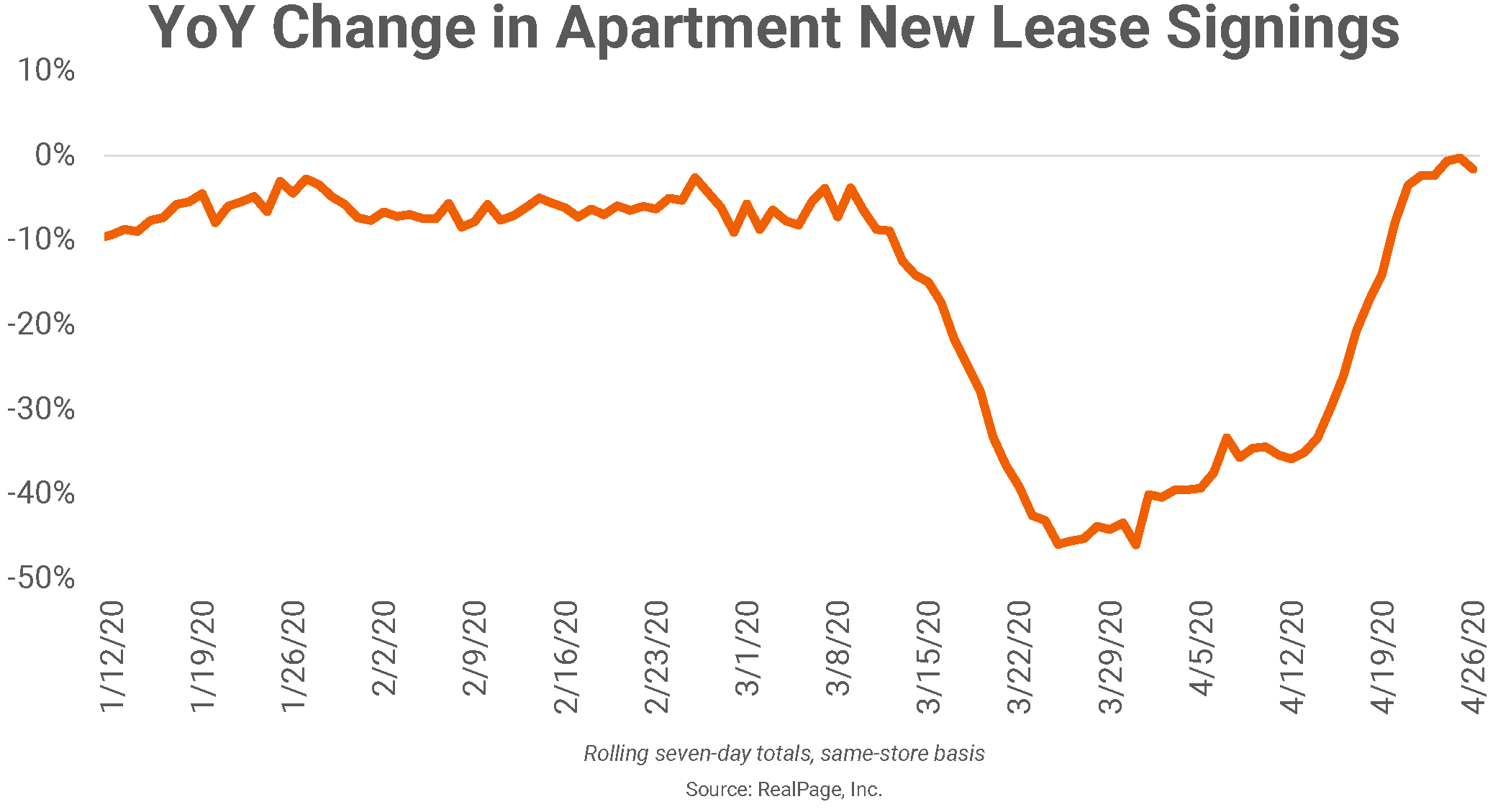 We continue to monitor daily leasing activity for the U.S. apartment market, and the most recent numbers were a shocker: Last week, executed new lease volumes came in nearly on par with the 2019 totals for the same period, based on analysis of RealPage's rent roll data.
The results marked a continued upward trend in traffic and leasing activity since bottoming in late March, when total lease new signings were down nearly 50% year-over-year. As of April 26, total new lease signings over the trailing seven days were down only 1.6%.
It's tremendous news, and confirms cautiously upbeat reports we've heard from many apartment operators. But is it sustainable? Probably not.
We are likely seeing pent-up demand unleashed after COVID-19 froze the market in the second half of March and into early April. We heard frequently from property managers that serious shoppers were still out there. Some of those prospects needing a place to live couldn't – or wouldn't – put off the decision any longer. We may see pent-up demand prop up the market a while, but it's highly unlikely the apartment market – as resilient as its proven to be – can sustain the 2019's blistering pace through May and June given a bleak economic backdrop.
The results are based on rolling seven-day counts from same-store, stabilized, market-rate properties representing a subset of the 13.5 million units running on RealPage's platform. The data counts executed new leases regardless of move-in date. Move-ins continue to occur, as apartment property managers handle most, if not all, of the leasing process online and are finding creative ways to provide keys without in-person contact.
The South region of the country lifted up the overall leasing numbers with slightly positive year-over-year growth, while other regions saw the same general pattern of improvement but were further behind last year's pace – most notably the Northeast.
New-Lease Rents Continue to Decline
Operators achieved improved demand while at the same time continuing to cut new lease pricing. Rents for executed new leases came in down 4.5% year-over-year. Operators began registering negative rent change almost immediately after the COVID-19 crisis shut down much of the U.S. economy in mid-March. The bottom point to date came on April 18, when rents over the trailing seven days registered 6.1% below rates seen at the same time last year.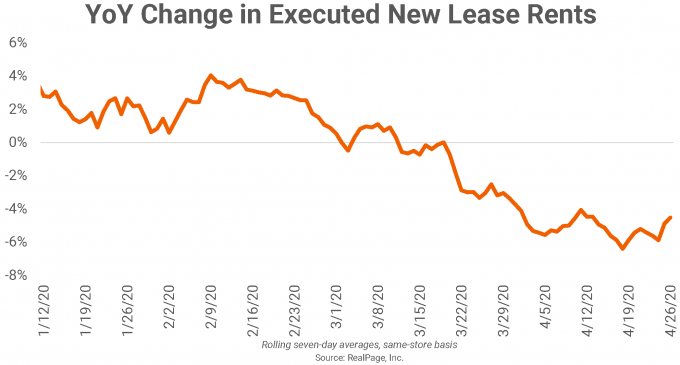 It's important to note that executed rent change is not the same rent metric typically reported as rent change. Nearly all reported rent change is based on various forms of "market rent" or "effective rent," which is the asking rent factoring in an advertised concession. Executed rents reflect the actual rate on a lease sourced directly from rent rolls.
We've observed an increasing disconnect between market rents and actual executed rents in recent years, and the COVID-19 crisis accelerated that trend. Much of the drop in executed pricing likely traces to factors that market rent data from internet listing sites and phone calls can't fully account for – longer lease term commitments and the inclusion of unadvertised concessions. Operators today with an occupancy-focused strategy are often pushing new renters to commit to longer lease terms in exchange for a lower monthly rent, and appear to be offering concessions during the lease negotiation process. Few stabilized properties offered concessions prior to the epidemic.
Class A Properties Lag on Leasing Traffic and Rents
Continuing a trend we shared last week, Class A properties lag behind on new lease signings and executed rent growth. Signed new leases for the seven-day period ending on April 26 were down 7.9% compared to the same period last year. That was a big improvement over prior weeks, but still behind Class B (+1.2%) and Class C (+8.1%).
On executed new lease rent change, Class A properties registered a year-over-year change of -5.4% compared to -3.6% in Class B and -1.1% in Class C. Much of Class A competes with the historically high volume of new supply moving through lease-up, creating substantial competition a limited demand pool.
Interestingly, the Class C trends run counter to normal recession patterns – and counter to rent collections, where Class C trails behind. Typically, vacancy spikes higher in Class C due to working class households doubling up together to share expenses. Job loss has been substantial in hourly wage sectors like retail and restaurants that tend to align with Class C properties. It's possible that households needing an apartment are moving down the product quality spectrum of what they could otherwise afford. Regardless, the misalignment between jobs and demand at the Class C level suggest the recent demand spike is unlikely to be sustained.
We remain most bullish on Class B's outlook given solid product quality and locations combined with a wide affordability gap with Class A. That gap has increased over the years, making it unlikely Class A apartments can bank on a "flight to quality" strategy using concessions to lure Class B renters to move up.
Few Markets Report Positive Executed Rent Change
Seattle reported the deepest drop in executed rent change at -12.1%, followed by Detroit at -11.3% and Virginia Beach/Norfolk at -9.8%. Other big markets with sizable cuts in the 7% to 9% range included Los Angeles, Boston, Sacramento and New York.
Multiple headwinds confront some of the big Gateway cities on that list, notably a charged political environment where some activists are calling for rent strikes or rent freezes. These metros also tend to have the more volatile rent movements due to reactionary pricing when market conditions shift.
The majority of major markets registered year-over-year cuts between 2% to 6%.
A handful of markets are still registering some executed new-lease rent growth. That group included Jacksonville, Chicago, Phoenix, Philadelphia, Fort Lauderdale and San Antonio. Bear in mind that these results are based on the trailing seven-day period ending April 26, and thus reflect a relatively low total impact to the rent roll until rent growth can be sustained.