Some 47,000 Vacant Apartments Will Help Houston Cope with Flooding Aftermath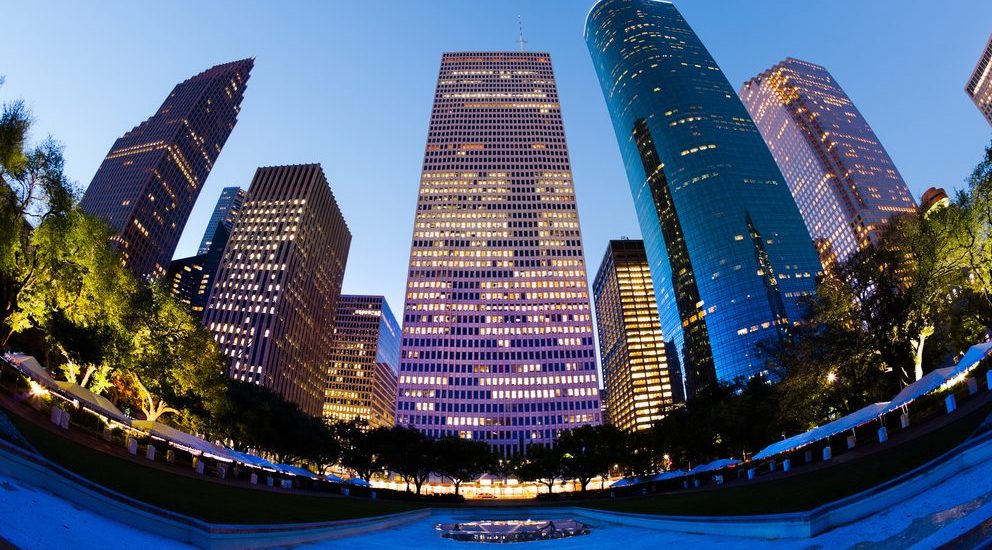 The unprecedented flooding that is occurring now in metro Houston will displace a huge block of the metro's population of about 6.5 million people. Past major storms in Houston and natural disasters in other locations point to a rush of apartment leasing in the weeks after the flood waters recede.
RealPage calculates metro Houston's apartment base as of mid-2017 at about 662,400 units, with approximately 47,000 of them vacant. Obviously, some of those apartments have suffered significant damage and will be coming offline. Still, the metro should be able to accommodate a major influx of renters more easily than just about anywhere else across the country.
Product Locations and Price Points
Houston is a place where even routine movement from one spot to another is already difficult. Now, significant disruption of the metro transportation infrastructure appears likely to make travel troubles even worse. Given mobility woes, the locations of available apartment units could be important to the general recovery process. Furthermore, the price points of these apartments could influence how efficiently the metro can move forward, depending on how severe the flooding proves to be in neighborhoods at various income levels.
Houston's biggest block of available existing rental housing lies within the urban core, with just over 2,200 vacant apartments found in the Downtown/Montrose/River Oaks submarket. These are comparatively expensive units, as monthly rent in the neighborhood averages $1,769.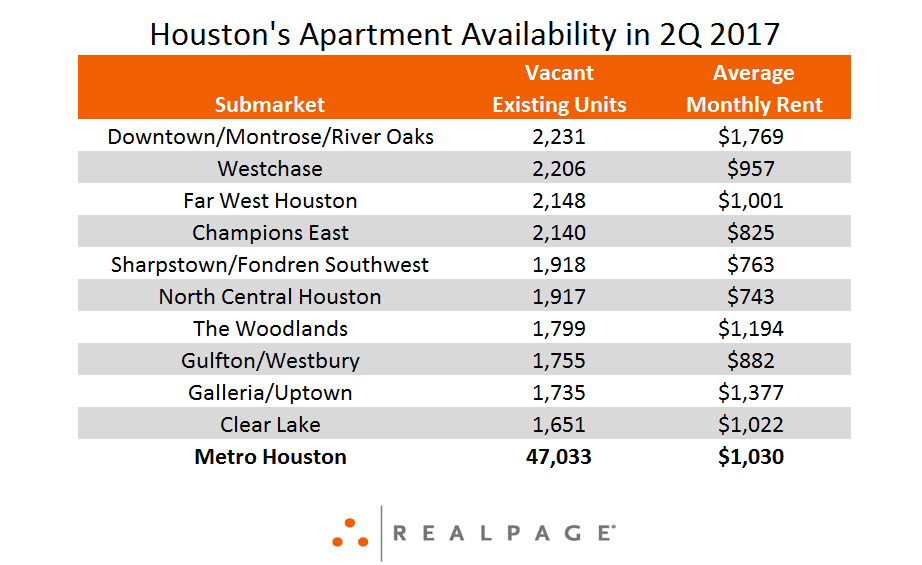 Other locations with sizable stocks of available existing apartments include The Woodlands and the Galleria/Uptown area.
However, not all of metro Houston's vacant apartments are at the top end of the price spectrum. Units close to the metro's average rent of $1,030 monthly are located in the Westchase neighborhood, Far West Houston and Clear Lake. Significant numbers of units priced well under the metro average exist in submarkets like Champions East, Sharpstown/Fondren Southwest, North Central Houston and Gulfton/Westbury.
Patterns from previous disasters are that apartment owners and operators often discount rents as they focus on housing displaced residents, rather than maximizing their own profitability.
Ongoing Building
Looking beyond Houston's vacant existing stock, properties that total 21,769 units are currently under construction across the metro.
Downtown/Montrose/River Oaks again is the leader for product on the way, as projects under construction contain just over 4,200 apartments. Some 2,100 units are in development in the Spring/Tomball area, and about 1,200 to 1,300 units are on the way in four separate submarkets – Greenway/Upper Kirby, West University/Medical Center, Katy and Greater Heights/Washington Avenue.
In many cases, these properties under construction are very close to scheduled completion. However, availability of construction labor already has been an issue in the ability of developers to get new product over the finish line in Houston, and diversion of resources to repairs on existing communities could further extend building timelines.