U.S. Job Gains Surprisingly Solid in October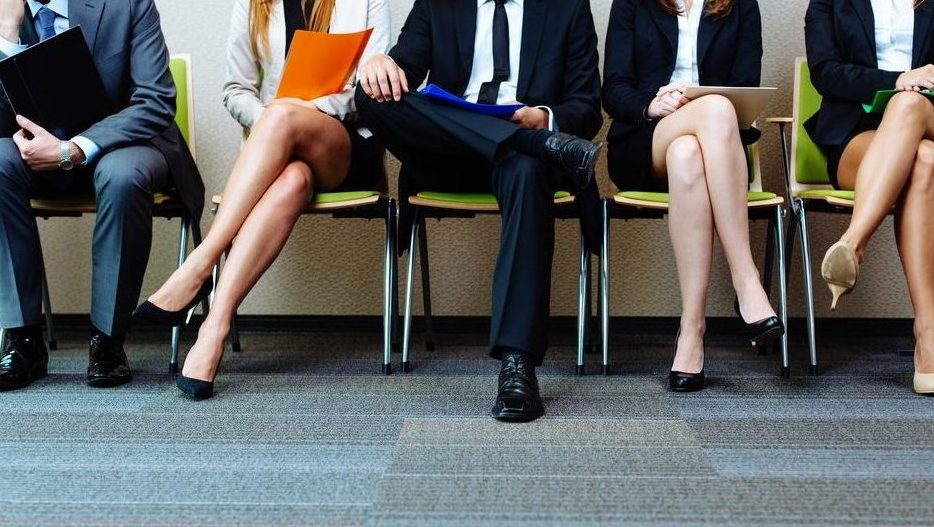 The U.S. economy refuses to keep to expectations, as job gains were greater in October than many economists predicted and strong upward revisions to previous months' data revealed a much healthier labor market than had been reported. According to the Bureau of Labor Statistics, the U.S. economy added 128,000 jobs in October, well above economists' expectations. The national unemployment rate did tick up to 3.6% in October, but remains close to the 50-year low.
The monthly positive gain streak continued to 109 consecutive months, and the monthly average from January through October 2019 is about 167,000 jobs. The 12-month average for monthly job gain since October 2018 was 174,400 jobs per month, but the average over just the previous three months is 175,700. Still, these average monthly employment gains are below levels seen from 2014 to 2018, when almost 215,000 jobs were added monthly.
After slipping below 3% for the first time in 13 months in September's initial release, average hourly earnings growth for all employees again hit 3% in October (September's figure was revised up to 3%, keeping the streak alive). The monthly wage figure increased $0.06 between September and October, and was up $0.83 from October 2018, to $28.18.
Nearly 2.1 million jobs were added in the 12 months ending in October 2019, notably less than the 2.7 million added in the year-ending October 2018. The most recent annual growth expanded the job base by 1.4%, below the average annual growth rate for the preceding 12 months (1.7%) and the growth rate in October 2018 (1.8%). Revisions to the previous two months' numbers resulted in 95,000 more jobs than initially reported as August's job gain figure was revised from 168,000 to 219,000 jobs, and September's gains were revised from 136,000 to 180,000 positions.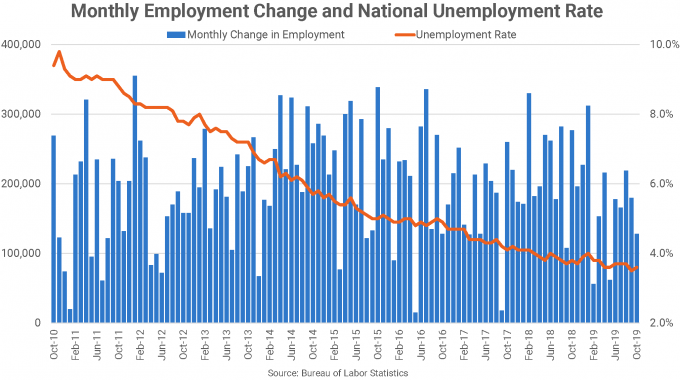 The civilian labor force (CLF) participation rate was increased to 63.3% from last month and was up 40 basis points (bps) from last year. The employment-population ratio of 61% was unchanged from last month but was up 40 bps from October 2018. The total number of unemployed (5.855 million) is down about 257,000 from last year, and the number of people not in the labor force who currently want a job has fallen from 5.3 million last October to 4.8 million currently. Compared to last month, the number of unemployed increased by 86,000, causing the unemployment rate to increase slightly as the labor force expands with job seekers.
The number of job leavers increased by 9,000 from September to 849,000 and was up 118,000 from last year, as the proportion of unemployed due to leaving jobs increased from 12% to 14.5% of all unemployed persons. Job leavers are workers who quit or voluntarily leave their previous job and immediately began looking for new employment. The number of part-time workers for economic reasons (4.44 million in October) fell by 192,000 from October 2018, and the number of part-time workers for non-economic reasons increased by 101,000 to 21.5 million. The U6 unemployment rate, which includes part-timers for economic reasons and marginally attached workers, increased 10 bps to 7% from September, but was down from 7.5% in October 2018.
The number of long-term unemployed workers (out of work for 27 weeks or more) fell by 106,000 from October 2018 to 1.3 million, and the average duration of unemployment fell to 21.5 weeks from 22.3 last year. The number of multiple jobholders increased by 258,000 year-over-year to 8.35 million. Meanwhile, the number of discouraged workers not in the workforce (341,000) dropped by 165,000 from one year ago.
Industry Focus
Monthly job gains by industry for October were erratic, with some big gains and one large loss. The strongest gains were in the Leisure and Hospitality (+61,000) and Education and Health Services (+39,000) industries, while Manufacturing (-36,000) suffered strike-related losses. Most other industries had moderate gains or mild losses.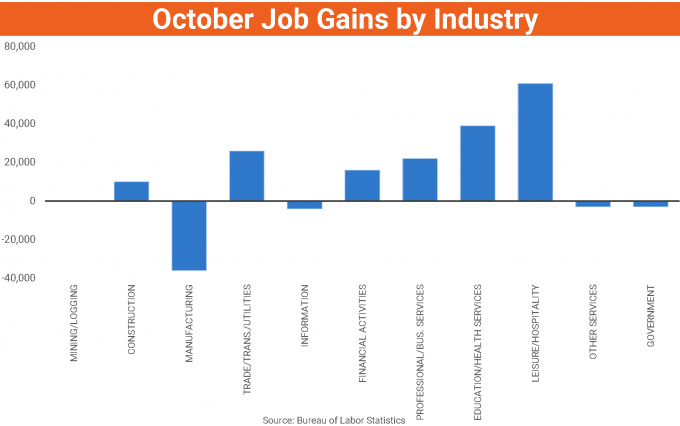 • The Leisure and Hospitality industry had a banner month, buoyed by the food services and drinking places subsector, which added 47,000 jobs in October. The amusements, gambling, and recreation subsector contributed another 15,100 jobs to the industry's 61,000 gain for the month.
• The social assistance sector (+19,600) made the largest contribution to the Education and Health Services industry's 39,000 job gain in October, followed by the health care sector (+14,600). The educational services sector added almost 5,000 jobs to the total.
• Both wholesale trade (+10,800) and retail trade (+6,100) were back in the black for the month of October as hiring increased in several "brick and mortar" subsectors. Transportation and warehousing added a solid 9,900 jobs to the Trade, Transportation and Utilities supersector's 26,000 new jobs total. The utilities sector lost 1,400 jobs in October.
• The Professional and Business Services industry gained 22,000 jobs in October, primarily in the professional and technical services sector (+16,500). The administrative and waste services sector's gain of 7,700 jobs was hampered by a contraction in temporary help services of 8,100 jobs.
• The Financial Activities industry's net gain of 16,000 jobs was split between finance and insurance (+5,900) and real estate and rental and leasing (+9,600), with the subsector of real estate adding almost half of the total by itself (+7,400).
• The Construction industry gained 10,000 jobs in October, with 60% concentrated in the heavy and civil engineering construction sector. Residential construction of buildings and residential specialty trade contractors both gained more than 2,000 jobs each, while nonresidential categories contracted.
• The Mining and Logging industry again saw no gains in October as losses in the non-oil and gas mining subsector (-200) were offset by minor gains in the other subsectors.
• The Government sector's 3,000 job loss for October was due in part to the drop in temporary hiring for the Census count. Hiring at the state (+3,000) and local (+11,000) levels was outpaced by Federal employment decreases of 17,000 jobs.
• The Other Services sector had another moderate loss of 3,000 jobs in October as losses in membership associations and organizations (-3,200) and personal and laundry services (-2,000) sectors overshadowed gains of 2,600 jobs in repair and maintenance.
• The Information industry suffered from the seasonal pattern of motion picture industry employment with a loss of 4,000 jobs overall, 6,300 of them in motion pictures and sound recording alone. The telecommunications sector also lost jobs for the month.
• The Manufacturing industry saw an October loss of 41,000 jobs, with all of it in the motor vehicles and parts subsector (-41,600) as the General Motors strike idled several plants. Returning workers will boost next month's figures, but the industry is still experiencing a slowdown overall.