U.S. Job Gains Slow, Wages Climb in November's Tight Labor Market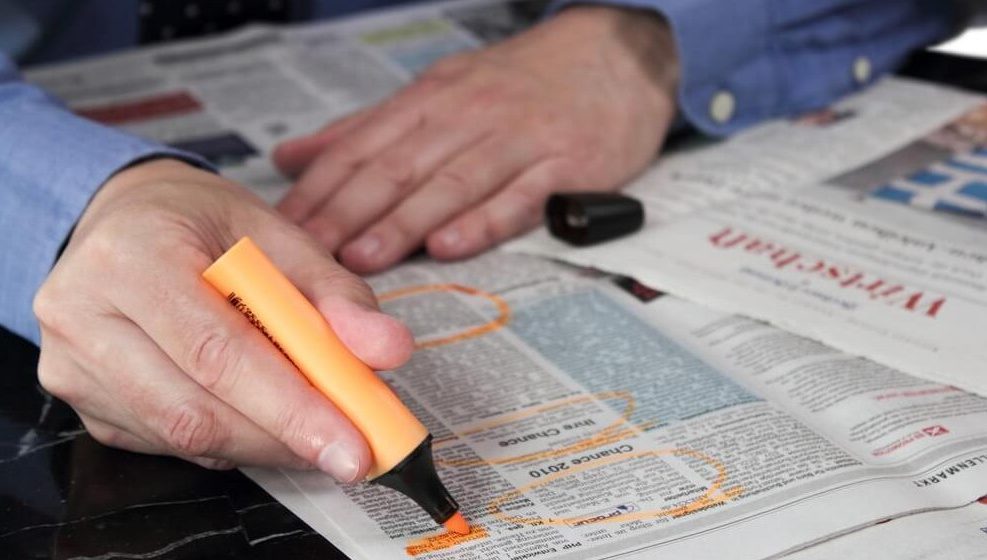 In what may portend signs of a hiring slowdown going forward, November's U.S. monthly job gains underperformed most economists' estimates, as the tight labor market is making it difficult for employers to fill vacant positions.
The U.S. economy added 155,000 jobs in November, the 98th consecutive month of gains, according to the Bureau of Labor Statistics. The lower jobs number reflects that employers are struggling with low unemployment, skills mismatches, wage pressures and a labor force that remains stubbornly static. These labor market conditions could keep monthly job gains below the current 12-month average of 204,000 for some time.
The unemployment rate remained at 3.7% for the third consecutive month, one of the lowest rates in nearly 50 years. Average hourly earnings growth for all employees topped the 3% mark again in November, coming in at 3.1%, its best performance since 2009. The rate translated to a $0.81 increase, bringing average hourly earnings to $27.35 in November. With the current upward trajectory, annual wage increases are growing faster than in the past five years.
More than 2.25 million jobs have been added in the first 11 months of 2018 compared to just over 2.0 million in the same period in 2017. Annual job gains reached 2.44 million in November, about 250,000 jobs more than November 2017's annual total. This annual growth expanded the job base by 1.7%.
Revisions to the previous two months' numbers resulted in 12,000 fewer jobs than initially reported. September's job gain figure was revised from 118,000 to 119,000 jobs, while October's gains were revised from 250,000 to 237,000.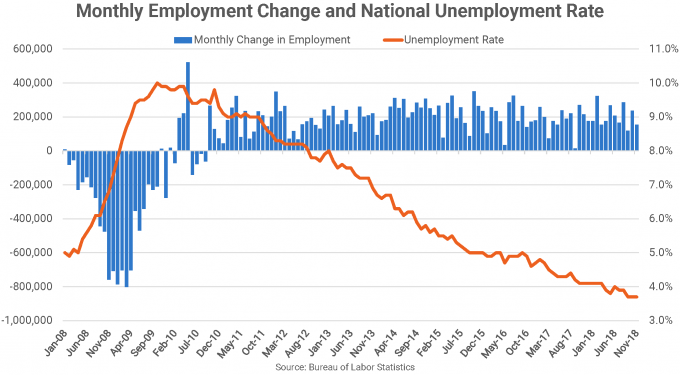 The civilian labor force (CLF) participation rate remained at 62.9% for the second straight month in November, and has averaged 62.8% for the past four years, rarely straying from a range of 62.7% and 63.0% in that time. While the CLF rates for the under-25 and over-55 worker age groups have remained flat, the CLF rate for the prime worker age group of 25-to-55 increased 40 bps from one year ago and has trended upward since October 2016, gaining 160 bps in that time. The employment-population ratio of 60.6% was unchanged from the previous month but 50 bps higher than November 2017.
The number of part-time workers for economic reasons – 4.80 million in November – increased by 181,000 from October, but was down by 49,000 from November 2017. The U6 unemployment rate, which includes these part-timers and marginally attached workers, ticked up 20 bps to 7.6% in November, but was down 40 bps from one year ago. The number of workers who prefer to work part time – 20.9 million in November – decreased 114,000 from last year.
The number of long-term unemployed workers – those out of work for 27 weeks or more – decreased to 1.25 million, down 120,000 from October and 340,000 from November 2017, on a seasonally adjusted basis. The number of multiple jobholders shot up by 341,000 year-over-year, to 7.93 million, as workers looking for additional income are finding second jobs. Meanwhile, the number of discouraged workers not in the workforce (453,000) decreased by 16,000 from one year ago.
Industry Focus
Seasonally adjusted industry job gains for November varied across industry categories, with a few strong performances and some weak-to-moderate losses. Solid job gains occurred in the Trade, Transportation, and Utilities (+53,000), Education and Health Services (+34,000), Professional and Business Services (+32,000) and Manufacturing (+27,000) industries.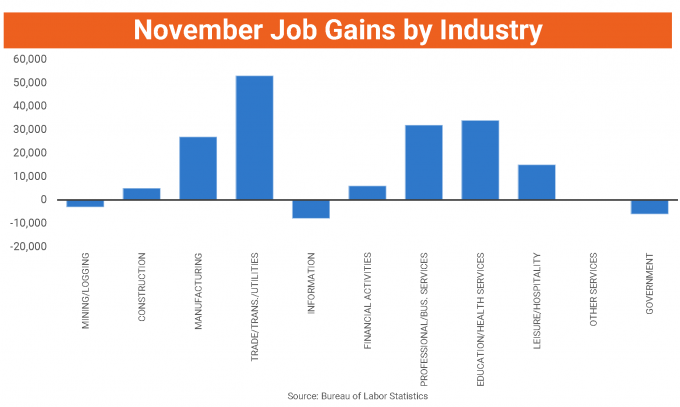 • Possibly gearing up for the holiday sales period, the transportation and warehousing sector (+25,400) accounted for almost half of the November monthly total in the Trade, Transportation and Utilities supersector, primarily in couriers and messengers (+9,800), warehousing and storage (+6,200) and support activities for transportation (+5,200). Wholesale trade added 9,500 jobs, while retail trade contributed 18,200 jobs to the monthly total.
• The Education and Health Services industry's 34,000 jobs gained in November were virtually all in the health care sector (+32,000), particularly the subsectors of ambulatory health care services (+19,200) and hospitals (+12,700). Social assistance added 8,000 jobs while educational services lost 6,400 jobs for the month.
• The higher-paying professional and technical services sector (+17,700) contributed the most jobs to the Professional and Business Services supersector in November, particularly in computer systems design and related services (+7,600) and architectural and engineering services (+5,700). The administrative and waste services sector added another 14,200 jobs, with more than half in temporary help services (+8,300).
• The durable goods sector again led the Manufacturing industry's monthly gain, adding 15,000 jobs. In November, most of that in the transportation equipment (+5,300) subsector. The nondurable goods sector (+12,000) had solid gains in the food manufacturing (+4,900) and chemicals (+5,800) subsectors.
• The Leisure and Hospitality industry added 15,000 jobs in November as the food services and drinking places subsector's gain of 21,200 new jobs was offset by a loss of 7,200 accommodation jobs.
• The Financial Activities industry's net gain of 6,000 jobs in November were spread throughout the industry's subsectors, as several experienced gains and losses for the month.
• The Construction industry took a pause for the month with a net gain of only 5,000 jobs, as construction of residential buildings (+7,100) overcame losses in nonresidential specialty trade contractors (-3,000). The heavy and civil engineering construction subsector added 200 jobs as well.
• The Other Services sector was a net zero for November, with the membership associations and organizations (+2,500) subsector offset by losses in repair and maintenance (-2,100) and personal and laundry services (-500).
• Support activities for mining (-2,400) accounted for most of the 3,000-job monthly loss in the Mining and Logging industry. Logging lost 600 jobs for the month.
• The Government sector shed 6,000 jobs in November, as hiring declined at the state level (-13,000), but grew at the local (+4,000) and Federal (+3,000) levels.
• The Information industry experienced the steepest loss for the month (-8,000), with the motion picture and sound recording sector losing 9,700 jobs, only partially offset by gains in the data processing (+1,100) and other information services (+2,700) sectors.