U.S. Homeownership Rate Hits Four-Year High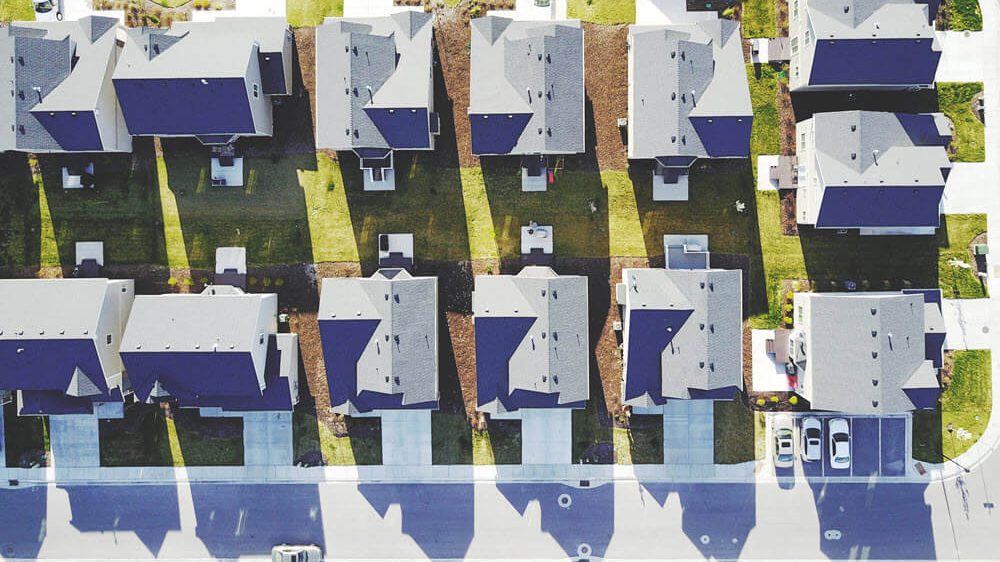 After hitting a 50-year low in 2nd quarter 2016, the percentage of homes owned by their residents in the U.S. has climbed notably, and recently hit a four-year high.
The U.S. homeownership rate is now at 64.8%, according to the U.S. Census Bureau's 4th quarter 2018 report. The nation hasn't seen this rate of ownership since 1st quarter 2014.
Homeownership rates rose 40 basis points (bps) in 4th quarter 2018, registering the largest single-quarter bump across the nation since fall 2016. Rates are up 60 bps year-over-year and are 190 bps ahead of the 50-year low the nation hit in mid-2016.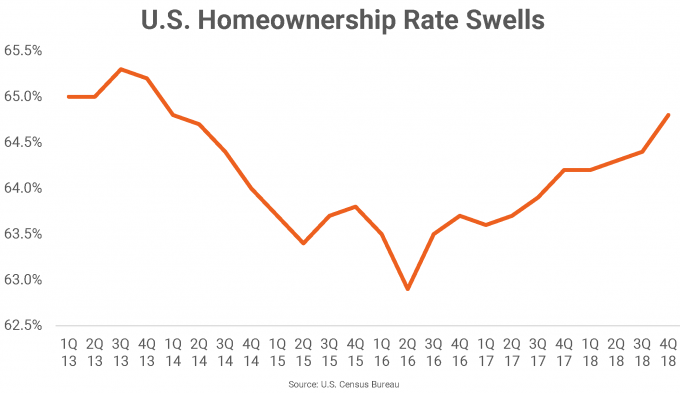 "The increasing rate for homeownership nationally is part of a continuing trend of recovery for the housing industry," said Chuck Ehmann, a real estate economist for RealPage, Inc. "The 4th quarter uptick is partly contributable to mortgage rates that rose at the end of 2018, pushing some potential buyers – particularly the 35- to 44-year-old cohort – off the fence in order to lock in rates before they rise further."
Often, as homeownership rates increase, concerns arise in the multifamily industry about what it might mean for rental demand. But digging deeper into the latest homeownership data shows a favorable trend for multifamily rentals.
Not surprisingly, national homeownership rates are higher in older generations. Homeownership becomes more viable as people get married, accumulate wealth, pay down debts and choose lifestyles that make homeownership more attractive. On the other hand, homeownership rates are lower among younger age groups, indicating that young adults have a higher propensity to rent.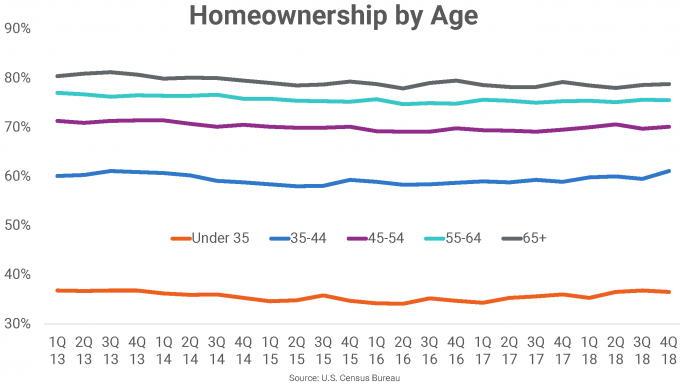 The data continues to show that few young adults are living in homes they own. The homeownership rate for people younger than 35 stood at 36.5% at year-end 2018, down 30 bps quarter-over-quarter. There are an estimated 71 million people under 35 in the U.S., making it the largest demographic in 2018.
The age group that logged the biggest upturn in homeownership in 4th quarter was the 35-to-44 cohort, which saw homeownership rise 160 bps since 3rd quarter to stand at 61.1%. Milder increases occurred among those aged 45 to 54 (up 40 bps to 70.1%) and 65-plus (up 20 bps to 78.8%).
For homeowners aged 55 to 64, rates softened by 10 bps to stand at 75.5% at the end of 2018.
Year-over-year, the only age demographic to lose steam was those 65 and older. Homeownership rates in this category fell 40 bps to stand at 78.8% in 4th quarter 2018. The largest increase of 220 bps occurred among 35- to 44-year-olds. Homeownership rates among the under-35 cohort rose 50 bps from 2017.
Though ownership rates are rising, rates will likely moderate as housing affordably becomes more challenging. Interest rates are rising. Homes are becoming more expensive, even in historically affordable markets. Many millennials are still under mountains of student debt, complicating saving for a down payment on a house. Homeownership rates are expected to level out between 64% and 65% over the next few quarters.