U.S. Apartment Fundamentals Hold Firm in November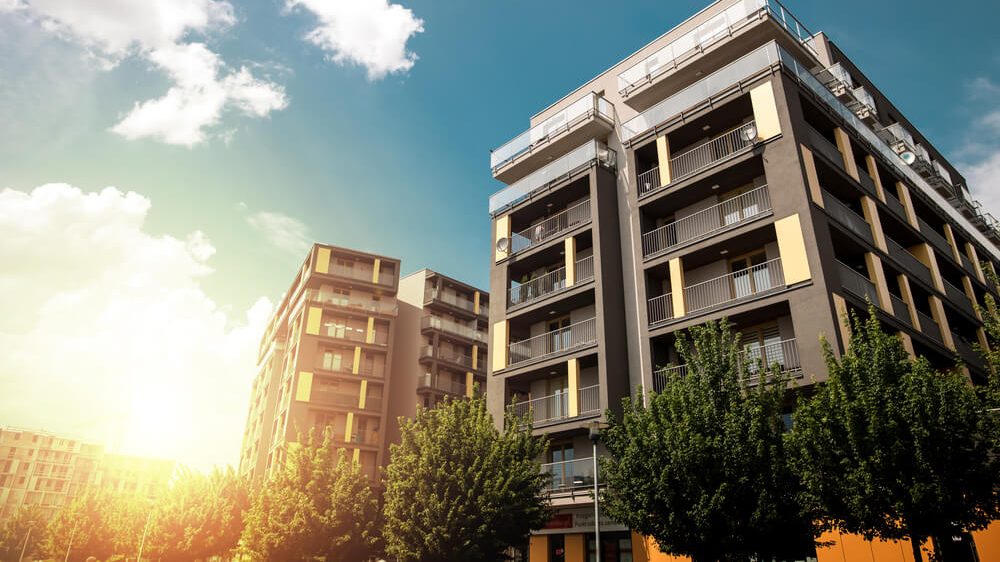 Seasonal cooling continued to set in last month, but U.S. apartments remained fuller than they have in any November in decades.
U.S. apartment occupancy has registered just below 96% in the past two months, retreating from the two-decade high of 96.3% seen in August. Occupancy usually backtracks at the end of the year as demand for apartments typically wanes in the colder months. Record demand in 2019's prime leasing season pushed U.S. apartment occupancy to this summer's high.
At 95.7%, occupancy across the U.S. remains far above its long-term average. That rate is 40 basis points (bps) higher than one year ago but 20 bps lower than one month ago. It is also the highest rate in any November on record.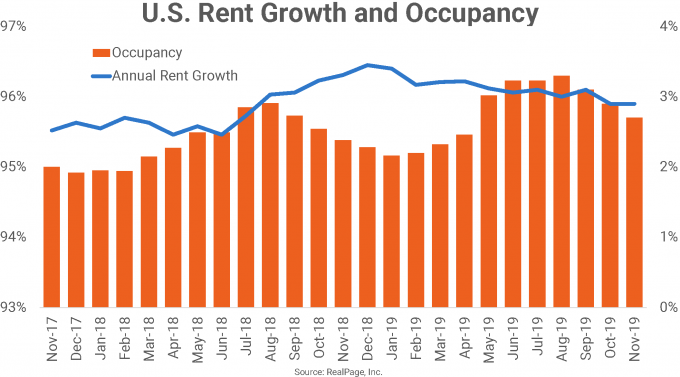 Apartment rent growth across the U.S. has been running nearly at or just above 3% since mid-2018 and November 2019 was no different. Annual U.S. rent growth held at October's rate of 2.9%.
Of the nation's 150 largest apartment markets, only 36 have experienced softening occupancy from year-ago levels. Similarly, 117 of the nation's 150 largest apartment markets hit the effectively full occupancy mark of 95% in November.
As expected, most of the nation's largest apartment markets experienced a modest softening of occupancy in November. Of the nation's 50 largest apartment markets, 45 lost a bit of occupancy momentum in November, though most only by 10 or 20 bps.
In continuation of a recent trend, markets that lost occupancy momentum on an annual basis tended to be located in California – such as San Francisco, Los Angeles, San Diego and Oakland – and Florida – such as Orlando or Tampa.
All four regions across the U.S. have experienced strengthening occupancy year-over-year, but softening occupancy from October.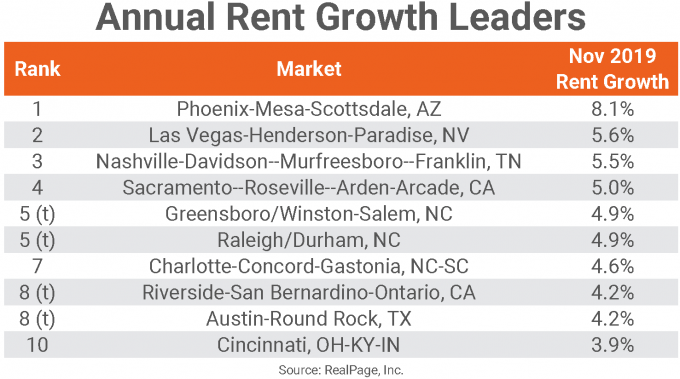 Across the U.S., apartment rents average $1,410.
Regionally, the Midwest is growing rents at the slowest rate of 2.6%, followed by the South (2.8%) and the Northeast (2.9%). The West is growing rents at the steepest rate of 3.1%.
For the third month running, November's leaderboard of rent growth leaders features the same 10 major markets as both October and September, albeit in a slightly updated order. The top three spots of Phoenix (8.1% annual rent growth), Las Vegas (5.6%) and Nashville (5.5%) remain unchanged. Sacramento gained rent growth momentum to land at the #4 spot nationally with 5% annual rent growth. The North Carolina trio takes the next three spots, followed by Riverside (4.2%), Austin (4.2%) and Cincinnati (3.9%).