U.S. Apartment Demand in 3Q Reaches a Stunning High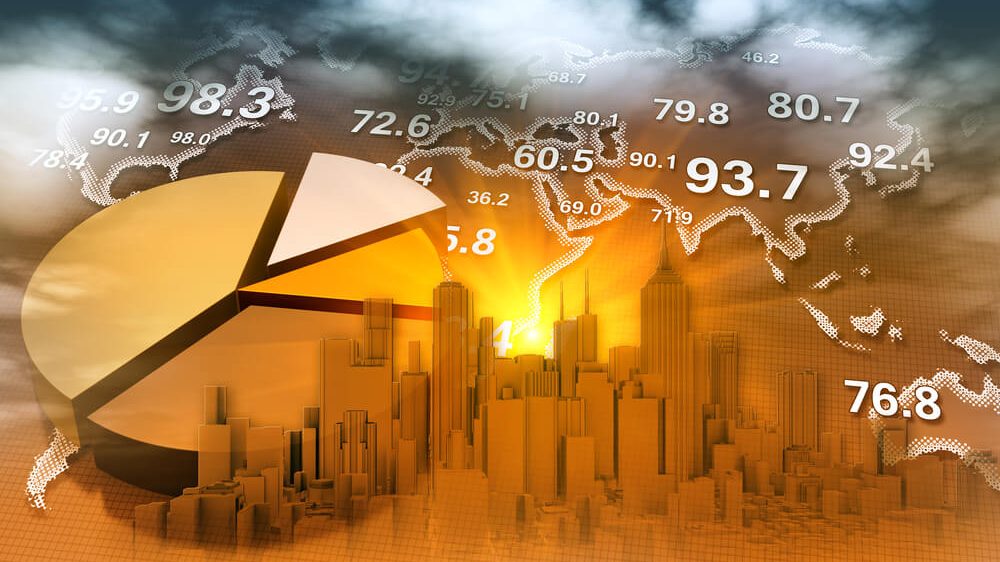 Posted September 29, 2021
U.S. demand for apartments continued to soar in 3rd quarter 2021. Preliminary calculations from RealPage, Inc. showed that the nation's occupied apartment count jumped by 255,094 units during the July to September time frame. That's the biggest quarterly product absorption figure seen in records that go back to the early 1990s.
The annual demand volume as of 3rd quarter registered at 597,354 units in the preliminary stats. That figure soared beyond the past economic cycle's peak of some 380,000 units absorbed in the year-ending 3rd quarter 2018. Annual product demand averaged about 250,000 units in 2010 to 2020.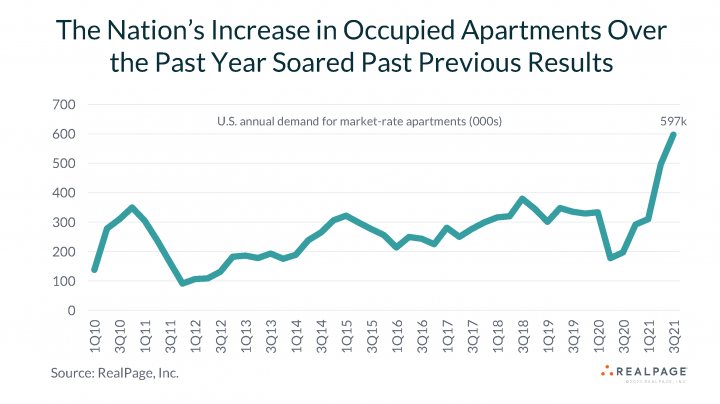 Apartment leasing in 2021 has been particularly strong at luxury Class A projects, reflecting substantial job production in the high-paying employment sectors. Also, growing home prices and limited inventory levels in the for-sale sector mean that some would-be buyers have remained in the rental housing segment, and some households who have sold homes recently are now renting again – at least temporarily.
Apartment demand also has benefitted from a wave of new household formation among young adults, including recent college graduates as well as some young workers who had returned to live with their parents when the COVID-19 pandemic first emerged.
A Big Comeback for Gateway Metros
Hefty product absorption in the gateway metros is among the factors driving the national increase in occupied apartments. These metros normally don't make much of a contribution to U.S. demand because product availability tends to be limited.
However, since demand in these metros stumbled at the same time that deliveries continued in 2020, the number of units available to rent in 2021 has been bigger than usual.
New York ranked as the country's metro-level demand leader for 3rd quarter, knocking Dallas/Fort Worth out of its normal #1 position. The number of occupied apartments in New York climbed by roughly 24,800 units from July to September, according to preliminary calculations.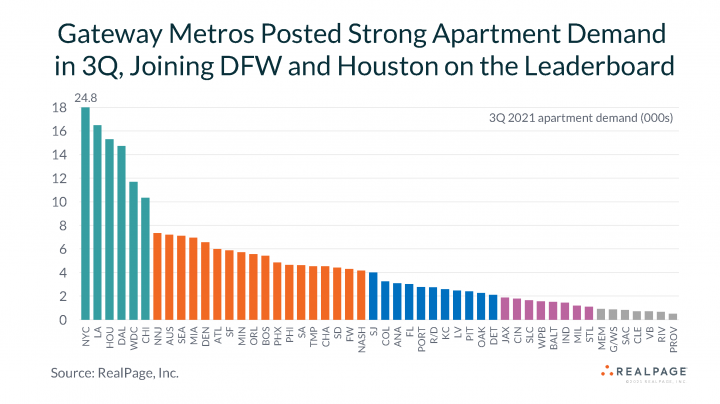 Quarterly absorption reached roughly 16,500 units in Los Angeles, some 12,100 units in the San Francisco Bay Area combo of metro San Francisco, metro Oakland and metro San Jose, about 11,700 units in Washington, DC and approximately 10,300 units in Chicago.
Demand in 3rd quarter totaled some 7,300 units in Northern New Jersey's Newark-Jersey City area, roughly 7,100 units in Seattle and some 5,400 units in Boston.
Sun Belt Product Absorption Continues
Turning to the Sun Belt and other non-gateway metros, occupied apartment counts climbed by just over 19,000 units during the 3rd quarter in Dallas/Fort Worth (14,700 of them in metro Dallas) and by roughly 15,300 units in Houston.
Quarterly product absorption totaled just over 7,000 units in Austin and just under that figure in Miami. Demand for about 5,500 to 6,000 apartments registered in Denver, Atlanta, Minneapolis, and Orlando.
Metros posting demand for roughly 4,500 to 4,800 apartments during 3rd quarter included Phoenix, Philadelphia, San Antonio, Tampa and Charlotte.
It's worth noting that extremely high apartment occupancy held back apartment demand in some locations during 3rd quarter. There was essentially no more product available to be absorbed in metros like Riverside-San Bernardino, Virginia Beach, Sacramento, Greensboro/Winston-Salem and Memphis.
Has Demand Peaked?
RealPage analysts are anticipating that near-term demand for U.S. apartments will remain well above the historical norm. However, it seems likely that the product absorption volume will ease to some degree from 2021's high level.
Several factors point in that direction.
First, most economists expect that many of the country's near-term job additions will occur in industries where wages tend to be low or moderate. That growth pattern runs counter to what was seen over the past year or so, as recovery from Spring 2020's mass layoffs registered more quickly in high-paying industry segments like professional services and the tech sector.
The addition of lower-paying jobs doesn't fuel new household formation to the degree seen when expansion is led by the creation of jobs that pay well.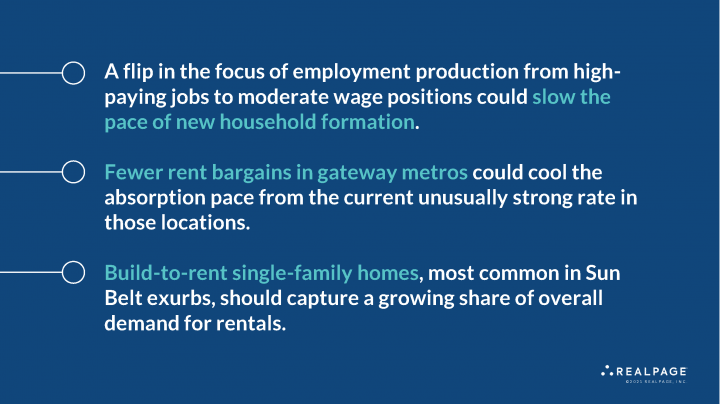 Second, with bargain rents now mostly in the rearview mirror in gateway metros, the demand comeback in these areas could slow. The youngest renters have played an especially big role in apartment leasing activity in gateway metros during 2021, with reduced prices spurring demand from households who previously couldn't afford living in these locations unless they teamed up into multiple roommate households.
At this point, rents are roughly at or meaningfully above pre-pandemic prices everywhere except the San Francisco Bay Area.
Third, build-to-rent single-family homes could drain off some demand from apartments in the Sun Belt. While build-to-rent single-family home subdivisions form only a very small portion of the total rental stock now, quite a few of these communities are under construction now, mostly in Sun Belt locations where exurban land prices are low enough to make this product work financially.
We'll have to wait and see how demand sources for this line of product are split among those who previously rented apartments, those who previously rented older single-family product from mostly mom-and-pop landlords, and those who are downsizing from larger single-family homes that they owned.