With the Downtown Building Spree, Urban Inventories Will Surge As Supply Peaks in 2017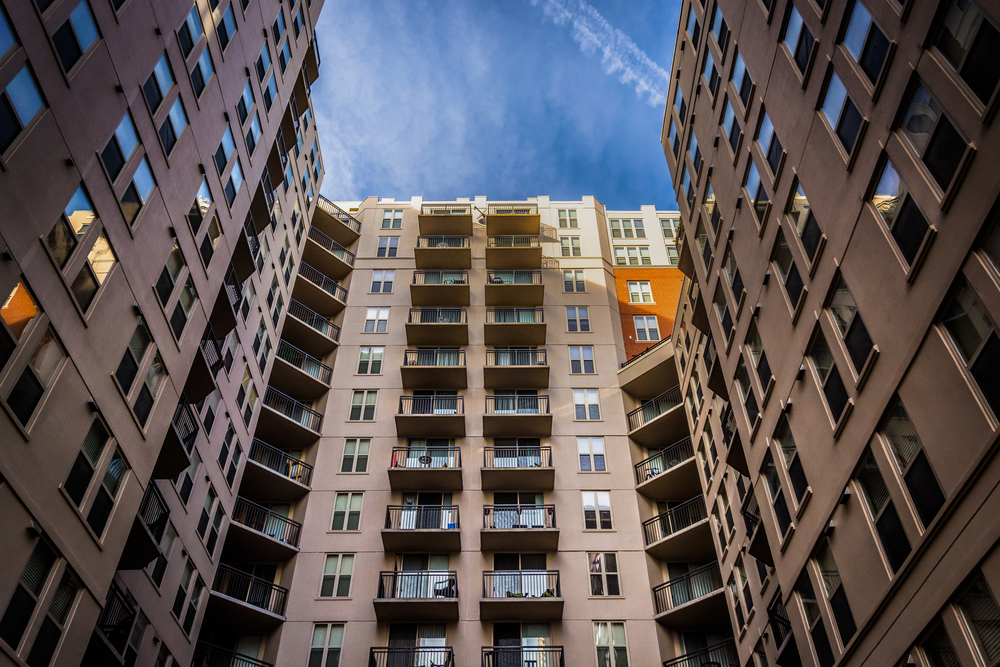 Nearly 475,000 units are underway in the nation's largest 50 markets. Of those, about two-thirds are expected to complete by the end of 2017. While the number of new units will be highest in the much larger areas outside of central business districts, the country's densest urban core areas are claiming a much larger share of new completions than they did in previous cycles. In turn, those urban areas will see explosive growth in their apartment stocks.
When looking at square mileage, the urban core submarkets make up only a fraction of the overall land mass. Central business districts, or CBDs, comprise only about 3.7% of the total land area but accounted for nearly 19% of all apartment deliveries in 2016. That supply figure is expected to exceed 22% in 2017, the highest in more than a decade. For perspective, the proportion of units delivered to CBDs in 2006 was about 11%, while other areas combined absorbed the other 89%.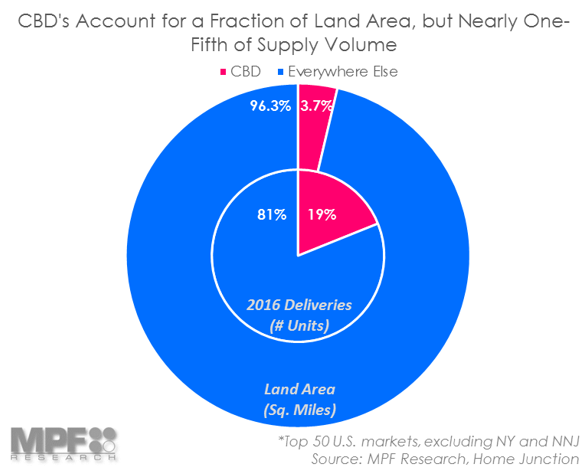 Until now, the high-water mark for urban-core supply volumes in this economic cycle came in early 2015. That was when nearly 50,000 new units were delivered to the nation's densest CBDs, expanding the existing unit base in those areas by 3.3%. Looking forward, however, inventory expansion in the CBDs is expected to range from about 3.5% to 5% throughout 2017 and 2018. New inventory is expected to reach peak delivery in late 2017, expanding the existing unit base in the CBDs by 4.8%, or roughly 72,000 units. Meanwhile, new supply is set to peak concurrently in suburban areas, where nearly a quarter-million units are on the verge of entering lease-up.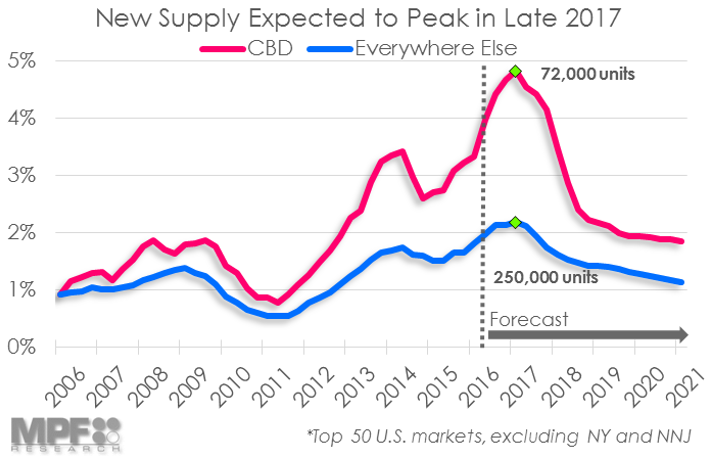 The suburbs, long underrated and misunderstood, have historically accounted for about 80% of new apartment supply. And that ratio won't change much, as delivery volumes in those areas outside of CBDs continue to grow – just not nearly to the same degree as they have in CBDs. Still, annual inventory growth in the suburbs is expected to hit at least 2.0% during each quarter of 2017, an expansion rate not seen during this cycle. To match the CBD inventory growth rates in 2017, areas outside the CBDs would need to add 1.2 million new units this year, far more than the 250,000 units that are set for delivery. That delivery volume would be about 10 times the long-term average. Annual inventory growth for the top 50 U.S. apartment markets has averaged about 1% since 1996.
Going forward, peaking supply will impact multifamily fundamentals, particularly in the CBDs where pricing is vulnerable and supply is mounting. Annual rent growth, while still positive, has softened under the weight of new supply throughout 2016. But the softness appears, at least for now, due to a focus among operators to keep occupancy above historical norms. The big question will be how demand will respond to the record supply levels. The good news for owners is that construction activity appears to be leveling off. This should give room for operators to push rents more aggressively after the supply wave subsides. Furthermore, favorable demographics should continue to provide a tailwind for the apartment market, in both the urban core and the suburbs. And the multifamily sector should continue to be favored among most other real asset classes, providing less downside risk, and more stable long-term cash flows.