Urban Core Apartments Command Rent Premium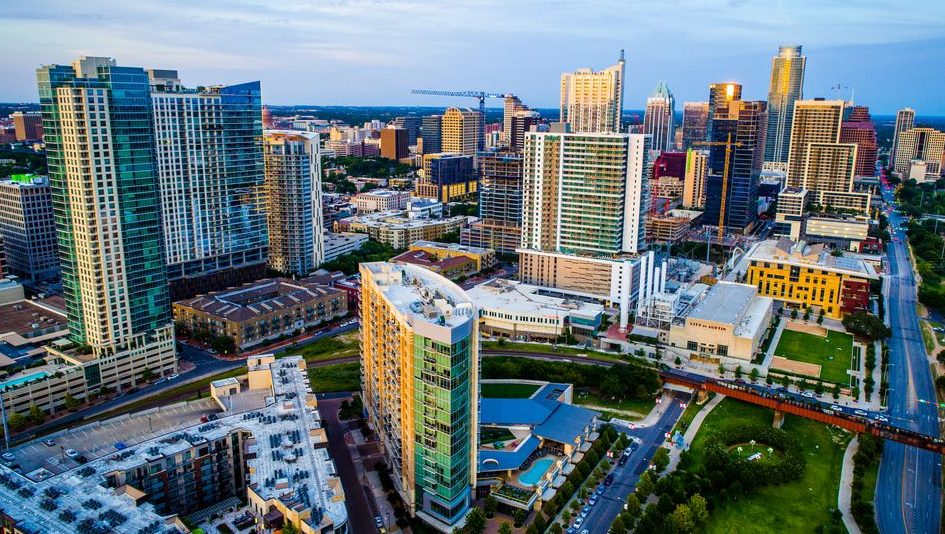 In the country's largest apartment markets, living downtown is, on average, 28% more expensive than living outside it.
Though it has been widely understood that urban living is pricier than suburban living, the premium that downtown living commands ranges widely. Called the central business district for good reason, downtowns often house the market's job center. And, increasingly, downtowns are becoming culturally significant submarkets as well. These trends translate to higher premiums in some markets than others.
Austin serves as the prime example of this trend. It costs nearly double to live in the Downtown/University submarket than it does to live in the rest of the metro.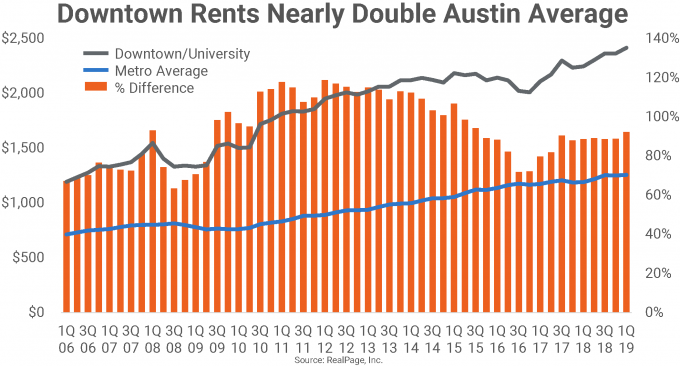 Like many other maturing markets across the nation, downtown Austin's allure has solidified during this real estate cycle as the urban core has added more live, work and play options.
Even as early as 2005, living downtown was about 60% more expensive than everywhere else in Austin, on average. Yet that spread peaked in early 2012 as downtown rents were on average 119% more expensive than the rest of the market. Today, to live in the Downtown/University submarket, which is more than 22,000 units, it will cost just shy of double the market average of $1,257 per month in 1st quarter 2019.
One key differentiator for the Downtown/University submarket is that it has a pipeline of built-in resident demand from University of Texas at Austin students. The submarket, which is roughly bounded by 38th Street to the north, Interstate 35 to the east and the Colorado River to the south and west, encompasses one of the largest public universities in the nation. While there is a lot of purpose-built student housing near campus, many Longhorns rent market-rate apartments in the downtown area to be close to campus and to take advantage of the nightlife the area offers.
Additionally, newly graduated students looking to put their bachelor's degrees to use at the nearest job center needn't travel more than a few blocks south to reach the largest concentration of jobs in Central Texas. Though downtown's job prospects have always had lots of opportunities in government and business services, the last few years have seen more technology, creative and medical jobs land nearby. The University of Texas at Austin's Dell Medical School opened in the submarket in 2016, bringing additional medical jobs to downtown.
Plus, downtown has serious cultural significance. From the city's most famous music venues and entertainment districts like 6th Street, 2nd Street and Red River to the state capital and museums, downtown is the epicenter that embodies Austin's "weird" vibe. Events like SXSW, the interactive film and music festival founded in 1987 that has ballooned in significance in recent years, and other events stationed at the Austin Convention Center keep a steady stream of visitors patronizing the area's many restaurants and shops.
Being the economic and cultural center of the metro makes downtown Austin a highly desirable area in which to live – especially considering that accessing the area from other parts of the metro can be cumbersome. With only one primary route into the area – Interstate 35 – commute times in Austin are long and increasing due to overcrowded road infrastructure. The average one-way commute time in Austin is about 25 minutes, according to the Census Bureau. Living close enough to a job center to negate a car commute commands a premium for landlords.
Austin has grown its apartment supply by more than 60,000 units this economic cycle, and the Downtown/University submarket has seen the largest chunk of that. Though supply in the Texas capital has been remarkably spread out, inventory has grown by more than 30% since 2010 in this highly desirable area.
The product built in 2010 and later in the Downtown/University submarket is 94.8% occupied, the softest figure of all other age classes. Rent growth, however is pulling an above-average 6.8% in the 2010+ product, and 8.5% in the Class A product. In the Downtown/University submarket as a whole, rent growth stands at 7.0% annually. Demand has outpaced supply for the last four quarters, and about 370 units are set to be completed in the submarket in the next year.
Considering that the Downtown/University submarket is the metaphorical heart of Austin, it stands to reason why renters are willing to pay 92% more than the market average to live there and enjoy all the area has to offer.
Some of the advantages Austin's downtown enjoys are present – but to a lesser degree – in Philadelphia, Houston, Chicago and Cleveland, where urban cores also have serious pricing power over the rest of the market.

Philadelphia
Philadelphia's urban core, called Center City Philadelphia, has evolved quite a bit in the last decade. In addition to long-standing anchor employers such as Aramark and Comcast, the submarket has quadrupled the number of employees in the area since 2005, according to Philly's public-private economic development corporation PIDC. Bookended by the Delaware River on both sides, it has improved existing and created new green spaces like the Schuylkill Banks Boardwalk. Center City is unsurprisingly a tourist hub as it claims the historic Old City and Society Hill amongst its neighborhoods. And, like Austin, Philly's urban core is home to a number of college students, with Temple University located in the heart of downtown. Additionally, Drexel University and Pennsylvania University are not far from the urban core.
The submarket has consistently outperformed the market's level of new supply, averaging 2.9% growth since 2010, compared to just 0.9% for metro Philadelphia. City Center Philadelphia saw its highest level of new supply during this economic cycle in 1st quarter 2019 as the submarket grew inventory by 5.3%. Apartments in Center City run about $800, or 59% more than the market average.
Houston
Houston's CBD premium can be attributed to sprawl more than any other market on our list. Downtown Houston encompasses three submarkets: Downtown/Montrose/River Oaks, Greenway/Upper Kirby and West University/Medical Center/Third Ward. Like many of the submarket names imply, this downtown area encompasses many medical jobs and hospitals, as well as white-collar jobs in company headquarters and colleges like the University of Houston and Rice University. Houston's museum district and main tourist attractions like Discovery Green and Minute Maid Park also live here.
With those three submarkets, Houston's downtown is geographically much larger than any other area on our list. There also a handful of urban-like spots nearby. Outside of those areas, large suburbs such as Katy, Cypress and Spring make up most of the metro. The downtown submarkets have seen high levels of new supply, averaging 6.2% annually since 2010, compared to 1.9% for the metro.
Chicago
Chicago has a defined difference between the urban core – Streeterville/River North and The Loop – and everything else. The artistic and entrepreneurial significance of River North make it a lively cultural neighborhood, business hub and shopping and entertainment destination. Streeterville lies just north of The Loop, home to most of the city's most recognizable buildings – and employers.
Virtually all the units in these two submarkets are Class A with little Class B and C peppered throughout. The inverse is true in every other submarket in Chicago. They're heavy on Class B and C and very light on Class A. Based on asset class alone, it makes sense that Streeterville/River North and The Loop command a rent premium. Additionally, these two submarkets have seen elevated supply levels compared to the market. In year-ending 1st quarter 2019, these two submarkets grew inventory by 5.1%, compared to just 1.2% in Chicago.
Cleveland
Another Midwest market, Cleveland, takes a top spot on the list of markets with pricey downtowns. Though 2016 proved to be a banner year for the city – after a Cavaliers NBA title, World Series appearance by the Indians and hosting the Republican National Convention – downtown Cleveland has been on the steady uphill climb both before and since. The submarket now employs more than 100,000 people and has come to be known as the country's principal center for biomedical innovation.
Central Cleveland has grown its inventory 27% since 2010 , accounting for more than 2,500 new units. As a whole, Cleveland has grown inventory by less than 5% since 2010. In Cleveland, where rents have hovered around $900 for about a year, is largely a Class B market. Of all asset classes, the market has the least amount of Class A units. However, many new Class A units have come online in Central Cleveland as it has been revitalized over the last several years. Rents there run about 53% higher than the market average.
Other Notable Markets
Tampa, Cincinnati, Dallas, Charlotte, Indianapolis, Atlanta, Columbus and Boston saw between a 41% and 47% premium in the urban core. More sprawling markets with a defined downtown, such as Houston, tend to see a significant downtown premium. More established dense, urban markets such as San Francisco and Los Angeles tend to see less of a premium to live downtown because there's less of a suburban/urban difference amongst its submarkets.

Four major markets see virtually no difference between the urban core submarkets and the market average. In Raleigh/Durham, Providence, Virginia Beach and San Jose, downtown rents are within a couple bucks of the rest of the market.
Of the nation's 50 largest metros, only one urban core has a discounted price tag compared to the market's average. In Las Vegas, rents in the Central Las Vegas submarket run only 78% of the market's average rent of $1,050. In other words, Central Las Vegas residents see a 22% discount to the rest of the market, on average. Central Las Vegas has seen very limited supply this cycle, averaging 0.6% annual supply since 2010, and going for years at a time with no new units to speak of. Central Las Vegas is predominantly Class B and C units, limiting the pricing power landlords can capture.