Urban Core Seattle Primed for Continued Big Growth in Apartment Stock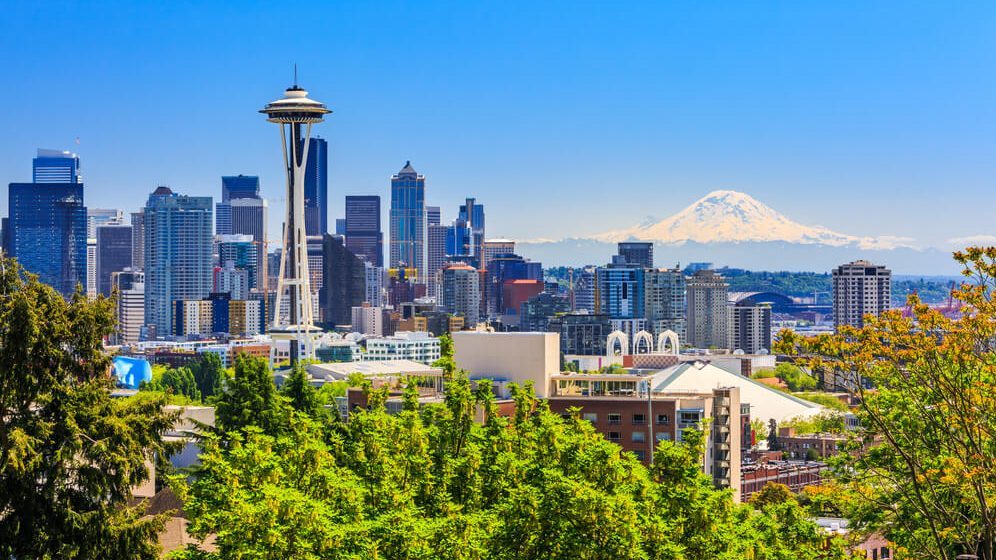 While Seattle has been a key development leader throughout the current economic cycle, deliveries here are expected to remain elevated in the near term, and the urban core is a big part of that story.
Seattle has been a top five supply market during the cycle, with only four other markets nationwide recording the completion of more apartments in that time frame: Dallas, Houston, New York and Washington, DC. Since early 2010, the existing apartment base in Seattle has grown a striking 24.4%, nearly double the national norm.
While apartment additions during the cycle have been fairly spread out across the Seattle area, the urban core – consisting of the Downtown, South Lake Union/Queen Anne and Capitol Hill/Central District submarkets – has led the charge, with over 40% of units delivered in these three central areas. South Lake Union/Queen Anne, located just north of downtown, added over 11,100 units since early 2010, growing the existing base by a stunning 68%. Meanwhile, cycle completions of nearly 10,100 units in Downtown Seattle grew the base by 47.3% – the second biggest increase in the market. Wrapping around the east and south side of downtown, Capitol Hill/Central District has seen over 8,000 units delivered in the current cycle, growing its inventory by 32.3%.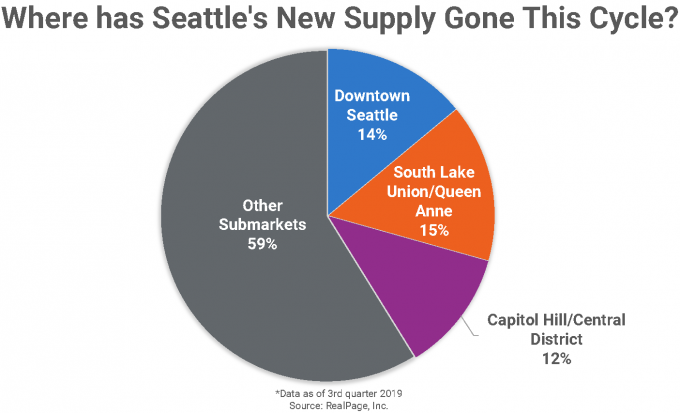 Another high-supply area, University District/Ballard area, is adjacent to the urban core, just north of Lake Union. It has seen the addition of over 10,100 units, swelling the apartment base by 37.2%.
Moving ahead, developers seem to be easing off a bit in the South Lake Union/Queen Anne area. But Capitol Hill/Central District will see about the same share of supply, and construction is doubling down in Downtown Seattle. In fact, properties under construction in the three urban core submarkets combined amount to 45% of the market's total volume underway. This is well ahead of the cycle averages for Seattle. Since 2010, the three urban core submarkets have carried about one-third of the market's overall inventory growth.
Almost 21% of what is currently underway in the market overall is rising in Downtown Seattle alone. More than 3,800 units are under construction in this submarket, set to grow the existing base by another 2.7% in the near term.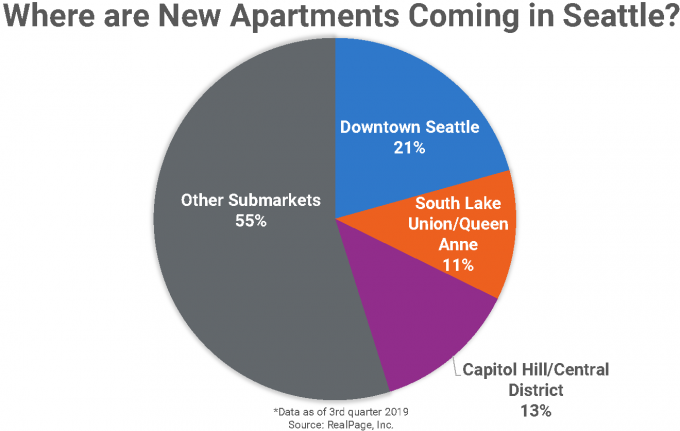 Peak delivery time for the Downtown Seattle submarket is expected in 3rd quarter 2021, when annual completions are scheduled to reach 2,344 units. In comparison, this submarket has averaged completions closer to the 1,400-unit mark over the course of the past five years. The 10-year average is even smaller at just over 1,100 units.