Urban Core Performance Diverges in High-Development Metros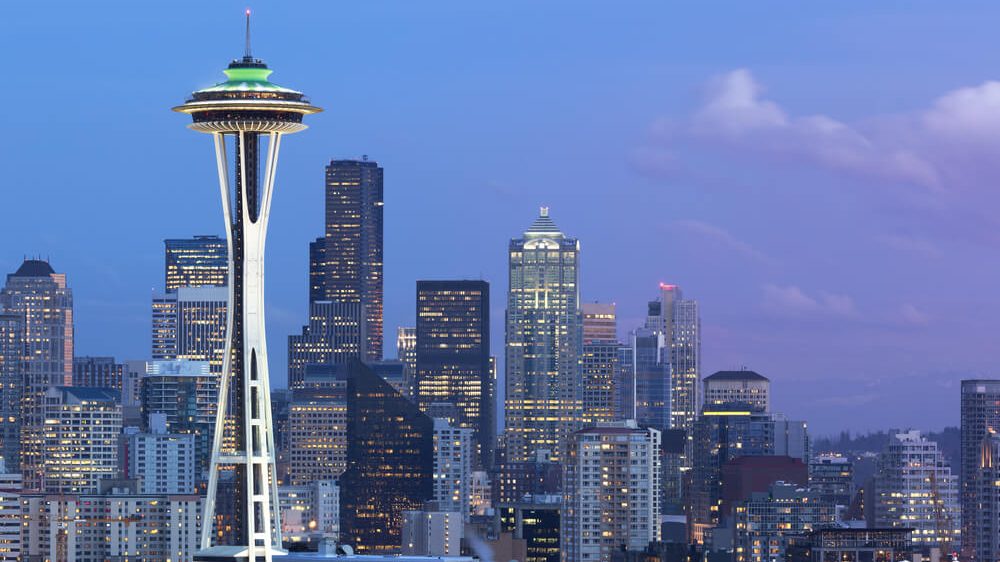 Apartment construction activity among the nation's largest and most active apartment markets during this part of the cycle has been disproportionately focused in urban core areas. The total number of apartment units completed in central business districts make up a small share of the total completion volumes of the most active metros. New urban units, however, have yielded high inventory growth rates for these downtown areas. Rapid inventory growth has affected performance in urban core submarkets to varying degrees.
Among the nation's 15 most active construction markets during the current cycle, building activity has brought significant divergence in performances in urban core areas lately.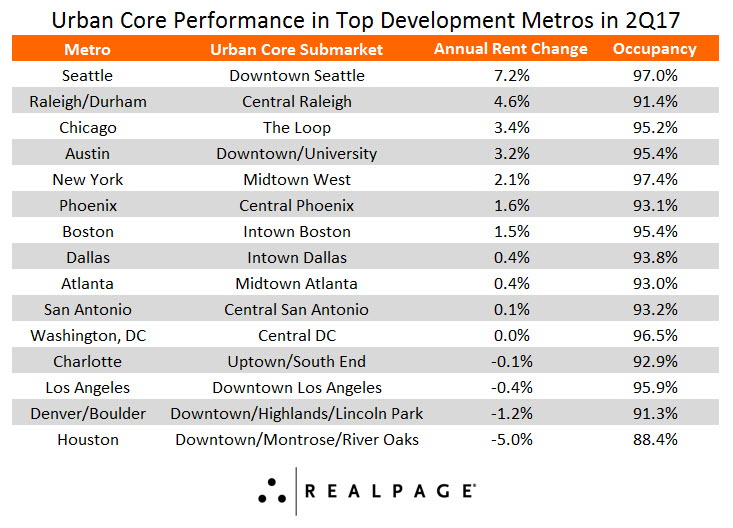 Demand drivers at the market level are a function of localized economic structure. Most recently, there have been a few standout performers, but none have been able to match Downtown Seattle. Rent growth in the Emerald City's downtown apartment market has been on a tear for more than a year, posting some of the strongest rent bumps nationally. Solid job growth, especially downtown, has fueled strong apartment demand over the last four to five quarters.
The Loop in Chicago was a surprising outperformer. Apartment performance in downtown Windy City has been more volatile than most, given the government's budgetary uncertainties and population outmigration. But the city's talent pool remains deep and robust, which continues to lure more jobs downtown and fuel rental housing demand. Annual rent growth in The Loop registered at 3.4% in 2nd quarter, making The Loop one of only four submarkets in the top 15 construction metros with marks above 3.0%. However, the impending supply load next year is likely to slow rent growth down by mid-2018.
On the other hand, apartment performance registered on the weaker side in downtown areas that are seeing the largest swaths of new supply. The biggest laggards in terms of rent growth were Houston's Downtown/Montrose/River Oaks and Denver's Downtown/Highland/Lincoln Park areas. This marks the sixth consecutive quarter of negative rent change in Houston's urban core. Fundamentals are not expected to pickup there until late 2018 when the supply wave wanes from record highs.
Meanwhile, a supply-induced slowdown has also toppled performance in Denver's urban core. New supply is expanding the existing unit count faster than most other urban areas nationally, with Charlotte's Uptown/South End being an exception. New supply in the Denver and Charlotte urban cores has sustained inventory growth of 10% to 20% over the last few years, and inventory growth is not expected to slow until the end of 2018. Apartment performance will likely remain soft as the urban center absorbs the tidal wave of supply.