Urban Core Apartments Turn to Steep Rent Cuts as Performance Headwinds Strengthen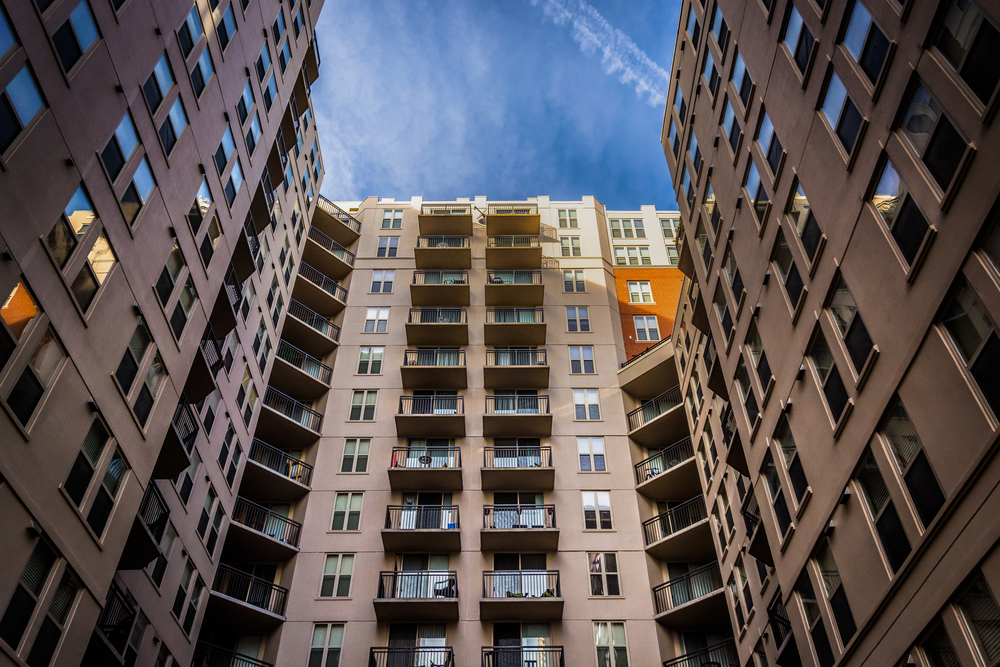 Posted September 25, 2020
Downtown areas across the country are suffering the outsized impacts of both elevated apartment construction activity and economic damage from the COVID-19 outbreak. As a result, apartment operators in the nation's urban core submarkets have resorted to some of the most severe rent cuts in the nation.
Across the country's 50 largest markets, apartments in downtown locales averaged year-over-year effective asking rent cuts of 1.7% in 2nd quarter. This was the first time since early 2010 that the urban core has seen rent cuts. While this is true for the nation as well, the cuts in downtown are much steeper than the 0.2% decline in the U.S. overall. In fact, in suburban locales, rents are still inching upward – by 0.4%.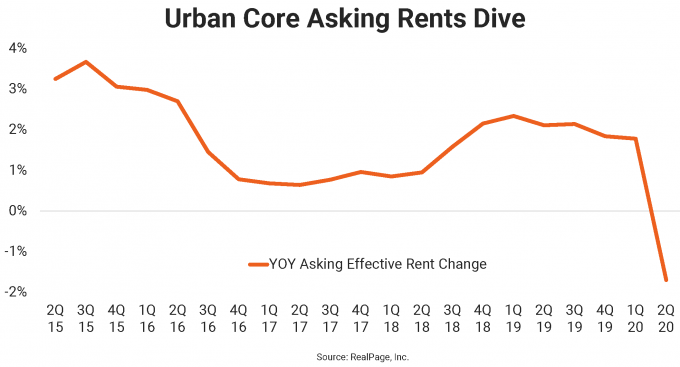 That the urban core is trailing the suburbs for rent performance is not new. These areas have trailed for effective asking rent growth for several years now. But the performance gap widened since the onset of COVID-19, as downtown annual rent change in 2nd quarter 2020 landed 360 basis points (bps) under the 1st quarter measure, compared to a 280-bps decline in the suburbs.
In many ways, the downtown areas are more vulnerable to the conditions created by COVID-19 than are the suburbs – especially in gateway markets, where housing costs are high. Urban areas tend to be more expensive than their suburban counterparts. A significant portion of that downtown rent is paid by young renters, and the pandemic-led job losses have been concentrated in segments of the labor market with high numbers of young workers. Additionally, government-set limitations on business operations have, at least temporarily, lessened the quality-of-life draws such as restaurants, bars and other entertainment options of downtown areas.
However, it's not just the virus that has taken its toll on America's downtowns in recent months. The urban core has seen historically massive construction activity in the past decade, growing the existing base by over one third since early 2010. Annual inventory expansion rates have remained 3.5% or higher in the urban core since 2014, while remaining at 2% or less in the suburbs.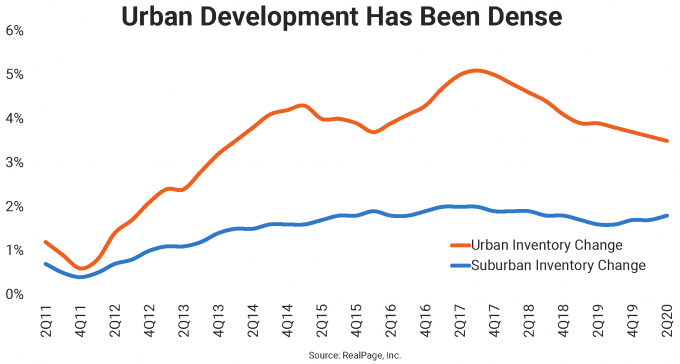 New supply will remain a major factor in apartment performance in the coming years, as more than 600,000 apartments were under construction in 2nd quarter 2020. A significant share of those were in dense, urban projects.
The downtown neighborhoods across the nation have thus far been absorbing elevated deliveries quickly, but the COVID-19 pandemic hobbles their ability to continue to do so. Urban core areas across major apartment markets have averaged occupancy near the essentially full mark of 95% for most of the past decade. The COVID-19 fallout took occupancy down by roughly 100 basis points between 1st and 2nd quarters, and operators reacted by slashing rents.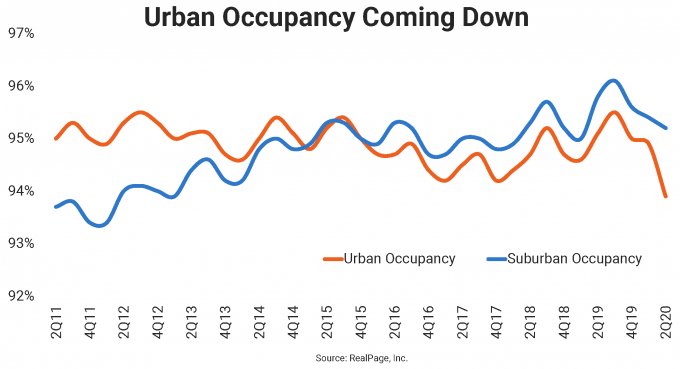 Most of the urban core submarkets that saw the steepest dives in asking rents in the year-ending 2nd quarter were either expensive areas in gateway markets or those that recorded significant new supply expansion in the past decade.
Looking first at the gateway markets, four urban locales in California made the list of the nation's worst rent declines in 2nd quarter. Downtown San Francisco saw cuts of 7.8% annually, while downturns were around 5% to 6% in Downtown Los Angeles, SoMa and Mountain View/Palo Alto/Los Altos. This was quite a departure from rent growth that was averaging about 1% to 3% in these locales during the five years prior to the downturn. Of these submarkets, Downtown Los Angeles saw its existing base increase the most, by over 51% in the past 10 years. SoMa's expansion was also significant at nearly 40%. Outside of New York City, San Francisco's SoMa neighborhood is the most expensive submarket in the nation, with rental rates averaging over $3,700.
Intown Boston – the urban core of the other gateway market on the list – saw rents come down by 5.3% in the past year. In the five years prior to this decline, rents were going up here, by an average of 1.9%. Intown Boston saw its existing base increase by 28.7% in the past decade. Additionally, this is one of the most expensive submarkets in the nation with monthly rents averaging $3,557.
The performance in these gateway downtown areas have continued to erode in more recent months, with many seeing double-digit annual rent cuts in August.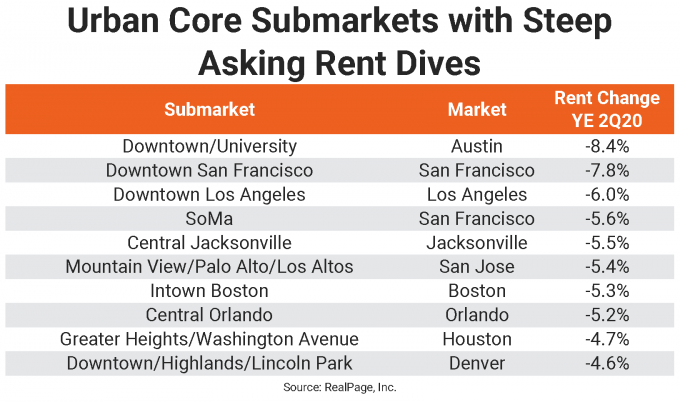 As of 2nd quarter, Austin's Downtown/University area saw the steepest decline nationally, of 8.4%. While this is not a gateway downtown, it is a high-development area and at times, a high-performing one, too. Rent growth in this submarket hit a recent peak at over 7% in early 2019 before starting to come down. This is an area that is used to big ups and downs in rent change, however. In 2011, rent growth got as high as 14%, while the steepest decline the neighborhood has seen was the downturn of more than 13% in 2009, at the end of the last recession. Downtown/University's existing apartment base increased by 22.9% in the past decade. This is by far the most expensive submarket in Austin, commanding apartment rents more than $800 above the second priciest, Southwest Austin.
Houston's Greater Heights/Washington Avenue was the only other Texas urban area logging significant rent declines. This submarket has seen its existing apartment base swell by 66.7% in the past 10 years. Houston has seen widespread growth in other nearby submarkets as well, with new supply roughly doubling the inventories in Katy, Spring/Tomball and Downtown/Montrose/River Oaks in the past decade.
Two Florida urban core submarkets logged rent cuts of more than 5% in the year-ending 2nd quarter. Central Jacksonville saw declines of 5.5%, while cuts were at 5.2% in Central Orlando. While the existing base in Central Jacksonville hasn't seen much movement in the past decade, Central Orlando's apartment count has swelled by over 90%. Prices in these areas run well below the national average ($1,955 for urban core areas).
A western urban core outside of California, Denver's Downtown/Highlands/Lincoln Park logged rent cuts of 4.6% in 2nd quarter. The apartment base in this submarket nearly doubled in size in the past decade, and monthly rents here are the most expensive in Denver at nearly $2,000.
For more information on urban and suburban apartment performance, watch the webcast Up Close and Local: The 'Burbs Market Update.