Unemployment Remains Low as Job Gains Continue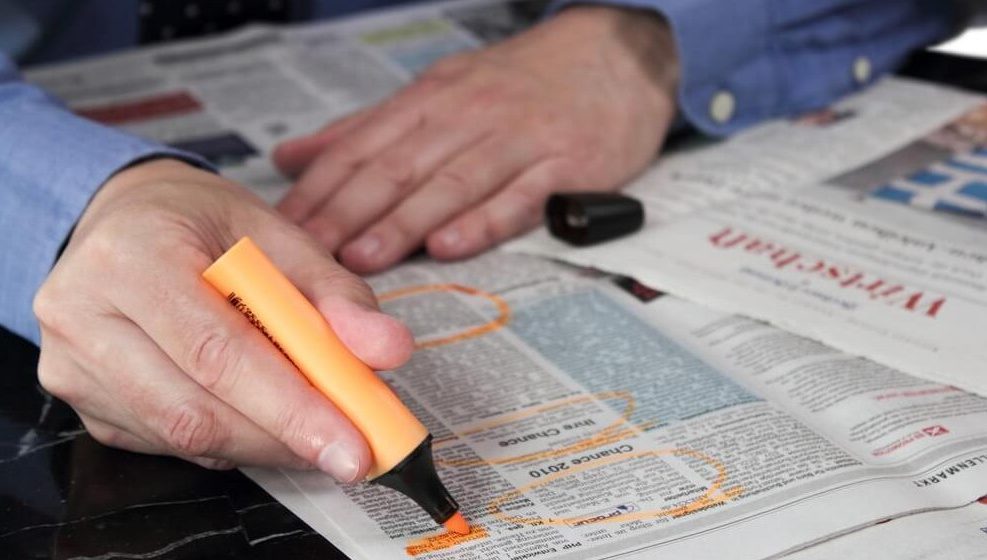 The U.S. economy added 164,000 jobs in July, a strong showing despite a low unemployment rate that remained unchanged from June at 3.7%, according to the Bureau of Labor Statistics.
July's performance brings the streak of monthly job gains to 106 consecutive months. Over that time, the monthly average through July 2019 is about 165,000 jobs, in line with current gains. However, job growth has been running slightly stronger in recent years. Over the last 12 months, the average monthly gain was 187,200 jobs, about 17,000 fewer jobs gained than the same period 12 months earlier.
Low unemployment has constrained growth recently. The number of unemployed workers has averaged close to 6.0 million since the beginning of 2019 while the number of job openings has exceeded 7.0 million since April 2018.
Meanwhile, average hourly earnings growth for all employees topped 3% for the 12th consecutive month in July, coming in at 3.2%, exactly even with the 12-month average. The monthly gain between June and July was 0.3%, increasing $0.08 for the month. Annually, wages increased $0.87, to $27.98. After climbing steadily throughout 2018, earnings growth seems to have plateaued at around the current 3.2% level.
A little more than 2.2 million jobs were added in the 12 months ending July 2019, compared to about 2.5 million for the year-ending July 2018. This annual growth expanded the job base by 1.5%, below the average annual growth rate for the preceding 12 months (1.7%). Revisions to the previous two months' numbers resulted in a not insignificant 41,000 fewer jobs than initially reported as May's job gain figure was revised from 72,000 to 62,000 jobs, and June's gains were revised from 224,000 to 193,000.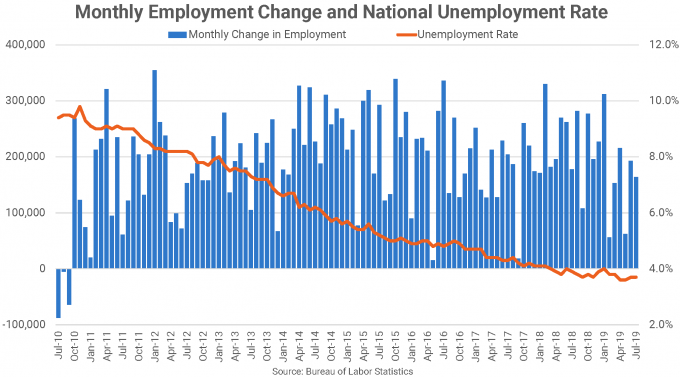 The civilian labor force participation rate increased to 63.0% from last month, and was up slightly from last year. The employment-population ratio of 60.7% was up 10 basis points (bps) from last month and 20 bps from July 2018. The total number of unemployed (6.063 million) is down about 182,000 from last year, and is the first month above 6.0 million unemployed since March.
The number of job leavers decreased by 55,000 from June, to 833,000, but was almost unchanged from July 2018. Job leavers are workers who quit or voluntarily leave their previous job and immediately began looking for new employment. The number of part-time workers for economic reasons (3.98 million in July) fell by 604,000 from July 2018, and the number of part-time workers for non-economic reasons decreased by 88,000 to 21.4 million. The U6 unemployment rate, which includes part-timers for economic reasons and marginally attached workers, dropped to 7.0% from June, and is down from 7.5% in July 2018.
The number of long-term unemployed workers out of work for 27 weeks or more fell by 252,000 from July 2018 at 1.2 million, and the average duration of unemployment fell below 20 weeks to 19.6. The number of multiple jobholders increased by 477,000 year-over-year at 8.31 million. Meanwhile, the number of discouraged workers not in the workforce (368,000) plunged by 144,000 from one year ago.
Industry Focus
July's monthly job gains by industry were a mixed bag with one or two standout performances. Strong monthly gains occurred in Education and Health Services (+66,000) and Professional and Business Services (+38,000), but most industries had only moderate gains and two industries retrenched in July.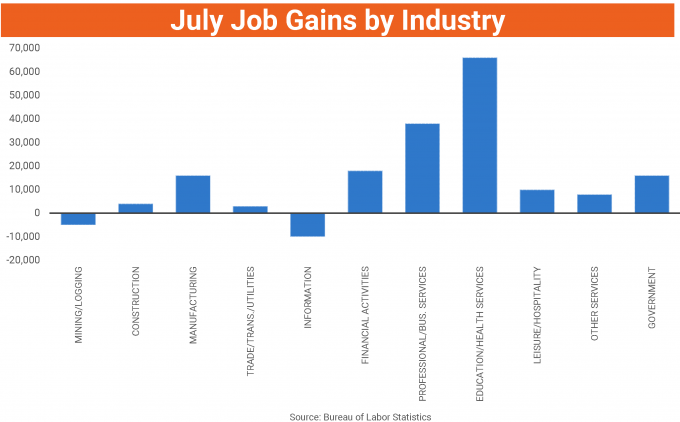 • The Education and Health Services industry's 66,000 job gain in July was dominated by the health care and social assistance sector (+50,400). Ambulatory health care services (+28,900) and social assistance (+20,000) contributed the most, while educational services gained 15,700 jobs for the month.
• The Professional and Business Services industry gain of 38,000 in July was largely in the higher-paying professional and technical services (+30,800) sector, particularly the computer systems design (+10,600) and management and technical consulting services (+5,800) subsectors. Administrative and waste services added 5,700 jobs in July, led by employment services (+5,500).
• The Financial Activities industry's net gain of 18,000 jobs came primarily from the insurance carriers subsector (+11,400) with real estate and rental and leasing adding another 4,300 jobs.
• The Manufacturing industry had another good month, adding 16,000 jobs in July. Durable goods manufacturing (+12,000) saw a return of motor vehicle manufacturing jobs (+7,200), while nondurable goods (+4,000) saw gains in chemicals (+1,900) and food manufacturing (+1,200).
• The Government sector's 16,000 job gain for July was again concentrated at the local level (+14,000), almost all of it in education (+11,700). Federal employment gained 2,000 for the month while state employment didn't change.
• The Leisure and Hospitality industry had a moderate monthly gain of 10,000 jobs, entirely in the accommodation and food service (+10,200) sector, as the food services and drinking places subsector (+15,400) offset a 5,200-job loss in accommodations.
• The Other Services sector had a gain of 8,000 jobs in July, with repair and maintenance (+5,300) leading the way.
• Job gain slowed in the Construction industry with only 4,000 jobs added in July. Specialty trade contractors (primarily residential) added 7,400 jobs, canceling 4,300 jobs lost in the heavy and civil engineering subsector.
• Layoffs at Uber hit the Trade, Transportation and Utilities supersector, as it garnered only a 3,000 gain in employment in July. Wholesale trade added 6,700 jobs while retail trade lost 3,600 jobs for the month. The transit and ground passenger transportation subsector lost 8,200 jobs while couriers and messengers added 6,700.
• The Mining and Logging industry (-5,000) lost jobs in virtually every subsector, with support activities for mining (-2,500) losing the most.
• The Information industry had a particularly bad month, losing 10,000 jobs in July. The volatile motion picture and sound recording subsector (-5,900) and telecommunications (-5,100) bled the most.