Unemployment Rate Drops to 50-Year Low, Job Gains Continue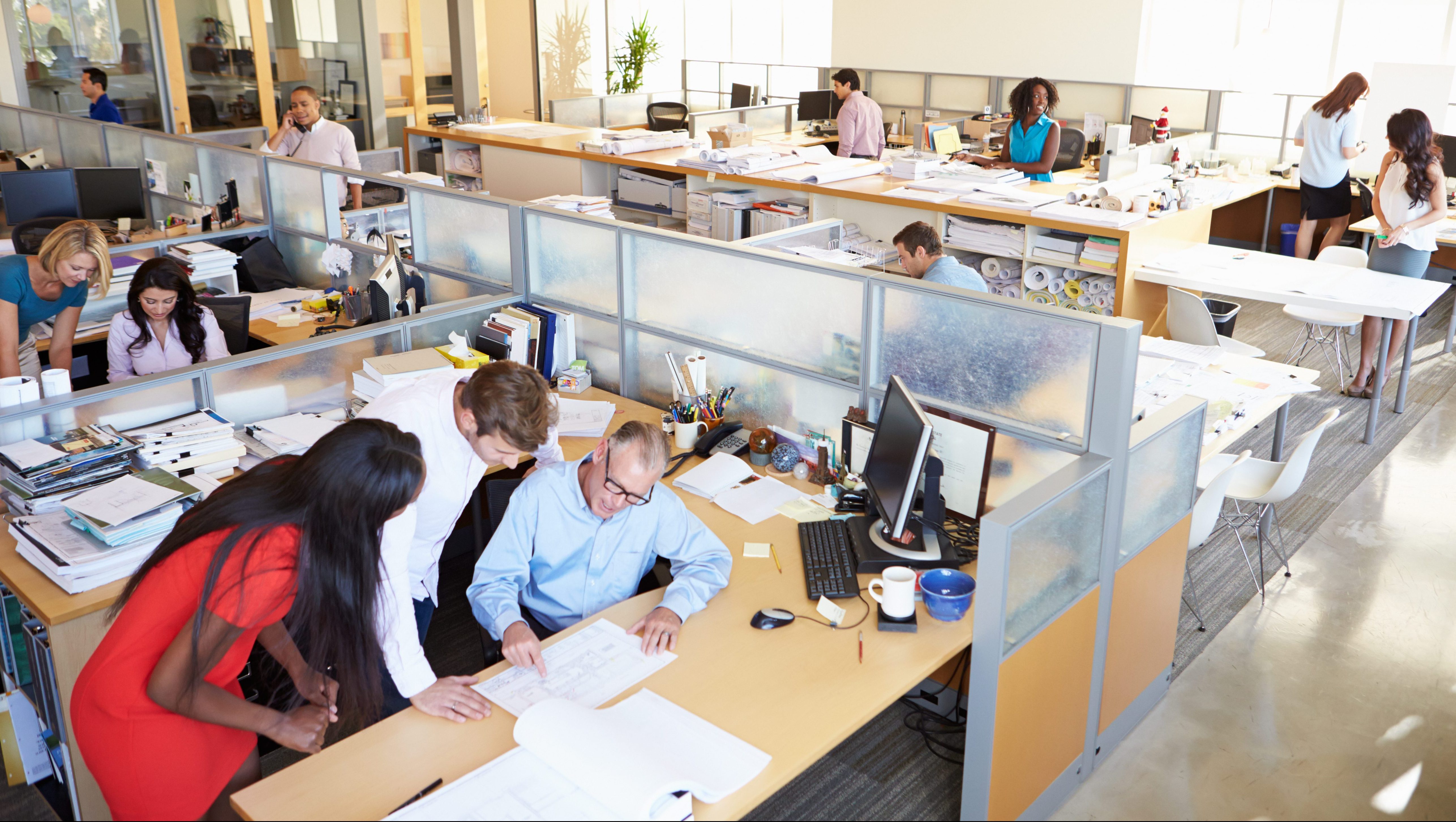 The national unemployment rate ticked down to 3.5% in September, its lowest level since 1969, according to the Bureau of Labor Statistics. Even with the exceptionally low unemployment, the U.S. economy managed to add 136,000 jobs last month.
That job gain figure came in slightly below economists' expectations, though slowing is expected with the tightening labor pool. However, revisions to the past two months added back 45,000 jobs, or about one-third of September's total gain. The monthly positive gain streak continued to 108 consecutive months, and the monthly average through September 2019 is about 160,800 jobs. The 12-month average for monthly job gain since September 2018 was 178,900 jobs, about 40,500 fewer jobs gained than the same period a year earlier.
September's jobs report was not too strong, nor too weak to push economic concerns in either direction. Average hourly earnings growth for all employees slipped below 3% for the first time in 13 months at 2.9%, despite positive job gains and shrinking unemployment. The monthly wage figure was virtually unchanged between August and September, increasing only $0.01 for the month. Annually, wages increased $0.79, to $28.09.
A little more than 2.1 million jobs were added in the 12 months ending September 2019, compared to about 2.6 million for the year-ending September 2018. This annual growth expanded the job base by 1.4%, below the 1.7% average annual growth rate for the preceding 12 months and the 1.8% growth rate in September 2018. As mentioned above, revisions to the previous two months' numbers resulted in 45,000 more jobs than initially reported as July's job gain figure was revised from 159,000 to 166,000 jobs, and August's gains were revised from 130,000 to 168,000.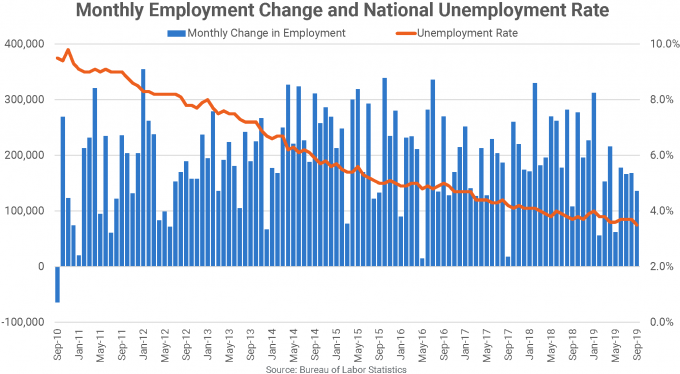 The civilian labor force participation rate was unchanged at 63.2% from last month, but was up 50 basis points (bps) from last year. The employment-population ratio of 61.0% was up 10 bps from last month and 70 bps from September 2018. After bottoming out and skating along at about 62.9% since late 2013, the participation rate seems to be finally nudging upwards as the labor market continues to tighten. The total number of unemployed (5.769 million) is down about 217,000 from last year, and the number of people not in the labor force who currently want a job has fallen from 5.3 million last September to 4.9 million currently.
The number of job leavers increased by 59,000 from August to 840,000 and was up 101,000 from last year, as the proportion of unemployed due to leaving jobs increased from 12.3% to 14.5% of all unemployed persons. Job leavers are workers who quit or voluntarily leave their previous job and immediately began looking for new employment. The number of part-time workers for economic reasons (4.35 million in September) fell by 306,000 from September 2018, and the number of part-time workers for non-economic reasons increased by 169,000 to 21.6 million. The U6 unemployment rate, which includes part-timers for economic reasons and marginally attached workers, decreased 30 bps to 6.9% from August, and was down from 7.5% in September 2018.
The number of long-term unemployed workers out of work for 27 weeks or more fell by 65,000 from September 2018 at 1.3 million, and the average duration of unemployment fell to 22.0 weeks from 24.1 last year. The number of multiple jobholders increased by 661,000 year-over-year at 8.33 million. Meanwhile, the number of discouraged workers not in the workforce (321,000) dropped by 62,000 from one year ago.
Industry Focus
Monthly job gains by industry for September was similar to August, with some of the same industries registering comparable gains and losses. The strongest gains were in the Education and Health Services (+40,000), Professional and Business Services (+34,000) and the Government (+22,000) industries. Most other industries had moderate gains or losses with the exception of the Leisure and Hospitality industry (+21,000).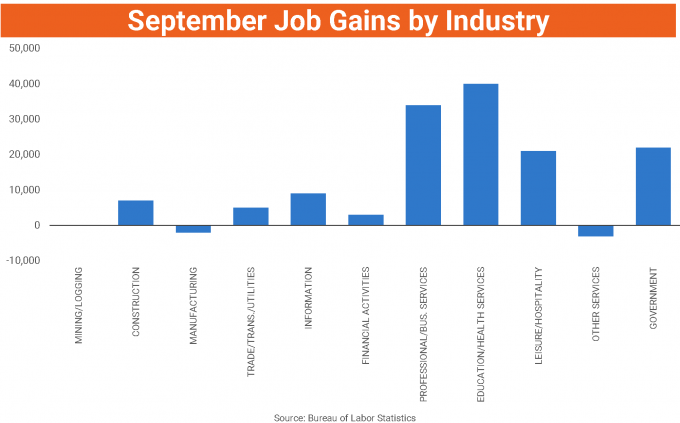 • The ambulatory health care services subsector (+28,700) accounted for 72% of the Education and Health Services industry's 40,000 job gain in September. Increased hiring at hospitals contributed another 8,100 jobs to the total.
• The Professional and Business Services industry gain of 34,000 in September was spread almost evenly between two of the three main sectors with the administrative and waste services sector (+15,500) gaining the most. The higher-paying professional and technical services sector added 12,800 jobs in September while the management of companies sector gained 5,600 jobs. One of the first industries to see retrenchment in difficult economic times – the subsector of temporary help services – gained 10,200 jobs for the month as employers continue to staff up.
• The Government sector's 22,000 job gain for September was entirely at the state (+10,000) and local (+14,000) levels, as Federal employment decreased by 2,000 jobs.
• The Leisure and Hospitality industry had a solid monthly gain of 21,000 jobs, almost entirely in the arts, entertainment and recreation sector, particularly in amusements, gambling and recreation (+13,400). The accommodation and food services sector gained only 1,000 jobs for the month.
• The Information industry benefitted from the seasonal pattern of motion picture industry employment with a gain of 9,000 jobs overall, 6,300 of them in motion pictures and sound recording alone. The other information services and publishing sectors also gained jobs for the month.
• Led by specialty trade contractors (+5,900), The Construction industry gained 7,000 jobs in September, split almost evenly between residential (+2,900) and nonresidential (+3,000) contractors. Heavy and civil engineering construction gained 2,400 jobs in September.
• Retrenchment in the retail industry continues to hamper the Trade, Transportation and Utilities supersector, as its 5,000 job gain in September was only the fourth positive month this year. Retail trade lost 11,400 jobs, particularly clothing stores (-13,800). Wholesale trade saw a modest 2,400 job increase in September, while transportation and warehousing gained 15,700 jobs for the month, with the bulk in transit and ground passenger transportation (+10,500).
• The Financial Activities industry's net gain of 3,000 jobs was split between finance and insurance (+3,800) and real estate and rental and leasing (-900), with the subsector of depository credit intermediation adding 2,300 jobs by itself.
• The Mining and Logging industry saw no gain in September as losses in the support activities for mining (-1,200) subsector were offset by minor gains in the other subsectors.
• The Other Services sector had a moderate loss of 3,000 jobs in September as a large drop in membership associations and organizations employment (-4,800) overshadowed gains of 2,400 jobs in personal and laundry services.
• Manufacturing industry gains have slowed from double-digit monthly increases for almost all of 2018, to minor gains and losses this year. The industry saw a September loss of 2,000 jobs, with a 2,000 job gain in nondurable goods offset by a 4,000 job loss in durable goods manufacturing. Durable goods manufacturing likewise had gainers and losers by subsector, with losses in motor vehicles, electrical equipment and appliances, and machinery more than cancelling gains in wood products, computers, and furniture.