Unemployment Drops to 50-Year Low as Job Gains Surge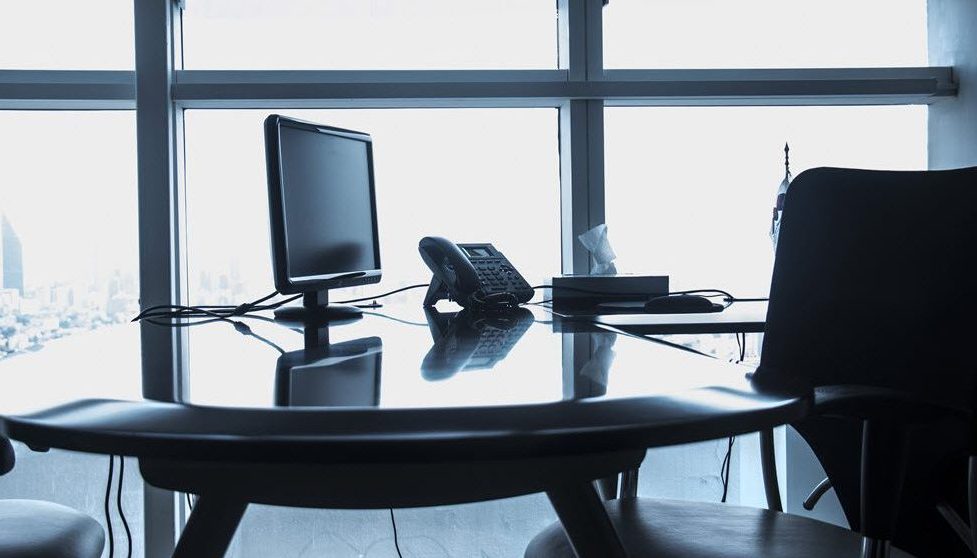 Despite an increasingly tight labor market, U.S. job growth surged past most economist's expectations in April.
The U.S. economy added 263,000 jobs last month, according to the Bureau of Labor Statistics. With those gains, the monthly positive gain streak is now at 103 consecutive months, and the monthly average so far in 2019 is about 205,000 jobs. Since 2011, the monthly average has exceeded 200,000 jobs.
Meanwhile, the unemployment rate dropped to 3.6% in April, its lowest level since December 1969.
Average hourly earnings growth for all employees topped 3% for the ninth consecutive month in April, coming in at 3.2%, slightly above the 12-month average of 3.1%. The monthly gain between March and April was 0.2%, increasing $0.06 for the month. Annually, wages increased $0.87, to $27.77.
More than 2.6 million jobs were added in the 12 months ending April 2019 compared to about 2.3 million for the same period ending April 2018. This annual growth expanded the job base by 1.8%, matching the year-earlier growth rate. Revisions to the previous two months' numbers resulted in 16,000 more jobs than initially reported as February's job gain figure was revised from 33,000 to 56,000 jobs, and March's gains were revised from 196,000 to 189,000.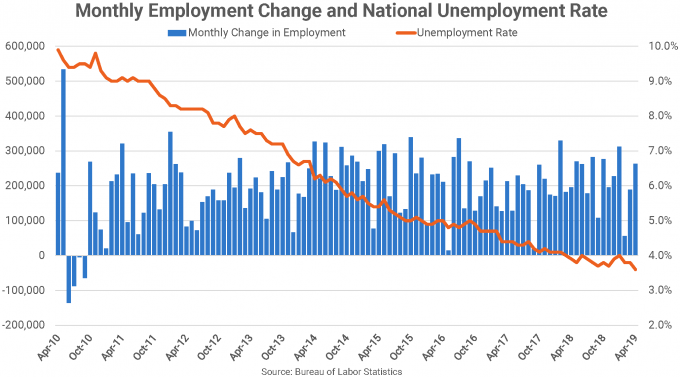 The civilian labor force participation rate dropped 20 basis points (bps) from last month to 62.8%, but was unchanged from last year. The employment-population ratio of 60.6% was the same as last month, but up 30 bps from April 2018. The total number of unemployed (5.8 million) is down more than 510,000 for the year, and is below 6.0 million for only the second time since 2000.
The number of job leavers declined in April to 737,000 – a decrease of 75,000 from March 2018 – perhaps as the number of available positions dwindles in this tight labor market. Job leavers are workers who quit or voluntarily leave their previous job and immediately began looking for new employment. The number of part-time workers for economic reasons (4.65 million in April) fell by 298,000 from April 2018, but the number of part-time workers for non-economic reasons essentially held steady at about 21.3 million. The U6 unemployment rate, which includes part-timers for economic reasons and marginally attached workers, remained at 7.3% for the third straight month, but is down from 7.8% in April 2018.
At 1.2 million, the number of long-term unemployed workers – those out of work for 27 weeks or more – was down 81,000 from April 2018, and the average duration of unemployment remained close to 23 weeks from last year. The number of multiple jobholders increased by 128,000 year-over-year, to 7.8 million. Meanwhile, the number of discouraged workers not in the workforce (454,000) increased by 46,000 from one year ago.
Industry Focus
Seasonally adjusted industry job gains for April were heavily skewed toward the service-providing industries with Professional and Business Services (+76,000) and Education and Health Services (+62,000) leading the way, although Leisure and Hospitality posted a strong 34,000 job gain. Construction hiring rebounded sharply, adding 33,000 jobs for the month, while the Manufacturing industry added only 4,000 jobs in April – the second-weakest monthly gain since mid-2017.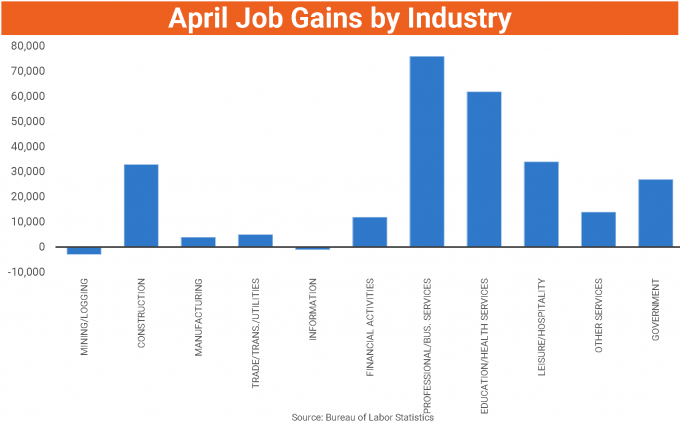 • The vast majority of monthly gains in the Professional and Business Services industry were in the lower-paying administrative and support services sector, particularly in the temporary help services (+17,900) and services to buildings (+20,600) subsectors.
• The social assistance subsector (+25,600) almost matched health care's gain (+27,000), with a particularly strong month for individual and family services (26,300). Educational services contributed 9,700 jobs to the Education and Health Services industry's job gains in April.
• Food services and drinking places (+25,000) accounted for almost three-fourths of the Leisure and Hospitality industry's monthly gain. The arts, entertainment and recreation sector added 9,400 jobs in March.
• Commercial real estate construction saw a surge in April with 22,100 additional jobs in the nonresidential specialty trade contractors subsector. Residential construction employment provided only minor gains to the overall Construction industry gain of 33,000 jobs for the month.
• The Government sector's 27,000 gain for April was entirely in local government, as Federal and state offices cancelled each other out with 11,000 jobs gained and lost.
• The Other Services sector had a strong gain of 14,000 jobs in April for the second straight month. Solid gains were made across all subsectors.
• The Financial Activities industry's net gain of 12,000 jobs came primarily from the real estate and rental and leasing sector (+7,800), with the finance and insurance sector adding another 3,400 jobs.
• The Trade, Transportation and Utilities supersector's 5,000 job gain in April was a mix of sector gains and losses, as wholesale trade (+9,900) and transportation and warehousing (+11,100) were diminished by retail trade (-12,000) and utilities (-3,200). Retail store closings are still rippling through the economy with an 8,500 job loss in general merchandise stores in April.
• The Manufacturing industry gained 4,000 jobs in April entirely in nondurable goods manufacturing, as durable goods manufacturing employment was flat. Chemicals (+3,000) and food manufacturing (+2,700) boosted the nondurable goods sector, while machinery (-2,700) and primary metals (-2,100) lost the most jobs in the durable goods sector.
• The Information industry (-1,000) saw strong gains in the other information services sector (+5,200) unable to counter losses in the motion picture and sound recording industry (-3,500) and telecommunications (-3,100) sectors.
• The Mining and Logging industry (-3,000) lost jobs in both support activities for mining (-1,400) and in logging (-1,700) in April.