U.S. Job Recovery Weak in January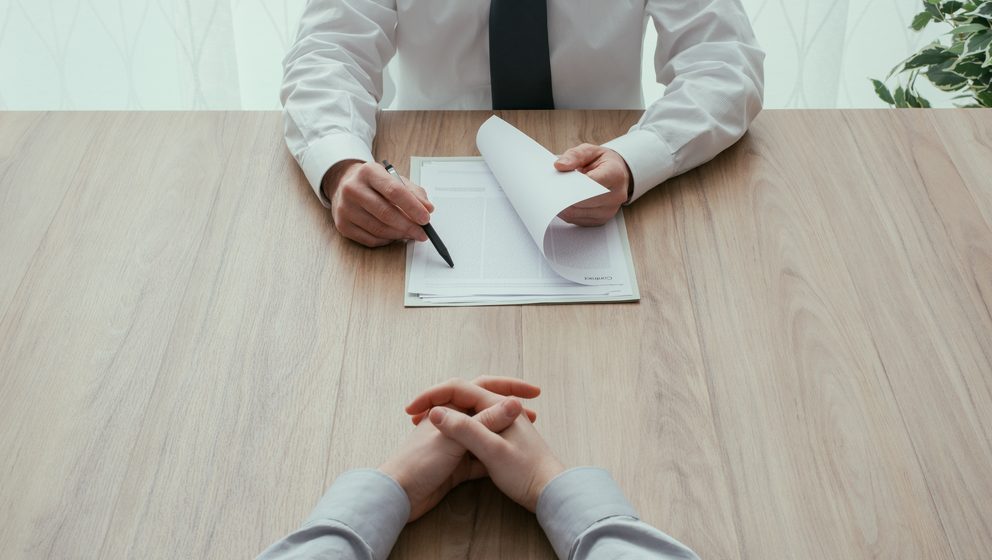 Hiring was extremely weak in January as the U.S. economy continues to feel the effects of the COVID-19 pandemic and its renewed dangers.
U.S. employers added only 49,000 workers to their payrolls in January, according to the Bureau of Labor Statistics (BLS). Meanwhile revisions to the losses from December and November deepened by a combined 159,000 jobs. While job growth seemed to return in January, the very modest gain in employment hides some underlying frailty in other aspects of the economy.
The headline unemployment rate fell to 6.3% in January, down from 6.7% from December, but that change is primarily due to unemployed workers falling out of the BLS's officially unemployed tally due to the length of their unemployment and/or inability to look for work. Likewise, the civilian labor force (CLF) participation rate ticked down in January to 61.4%, a full 2% below the participation rate one year ago.
The employment-population ratio was virtually unchanged from December at 57.5%. Updated population estimates for the household survey for 2021 make comparisons to December's unadjusted CLF, employed and unemployed totals difficult. It remains to be seen if the rollout of COVID-19 vaccines and legislative relief efforts will boost the recovery as some confidence returns in the marketplace.
In other January BLS data, annual hourly earnings growth for all employees was 5.4%, well above the 3% increase in January 2020, as the loss of lower-wage hospitality workers in the past two months has elevated the typical increase. The monthly wage figure increased $0.06 between December and January, and was up $1.53 from January 2020, to $29.96.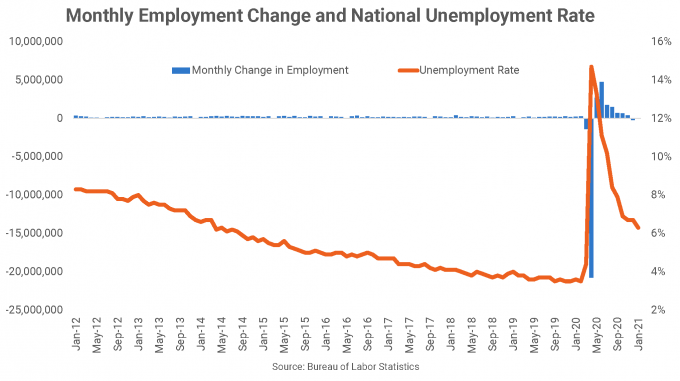 The modest gain in employment in January did little to eat into the employment deficit the economy experienced at the height of the pandemic lockdowns when more than 22 million workers lost their jobs in March and April of last year. The current shortfall has held steady since December at around 9.8 million jobs lost.
As mentioned, comparisons to unadjusted population and employment figures from December would be affected by the updated population estimates for January. Still, there were almost seven million people not in the labor force who currently want a job, close to the level we've seen for several months. More than 10 million workers are currently unemployed compared to about 5.8 million in January 2020.
The unemployment rate for women (16 and over) fell by 40 basis points compared to 30 bps for men, but again, this was likely due to more female workers losing their place in the unemployment line rather than joining it. Additionally, almost six million people are working part-time but want full-time work, an increase of about 1.7 million from last year.
The number of unemployed workers on temporary layoff increased by more than 2.1 million from January 2020 to about 2.7 million, and the number of permanent job losers topped 3.5 million. Persons marginally attached to the labor force increased to 2.1 million in January from 1.4 million last year. Persons marginally attached to the labor force are those who currently are neither working nor looking for work but indicate that they want and are available for a job and have looked for work sometime in the past 12 months. The number of unemployed for 27 weeks or more has now surpassed 4 million while the average duration of unemployment hit 26 weeks in January.
The unemployment rate for college educated workers moved up 20 bps to 4% in January and is well below the U3 or headline rate but is still double its rate from one year ago. The U6 unemployment rate, which includes part-timers for economic reasons and marginally attached workers, fell by 60 bps from 11.7% in December to 11.1% in January. The Mining and Logging industry had the largest increase in its unemployment rate (not seasonally-adjusted) from less than 2% last January to 14.2% today, while Leisure and Hospitality jumped 10% to 15.9%.
Industry Focus
With a net gain of only 49,000 jobs in January, the mix of industry winners and losers was spread almost evenly between the 11 major categories. Five industries lost jobs in January while six industries had net gains. The two industries with the strongest gains for the month also had disparate reasons for their gains. While the Government sector added 43,000 jobs primarily in the education subsector as more schools opened for in-class or on-campus learning, the Professional & Business Services' gain of 97,000 jobs was almost entirely in the temporary help services subsector – not the best indicator of a recovery.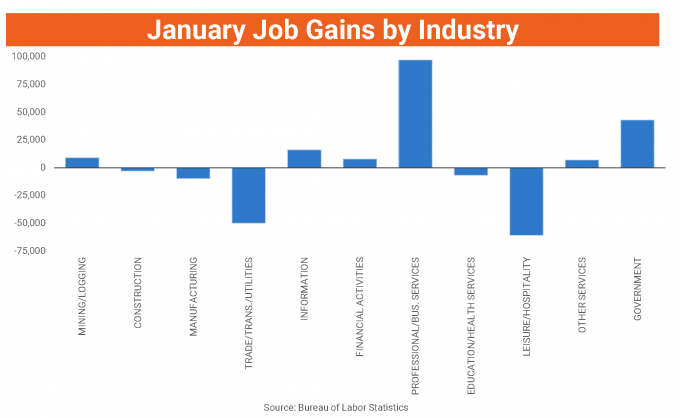 • Of the 97,000 jobs added in the Professional and Business Services industry in January, 80,900 were in the lower-paying temporary help services subsector. However, 40,100 jobs were gained in the higher-paying professional and technical services subsector, particularly in management and technical consulting services (+16,100). The services to buildings and dwellings subsector lost 13,500 jobs in January.
• The Government sector had a strong gain of 43,000 jobs for the month, both at the state (+31,000 jobs) and local (+36,100 jobs) levels as the education subsectors benefitted from more school reopenings. The Federal government retrenched by 24,000 jobs in January.
• The Information industry gained 16,000 workers in January. The telecommunications (+6,000), motion picture and sound recording (+5,000) and publishing (+4,100) subsectors led the increase.
• The Mining and Logging industry gained 9,000 jobs in January, with 7,500 in oil and gas extraction. This was ahead of announced layoffs due to the cancellation of the Keystone XL oil pipeline extension. The logging industry gained 500 jobs for the month as well.
• The Financial Activities job gain of 8,000 positions was primarily in real estate and rental and leasing services (+7,100) as a solid gain of 9,000 jobs in securities, commodity contracts, investments, and funds and trusts was offset by a 9,300 job loss in insurance carriers.
• The Other Services sector had positive gains in its three subsectors, led by personal and laundry services (+4,800), while the membership associations and organizations and repair and maintenance subsectors had gains of 1,800 and 1,200 jobs, respectively.
• Construction hiring declined by 3,000 workers in January with specialty trade contractor employment dropping by 7,500 jobs – split almost evenly between residential and nonresidential. The construction of buildings sector added 3,000 jobs, while heavy and civil engineering construction added 2,000 jobs in January.
• The Education and Health Services industry lost 7,000 jobs in January, but 33,900 jobs were gained in the educational services sector with schools reopening. The health care and social assistance sector lost 40,800 jobs for the month, with most of it in the nursing and residential care facilities subsector (-31,000).
• The Manufacturing industry lost 10,000 jobs in January, with a net loss of 17,000 jobs in durable goods manufacturing, primarily nonmetallic mineral products (-6,400). Nondurable goods manufacturing gains (+7,000) were all in the chemicals subsector (+10,500) as losses occurred in apparel and printing.
• Seasonal losses in the retail (-37,800) and transportation and warehousing (-27,800) sectors are expected after the holidays but were exacerbated by the worsening pandemic. A gain of 14,300 jobs in wholesale trade employment softened the overall loss of 50,000 jobs in the Trade, Transportation and Utilities industry.
• The Leisure and Hospitality industry continued its near lockdown status in January, resulting in an additional 61,000 jobs lost in January. Nearly every subsector lost jobs again with the steepest losses in the amusements, gambling, and recreation (-26,900) and food services and drinking places (-19,400) subsectors.