U.S. Job Gains Remain Strong as Labor Force Grows in June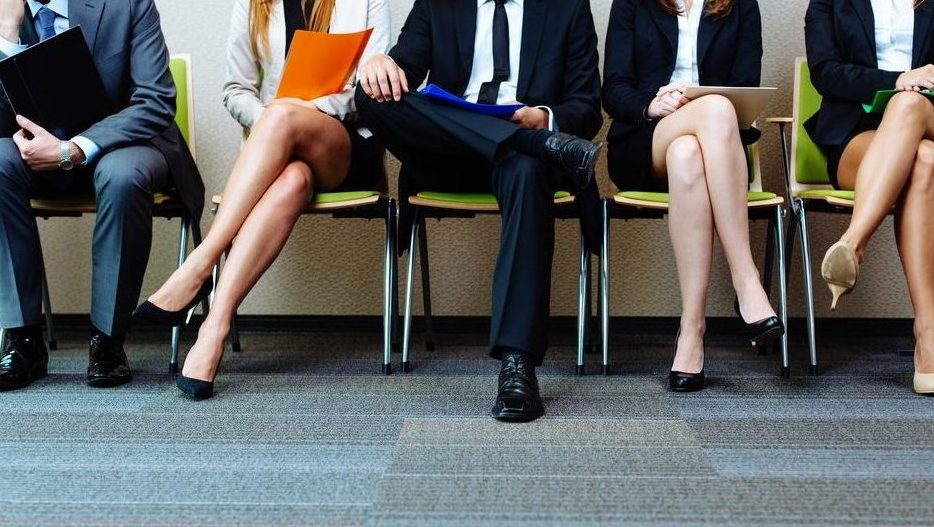 U.S. monthly job gains have averaged close to 200,000 jobs since 2011 as the national unemployment rate moderates. After dipping to its lowest rate in 18 years, the unemployment rate has little room to continue falling and has ticked up as the chronically unemployed re-enter the workforce looking for jobs.
According to the Bureau of Labor Statistics, U.S. businesses added 213,000 jobs in June, marking 93 months of consecutive gains. In the first six months of 2018, almost 1.3 million new jobs have been added to the national economy, which is 186,000 more positions than were added in the same period in 2017. Annual job gains reached 2.4 million in June, about 17,000 jobs more than June 2017's annual total. This annual growth expanded the job base by 1.6%.
As economic growth chugs along and employees continue to enter the workforce, unemployment remains low. The U3, or "headline," unemployment rate ticked up to 4.0% in June, 20 basis points (bps) above last month's rate, which was the lowest in 18 years. This slight upward movement is actually a good thing as more potential workers enter the workforce looking for jobs as the economy continues improving.
Revisions to the previous two months' numbers resulted in a net increase of 37,000 jobs over the original estimates. April's job gain figure of 159,000 positions was revised to 175,000, while May's total was revised up from 223,000 to 244,000 jobs.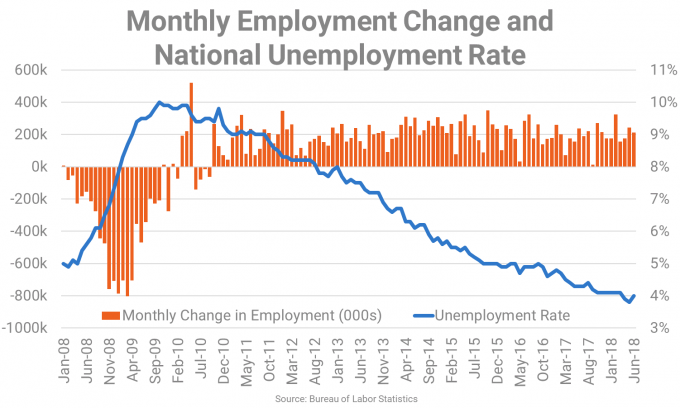 With these steady job gains and tightening unemployment, average hourly earnings for privately employed workers edged up 0.2% between May and June. This took average wages to $26.98, up $0.72, or 2.7%, year-over-year.  Annual wage growth was right in line with the average of about 2.6% recorded in the previous two years.
The civilian labor force (CLF) participation rate increased 20 bps from May to 62.9% and has averaged 62.8% since 2014, while the employment-population ratio of 60.4% remained the same as the previous month. Although the CLF participation rate has essentially held steady for the past four years, the employment-population ratio has been slowly increasing since 2011.
The number of part-time workers for economic reasons (4.7 million in June) decreased by 205,000 from May, and was down by 521,000 from June 2017. The U6 unemployment rate, which includes these part-timers and marginally attached workers, increased to 7.8% in June, up 20 bps from May. Still, that reading remains 70 bps lower than it was one year ago.
The number of long-term unemployed workers (out of work for 27 weeks or more) increased sharply from May (by 289,000) to 1.5 million, but remained 273,000 workers under the June 2017 figure, on a seasonally adjusted basis. The number of multiple jobholders decreased by a slight 32,000 year-over-year to 7.5 million, and the number of discouraged workers not in the workforce (359,000) decreased by 155,000 from one year ago.
Industry Focus
Seasonally adjusted industry job gains for June varied across industry categories, but only a few had strong performances. Solid gains occurred in the Education & Health Services (+54,000), Professional & Business Services (+50,000), and Manufacturing (+36,000) industries.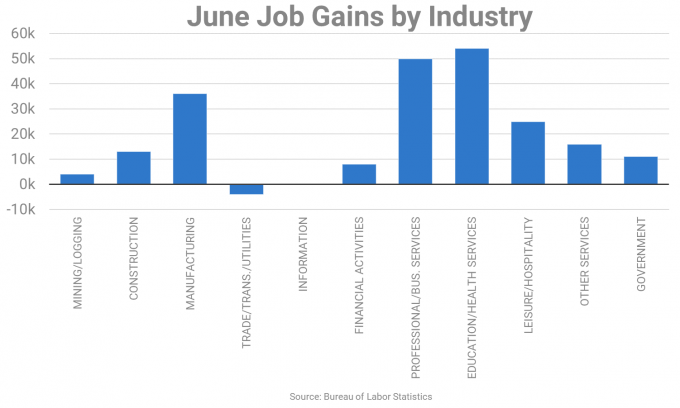 Education & Health Services experienced strong gains in educational services (+18,900) as well as the health care subsectors of ambulatory health care services (+13,500) and hospitals (+10,600). The social assistance sector contributed 9,500 jobs to the month's total.
Job gains in the Professional and Business Services supersector were spread between the higher-paying professional and technical services sector (+25,100) and the administrative and waste services sector (+19,400). The temporary help services subsector added 9,300 jobs in June.
The Manufacturing industry continues to post strong gains, primarily in the durable goods sector (+32,000). Within this umbrella, subsectors such as transportation equipment (+12,500), fabricated metal parts (+7,100), and computer and electronic products (+5,100) dominated, while food manufacturing (+4,400) garnered the nondurable goods sector's contribution.
Leisure & Hospitality (+25,000) continued to add jobs in the food services and drinking places subsector (+16,400), but also had contributions from the arts, entertainment, and recreation subsector (+4,500).
The Other Services sector gained a solid 16,000 jobs, split almost evenly between the personal and laundry services (+8,800) and membership associations and organizations (+8,100) subsectors.
The Construction industry had another solid month with a net gain of 13,000 jobs, as heavy and civil engineering construction (+6,100) led the charge. Solid gains in residential building (+3,900) and nonresidential specialty trade contractors (+2,700) contributed as well.
The Government sector grew by 11,000 jobs in June as gains at the local level (+13,000) were offset by slight losses in state (-4,600) and Federal (-2,000) governments.
The Financial Activities industry's 8,000 new jobs were largely provided by the real estate (+3,600), insurance carriers (+2,300), and depository credit intermediation (+1,900) subsectors.
The Mining & Logging industry gained just 4,000 jobs in June, with support activities for mining adding 4,400 jobs for the month. The often overlooked logging sector lost another 1,500 jobs.
The Information industry was a net zero for the month with telecommunications shedding 3,200 jobs, while publishing (+1,200) and data processing (+1,100) were net positives.
The Trade, Transportation and Utilities industry dropped a net 4,000 jobs in June. A total of 17,500 jobs were shed in the general merchandise stores category, which contributed to the net loss of 21,500 retail jobs in June. Likely contributing to this downturn was the closing of more than 700 Toys "R" US stores nationwide. Wholesale trade increased by 4,000 jobs for the month and the transportation and warehousing subsector added 15,400 jobs.