U.S. Job Gains Jump in June, Bolstered by Leisure and Hospitality Services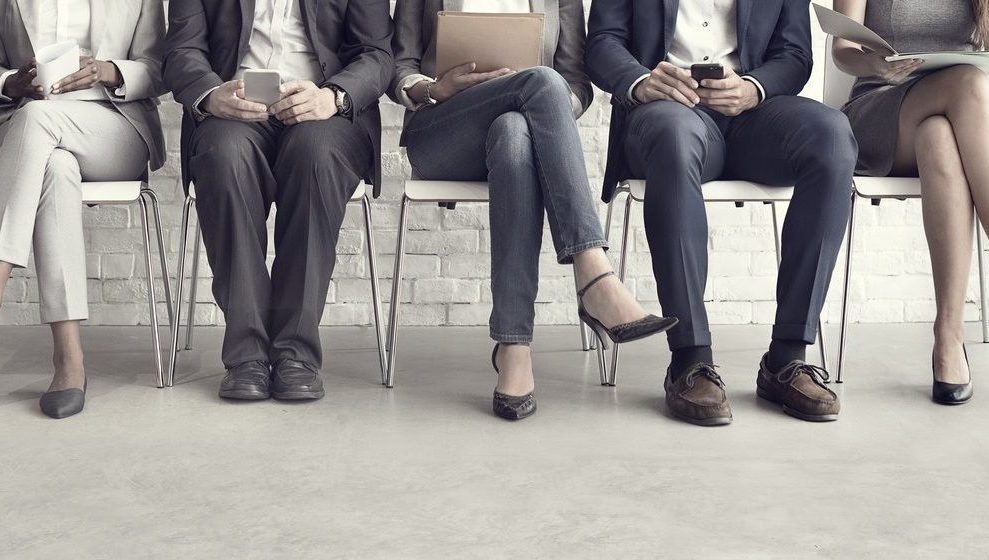 U.S. payroll employment rose by 850,000 in June, according to the Bureau of Labor Statistics, which is more than the roughly 700,000 new jobs many economists anticipated. More than 40% of June's regained jobs were in the lower-paying Leisure and Hospitality industry.
The BLS also revised up the previous two months of employment data by 15,000 jobs.
The headline or U3 unemployment rate ticked up from 5.8% in May to 5.9% in June as the civilian labor force grew slightly with job seekers rejoining the economy. However, both the labor force participation rate and employment-population ratio were unchanged from May at 61.6% and 58%, respectively. The level of employment in the U.S. labor market is still about 6.8 million workers below the pre-pandemic employment level in February 2020.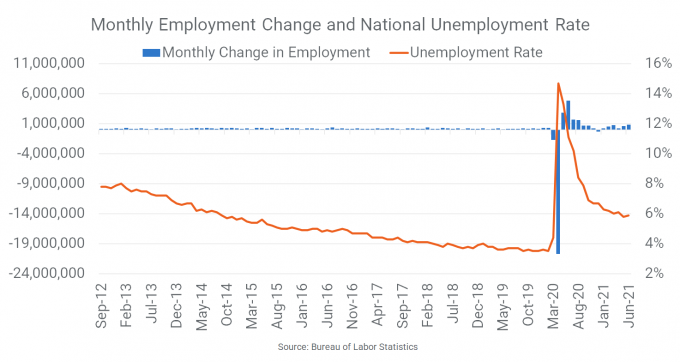 Two of the three debatable culprits blamed for holding back a more robust employment recovery have begun to diminish in influence. The vaccination rate for the COVID-19 virus is continuing to rise (albeit slowly) and several states have begun to reduce enhanced unemployment benefits that may be keeping some unemployed workers from looking for work. The third issue of parents stuck at home with children due to a lack of in-school classes, should be resolved when the school year begins again in the fall.
The continuing skills mismatch between job seekers and employers and these other issues are forcing companies to raise compensation offers. The annual change in average hourly earnings was $1.05 for the 12 months ending June 2021 to $30.40 per hour, a 3.6% annual growth rate. The average annual increase in hourly wages had been about $0.60 before the pandemic.
Typically, the large number of returning lower-wage restaurant and hospitality workers would have a dampening effect on overall wage growth. However, hourly wages increased by 7.1% for the year in the Leisure and Hospitality industry and by 6.2% for retail workers.
Despite the large numbers of Leisure and Hospitality workers returning to work in the past few months (343,000 in June and 1.6 million since January), employment in this industry is still about 2.2 million workers lower than pre-pandemic levels in February 2020. The unemployment rate for Leisure and Hospitality workers is 10.9% in June (unadjusted for seasonality), the highest among the major industries and the only other industry in double digits aside from oil and gas (10.3%).
The percentage of workers that telework continues to fall, down 2.2% to 14.4% from May and 21% lower than in June 2020, according to the BLS's supplemental data measuring the effects of the coronavirus pandemic on the labor market. Many economists believe that teleworking will never return to its pre-pandemic level as employers discover that productivity has not suffered and employee satisfaction is boosted when it is offered for at least part of the work week.
In other June BLS data, the number of people leaving or quitting their job jumped from 778,000 in May to 942,000 in June and the number of unemployed reentrants increased by almost 150,000. Those working part-time that want full-time work fell by 644,000 from last month to about 4.6 million and is a little more than half the figure from last year, while the number of workers who prefer part-time positions has increased to almost 20 million.
Workers marginally attached to the labor force were virtually unchanged from May but down 630,000 from last year as the number of discouraged workers stood at 631,000. Persons marginally attached to the labor force are those who currently are neither working nor looking for work but indicate that they want and are available for a job and have looked for work sometime in the past 12 months.
The U6 unemployment rate, which includes part-timers for economic reasons and marginally attached workers, fell to 9.8% in June compared to 10.2% last month and 18% in June 2020.
Industry Focus
Four in 10 of the jobs gained in June were in the Leisure and Hospitality industry and one in five were in Government. Significant gains were also made in the Trade, Transportation and Utilities, Professional and Business Services, and Education and Health Services sectors. The Construction and Financial Activities sectors experienced moderate job losses.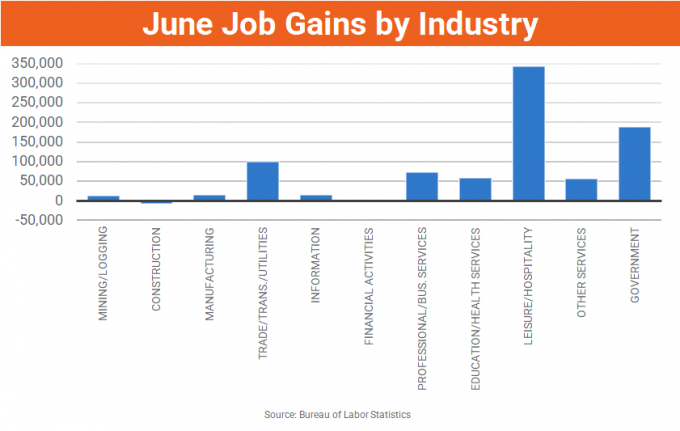 • Accommodation and food services (+269,400), and particularly food services and drinking places (+194,300), garnered the lion's share of the 343,000 jobs gained in the Leisure and Hospitality industry for June. Still, 73,600 jobs were added in the arts, entertainment, and recreation sector.
• The Government sector's gain of 188,000 jobs in June was all public education workers at the state (+74,500) and local (+155,200) levels as layoffs in local governments (-31,500) reduced the monthly total.
• Two-thirds of the 99,000 monthly gain in the Trade, Transportation, and Utilities industry was in retail trade with clothing stores (+27,900) and general merchandise stores (+24,500) comprising the largest share of the 67,100 jobs gained. Wholesale trade added 21,300 jobs in June, mostly in durable goods (+13,500), while transportation and warehousing added 10,700 jobs for the month, despite a loss of 23,800 jobs in the couriers and messengers subsector.
• Temp hiring rebounded in June with a gain of 33,000 jobs, adding to the 72,000 job total for the Professional and Business Services industry. That figure nearly matched the 33,700 jobs gained in the higher-paying professional and technical services sector.
• The Education and Health Services industry's monthly gain of 59,000 jobs was primarily education services (+38,600), as a loss of 12,200 health care jobs offset a gain of 32,400 jobs in social assistance. Much of that gain in social assistance was for child day care services (+24,900).
• The Other Services sector had a very strong gain of 56,000 jobs in June with a jump of 29,200 jobs in personal and laundry services employment. Membership associations and organizations added 18,200 jobs for the month and repair and maintenance gained 8,900 jobs.
• The Manufacturing industry gained 15,000 jobs in June as the volatile motor vehicles and parts subsector lost 12,300 jobs in June after a strong gain the previous month. Offsetting some of that loss were gains in other durable goods categories like furniture (+8,500), fabricated metal products (+5,700), and primary metals (+3,100). The nondurable goods subsector reported a loss of 3,000 jobs in June.
• The Information industry gained 14,000 jobs for the month with almost all of that in data processing, hosting and related services (+13,200). The motion picture and sound recording subsector had a solid gain of 5,400 jobs but the telecommunications and publishing subsectors each lost about 2,000 jobs for the month.
• The Mining and Logging industry gained 12,000 jobs in June led by the support activities for mining subsector (+9,700). The logging sector gained about 1,600 jobs for the month.
• The 1,000 jobs lost in the Financial Activities industry were spread among several subsectors with gains in real estate (+5,000) and securities and investments (+1,700) cancelled by losses in commercial banking (-3,900) and rental and leasing services (-5,100).
• The Construction industry lost 7,000 jobs in June with continued cutbacks in commercial or nonresidential construction the main cause. Nonresidential specialty trade contractors lost 14,800 jobs for the month and heavy and civil engineering construction lost 10,900 jobs. The construction of buildings subsector gained 5,600 jobs, about evenly split for residential and nonresidential building workers.