U.S. Hiring in July Slows as Unemployment Rate Falls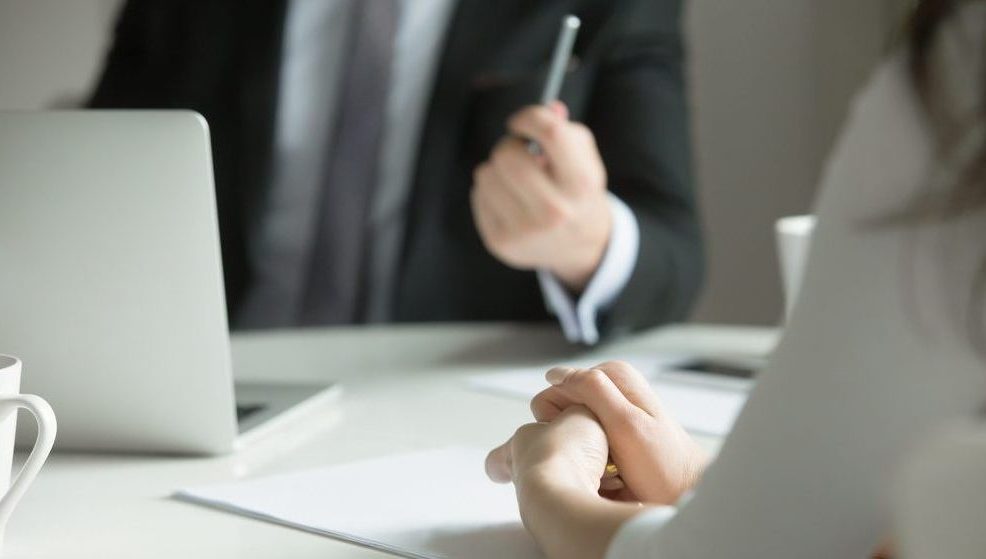 U.S. monthly job gains came in below many economists' estimates in July but marked 94 consecutive months of gains, with 157,000 more positions created, according to the Bureau of Labor Statistics. After ticking up last month, the unemployment rate continued to decrease and has fallen below 4% for the third time in four months.
Momentum appears to be gaining in the economy – more than 1.5 million jobs have been added in the first seven months of 2018 compared to just under 1.3 million in the same period in 2017. Annual job gains reached 2.4 million in July, about 178,000 jobs more than July 2017's annual total. This annual growth expanded the job base by 1.6%.
This economic growth has resulted in low unemployment, despite employees continuing to enter the workforce,. The U3, or "headline," unemployment rate ticked down to 3.9% in July, 10 basis points (bps) below last month's rate. This continued tightening of the unemployment rate will undoubtedly keep the pressure on employers for wage increases as the economy continues improving.
Revisions to the previous two months' numbers resulted in a net increase of 59,000 jobs over the original estimates. May's job gain figure of 244,000 positions was revised to 268,000, while June's total was revised up from 213,000 jobs to 248,000 jobs.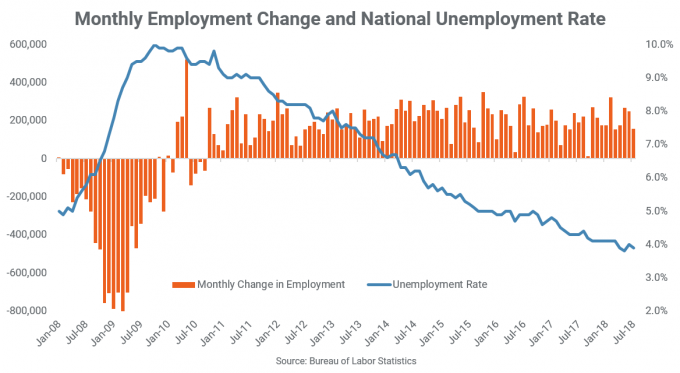 With these steady job gains and tightening unemployment, average hourly earnings for privately employed workers edged up 0.3% between June and July. This took average wages to $27.05, up $0.71, or 2.7%, year-over-year. Annual wage growth was right in line with the average of about 2.6% recorded in the previous two years. In contrast, the Atlanta Fed's three-month moving average wage growth tracker series recorded a 3.2% growth in hourly wages, perhaps indicating that the flat trajectory of the BLS data reflects new, younger hires' lower wages replacing some retirees' higher wages.
The civilian labor force participation rate held steady from June at 62.9% and has averaged 62.8% since 2014, while the employment-population ratio of 60.5% inched up 10 bps from the previous month. Although the participation rate has essentially held steady for the past four years, the employment-population ratio has been slowly increasing since 2011.
The number of part-time workers for economic reasons (4.6 million in July) decreased by 176,000 from June, and was down by 669,000 from July 2017. The U6 unemployment rate, which includes these part-timers and marginally attached workers, decreased to 7.5% in July, down 30 bps from June, and 100 bps from one year ago.
The number of long-term unemployed workers (out of work for 27 weeks or more) decreased from June (by 43,000) to 1.4 million, but remained 322,000 workers under the July 2017 figure, on a seasonally adjusted basis. The number of multiple jobholders increased sharply by 530,000 year-over-year to 7.8 million, and the number of discouraged workers not in the workforce (512,000) decreased by 24,000 from one year ago.
Industry Focus
Seasonally adjusted industry job gains for July varied across industry categories, with a few strong performances and some moderate losses. Solid gains occurred in the Professional and Business Services (+51,000), Leisure and Hospitality (+40,000) and Manufacturing (+37,000) industries.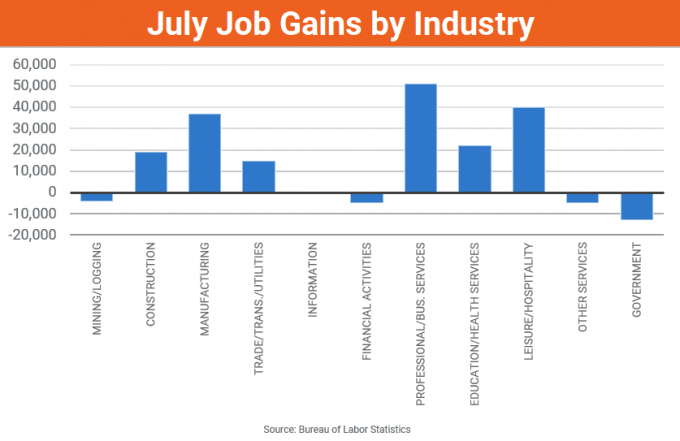 The temporary help services subsector contributed almost 28,000 jobs to the Professional and Business Services supersector's job gains in July, while the higher-paying professional and technical services sector added almost 16,000 jobs.
Leisure and Hospitality's gains continued to be dominated by the food services and drinking places subsector (+26,200), but the arts, entertainment and recreation subsector added 6,100.
The Manufacturing industry continues its resurgence despite tariff concerns, led by strong gains in the durable goods sector (+32,000). Within this sector, the strongest gains were in the transportation equipment (+13,100), machinery (+5,800) and fabricated metal parts (+5,100) subsectors. Food manufacturing (+2,100) garnered the largest share of the nondurable goods sector's contribution (+5,000).
Education and Health Services' net gain in July of 22,000 jobs saw strong gains in the health care (+16,700) and social assistance (+16,800) sectors offset by losses in the educational services (+10,800) sector.
The Construction industry continues to grow with a net gain of 19,000 jobs, as specialty trade contractors (+14,200) led the charge. The construction of buildings subsector added 4,400 jobs as well.
Wholesale trade had a particularly strong contribution (+12,300) to the Trade, Transportation and Utilities industry's monthly gain (+15,000). Retail trade added a net 7,000 jobs for the month despite a severe drop in the sporting goods, hobby, book and music stores subsector (-31,800). Transportation/warehousing (-1,300) and utilities (-2,800) both lost jobs in July.
The Information industry was a net zero for the month with gains in other information services (+2,400) cancelled by losses in the motion picture and sound recording industry (-2,300).
The Mining and Logging industry gave back its 4,000 jobs gained in June, with an equal loss of 4,000 jobs in July, almost entirely in support activities for mining (-3,800).
The Financial Activities industry's net 5,000 fewer jobs in July were largely due to cutbacks in the insurance carriers (-6,700) subsector, while real estate and rental and leasing added 3,500 jobs.
The Other Services sector lost 5,000 jobs, with net losses in all of this industries subsectors.
The Government sector retracted by 13,000 jobs in July, as local government employment retrenched by 20,000 employees.