U.S. Hiring Accelerates with Restaurant Reopenings in February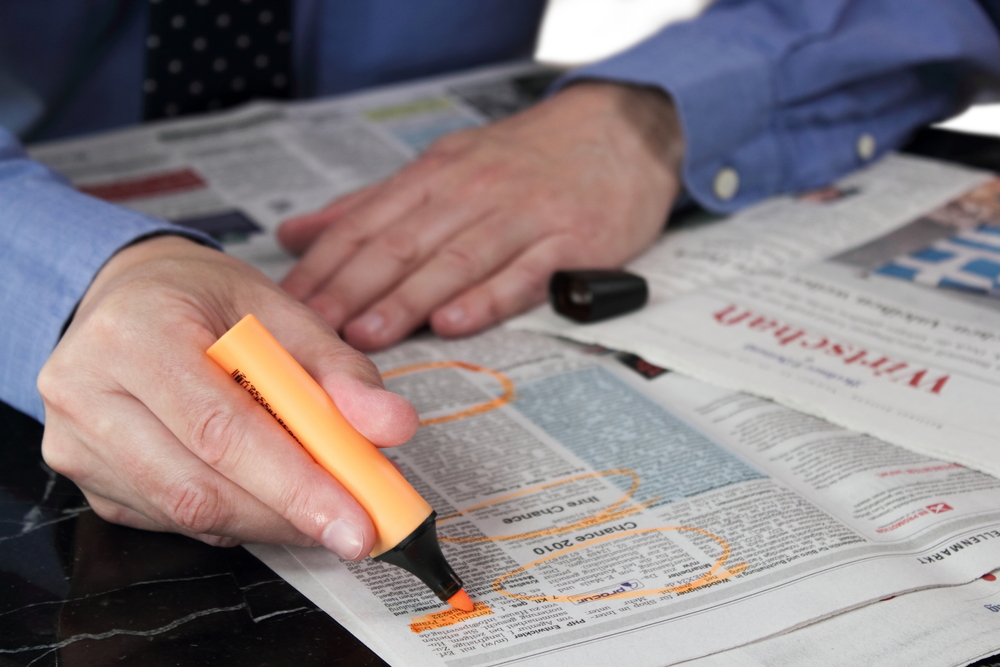 The U.S. saw job gains in February come in well above most economist's expectations, signaling that the labor market could be emerging from both the COVID-19 pandemic shutdowns and the big chill of the winter months.
About 379,000 jobs were added to employers' payrolls in February, according to the Bureau of Labor Statistics (BLS). And while December's job loss of -227,000 was revised down to -306,000, the modest gain of 49,000 in January was bumped up to 166,000, resulting in a net increase of 38,000 for those two months.
The headline unemployment rate ticked down to 6.2% last month from 6.3% in January as the number of unemployed fell below 10 million for the first time since the pandemic recession began. Unemployment among men (6.3%) is still about 20 basis points (bps) above the rate for women aged 16 or over.
The civilian labor force participation rate held steady at 61.4% but is still 190 bps below last year's rate. The employment-population ratio inched up from January, to 57.6%. As more of the economy continues to return to some sort of normalcy, 22.7% of workers teleworked because of the pandemic in February compared to 35.4% in May of 2020, according to supplemental data from the BLS's Household Survey.
In other February BLS data, annual hourly earnings growth for all employees was 5.3%, well above the 3% increase in February 2020 despite this month's increase in lower-wage hospitality workers. The monthly wage figure increased $0.07 between January and February, and was up $1.50 from February 2020, to $30.01.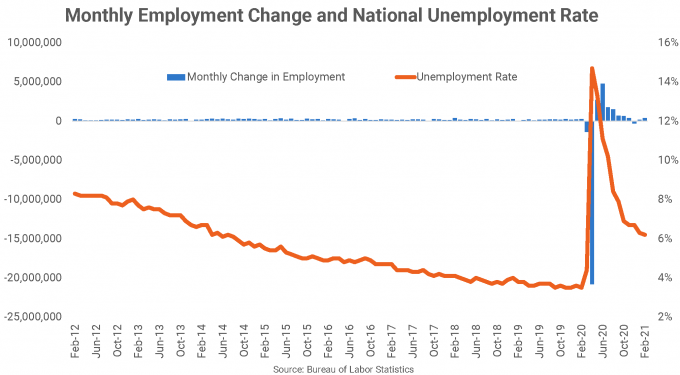 This month's solid gain in employment made some headway in eating into the employment deficit the economy experienced at the height of the pandemic lockdowns when more than 22 million workers lost their jobs in March and April of last year. The current shortfall slipped to 9.4 million jobs lost after holding at around 9.8 million for the past three months.
The number of workers not in the labor force who currently want a job remained about the same as in January at about 6.9 million but that is still 1.9 million higher than last February. Additionally, 4.2 million of the 100.9 million people not in the labor force did not look for work in the last four weeks because of the coronavirus pandemic, according to the BLS's February supplemental data measuring the effects of the COVID-19 on the labor market. More than 13.3 million workers were unable to work because their employer closed or lost business due to the coronavirus pandemic. However, this is well below the 49.8 million reported in May of last year.
The number of people working part-time that want full-time work has held steady at around 6 million workers since December while the number of workers who prefer part-time positions has remained near 18 million since November.
The number of unemployed workers on temporary layoff decreased by more than 500,000 from January, to about 2.2 million, and the number of permanent job losers ticked just below 3.5 million. Workers marginally attached to the labor force slipped below 2 million in February from 2.1 million last month. Persons marginally attached to the labor force are those who currently are neither working nor looking for work but indicate that they want and are available for a job and have looked for work sometime in the past 12 months. The number of unemployed for 27 weeks or more is still high at more than 4.1 million while the average duration of unemployment hit 27.6 weeks in February.
The U6 unemployment rate, which includes part-timers for economic reasons and marginally attached workers, remained at 11.1% in February despite slight improvement in the U3 unemployment rate.
Industry Focus
While more than half of the 11 major employment categories experienced job gains in February 2021, almost 94% of the monthly gain was in just one industry – Leisure and Hospitality. As more and more bars and restaurants reopened around the country, the food services and drinking places subsector regained 285,900 jobs, or more than 75% of February's total job gain. The Government and Construction industries gave back thousands of jobs in the month, cutting almost 150,000 jobs between them.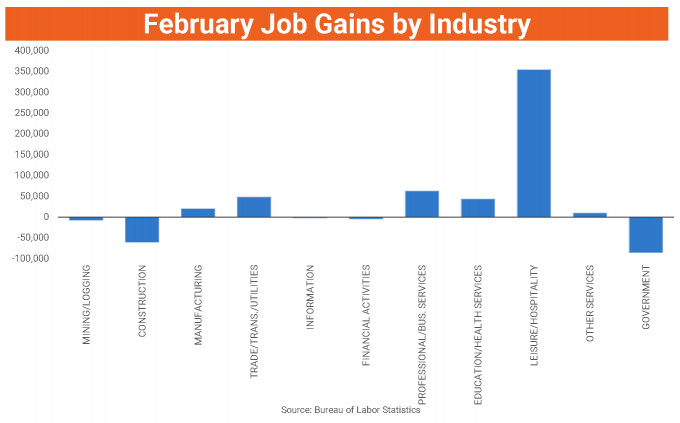 • Although the bulk of the Leisure and Hospitality industry's February job gain of 355,000 jobs were primarily restaurant employees, solid gains were made in the accommodation (+35,700) and amusements, gambling, and recreation (+33,000) subsectors as travel and sporting venues regain some footing.
• Just as occurred last month, most of the 63,000 jobs added in the Professional and Business Services industry in February were in the lower-paying temporary help services subsector (+52,700). On the other side, 22,800 jobs were gained in the higher-paying professional and technical services subsector, particularly in legal services (+7,200) and computer systems design (+6,200).
• The Trade, Transportation and Utilities industry added 49,000 employees to payrolls in February with 41,100 of them in retail stores as some pandemic-related pent-up demand is beginning to emerge. Solid gains at general merchandise stores, health and personal care stores, and food and beverage stores, offset job losses at clothing stores. The wholesale trade and transportation and warehousing sectors had modest gains of about 4,000 jobs each.
• The Education and Health Services industry gained 44,000 jobs in February, but the social assistance sector (+25,700) outgained the health care sector (+19,900) with the individual and family services and day care subsectors contributing the most. Medical professionals' offices had solid gains in the health care sector, while hospitals and nursing care facilities lost jobs for the month.
• Durable goods manufacturing added 17,000 to the Manufacturing industry's 21,000 jobs gained in February, primarily transportation equipment (+9,700). Nondurable goods manufacturing gains (+4,000) were all in the miscellaneous nondurable goods category (+4,100) as losses occurred in food manufacturing and printing.
• The Other Services sector had a net positive gain of 10,000 jobs in February with a jump of 15,100 jobs in personal and laundry services offset by a loss of 8,900 jobs in the repair and maintenance subsector.
• The Information industry experienced a net loss of 3,000 jobs for the month with cuts in the telecommunications (-3,400) and publishing (-2,500) subsectors overwhelming gains in the data processing (+1,800) and broadcasting (+1,100) subsectors.
• The Financial Activities job loss of 5,000 was spread between the real estate and rental and leasing services (-4,300) and finance and insurance (-1,400) subsectors. The credit intermediation subsector added 4,100 jobs in February.
• The Mining and Logging industry lost 8,000 jobs in February with 6,200 of them in the support activities for mining subsector, perhaps a ripple effect of the cancellation of the Keystone XL oil pipeline extension. Another 2,000 jobs were lost in the oil and gas extraction subsector as well.
• Despite record levels of residential building permits issued recently, Construction hiring declined by 61,000 workers in February, with specialty trade contractor employment dropping by 42,200 jobs, although the bulk of that was in the nonresidential subsector (-36,700). Heavy and civil engineering construction lost 20,800 jobs in February.
• The Government sector lost the most jobs of any employment category in February with 86,000 fewer government employees than last month. Losses at the local (-44,000) and state (-39,000) levels were the culprit, as Federal employment was little changed for the month (-3,000).