U.S. Employers Add Nearly 5 Million Jobs in June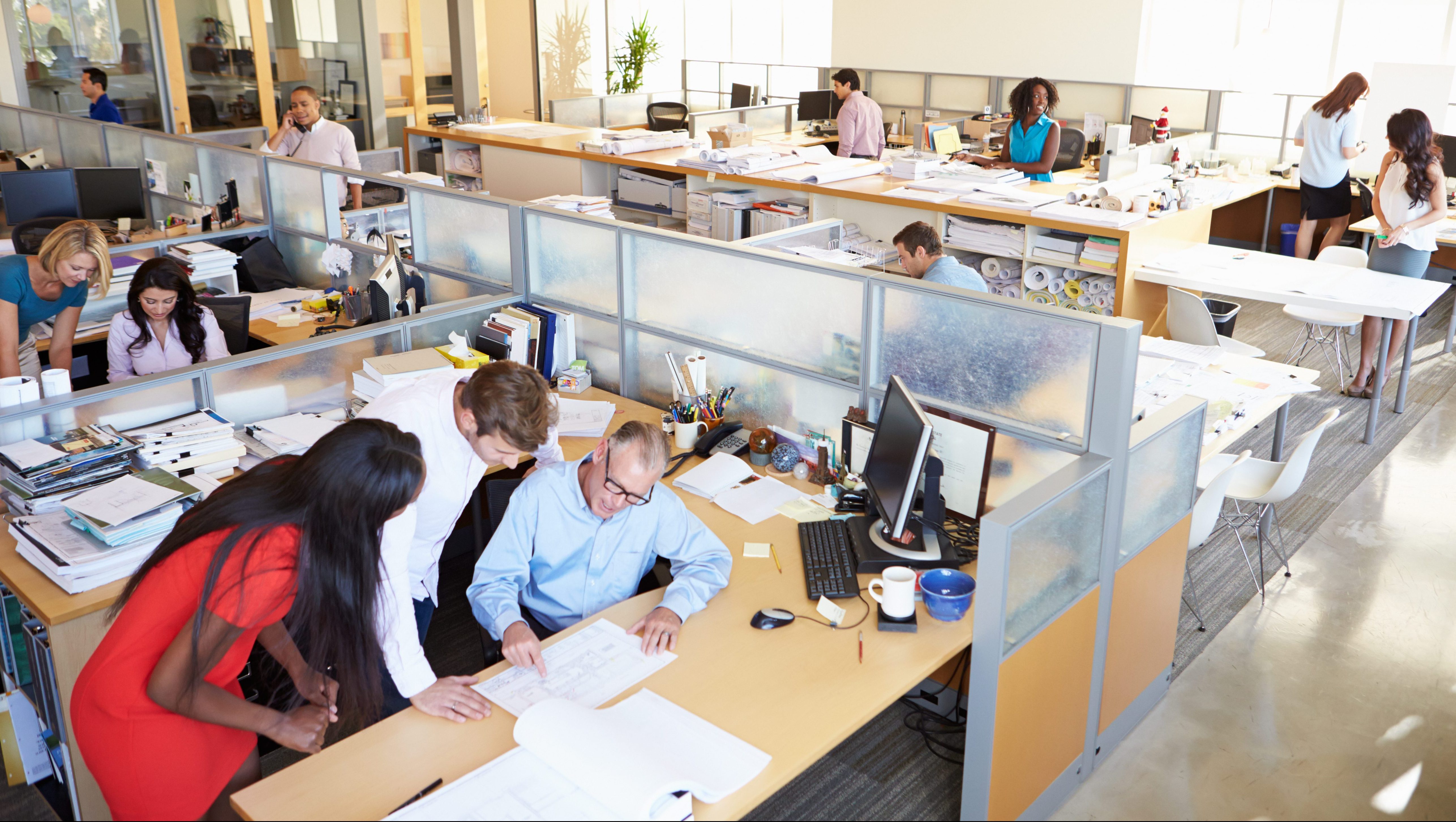 For the second month in a row, the U.S. economy added back millions of jobs that had been lost or put on hold during the initial pandemic-induced lockdown that began in March.
According to the Bureau of Labor Statistics (BLS) establishment survey, 4.8 million jobs were added to payrolls in June, beating economists' expectations of about a 3 million gain. June's monthly gain blew past May's gain of 2.5 million jobs, then the largest monthly gain in U.S. history.
Another positive note for the economy was that the U3, or "headline," unemployment rate dropped from 13.3% in May, to 11.1% in June – about 360 basis points (bps) below the April peak of 14.7%. However, questions remain as to how sustainable the rebound in the economy is in the face of increasing COVID-19 infection rates and the resulting re-tightening of restrictions on travel, restaurants and other businesses. The data for the June jobs report was obtained in the middle of the month, prior to some of the actions state and local governments have undertaken in the past few weeks to stem increasing infection rates.
While the rebound has been almost as sudden as the initial plunge in jobs and economic activity, most economists agree that employment levels will not be back to where they were before March anytime soon. The sharp job losses in certain industries such as entertainment, restaurants, retail and personal services will not be immediately replaced.
In other June BLS data, annual hourly earnings growth for all employees was 5% in June, down from a high of 8% in April when many hourly and low-wage workers were out. The monthly wage figure decreased $0.35 between May and June, but was up $1.41 from June 2019, to $29.37. Previously, annual wage growth had been averaging about 3% with average annual increases of about $0.85. Expect this figure to revert closer to historical norms as more lower-paying jobs return.
Even with the strong increase of 4.8 million jobs this month, on top of May's 2.5 million gain, the country still lost a net of 13 million jobs on an annual basis through June, still bad by any measure but better than the annual net loss of 20.1 million reported in April. Annual gains had averaged around 2 million since 2010. The average annual change rate plunged from mild growth of about 1.4% prior to March to a loss of 8.7% in June, still an improvement from April's annual loss of 13.3%.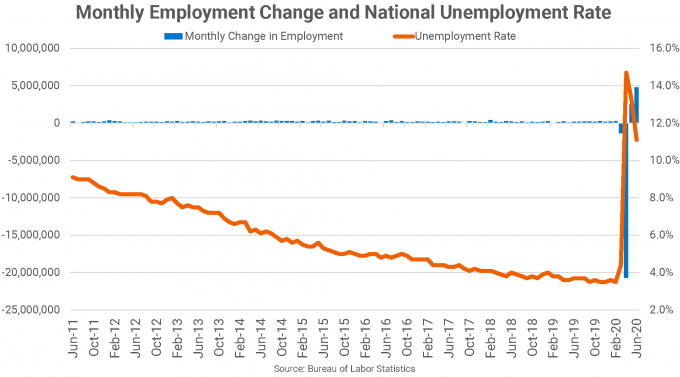 The civilian labor force (CLF) participation rate was 61.5% in June, up 70 bps from May but still down 250 bps from June 2019. The CLF increased 1.7 million from May but was still 3.2 million fewer than last year. The employment-population ratio also shot up from May to 54.6% from 52.8% but is well below February's rate of 60%. The total number of unemployed (17.75 million) improved by 3.2 million from May, but is still much higher than usual. The number of people not in the labor force who currently want a job has shot up from about 5 million pre-COVID to almost 8.2 million currently (although improved by 1.7 million from April).
The number of unemployed workers on temporary layoff, which peaked at more than 18 million in April, is about 10.6 million in June as businesses are allowed to reopen. That number may increase in July if a second wave of closures occurs. The number of permanent job losers increased again in June to more than 2.8 million after averaging about 1.3 million previously. The number of employed part-time workers for economic reasons (9.1 million in June) is improved by 1.6 million from May, but still more than twice the pre-pandemic February figure.
The U6 unemployment rate, which includes part-timers for economic reasons and marginally attached workers, fell from 21.2% in May to 18% in June, but Is 11% above the February rate. Persons marginally attached to the labor force increased by 915,000 from June 2019 to 2.49 million. Persons marginally attached to the labor force are those who currently are neither working nor looking for work but indicate that they want and are available for a job and have looked for work sometime in the past 12 months.
While the suddenness of the change in the economy and subsequent rebound are generally not reflected in long-term employment trends, nonetheless, there has been an increase in long-term unemployed workers (out of work for 27 weeks or more) of about 450,000 persons from April. The number of unemployed for less than five weeks shot up to 14.3 million in April but has declined to 2.8 million in June as the employment recovery got started. That 14+ million figure is now in the 5 to 14 week category of unemployment.
Industry Focus
The same industries that saw a strong rebound in May, saw even greater increases in June as the economy continued to reopen. June's jobs report from the BLS showed gains in all but one of industry sectors. Leisure and Hospitality gained the most jobs again after a solid gain last month, while respectable gains were made in Trade, Transportation and Utilities, Education and Health Services and Manufacturing. The Mining and Logging industry experienced another month of losses – primarily in support activities for mining and oil and gas extraction.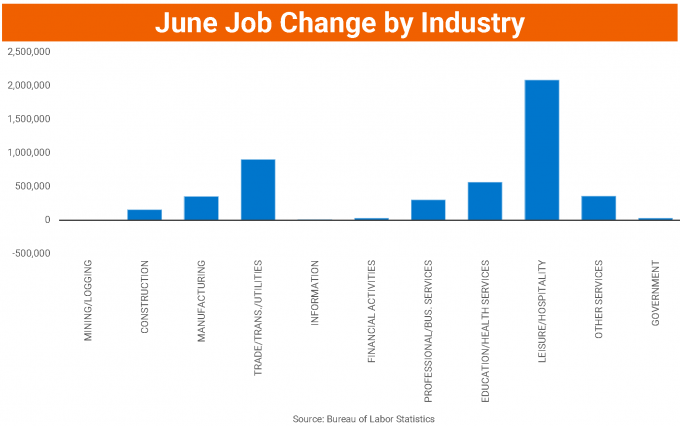 • The food services and drinking places subsector (+1,483,400) regained even more jobs than it did in May as many restaurants and bars were allowed to reopen or increase capacity by mid-June. Another 365,900 jobs returned in the arts, entertainment, and recreation sector, contributing to the Leisure and Hospitality industry's gain of 2.088 million jobs in June. The accommodation subsector added back 238,600 jobs for the month as some travel increased nationwide.
• The majority of the Trade, Transportation and Utilities industry's gain of 903,000 jobs in June can be attributed to retail trade (+739,800), but wholesale trade (+67,600) contributed as well. Clothing stores (+201,600) and general merchandise stores (+108,100) added the most jobs for retail. Stay-at-home online shopping contributed to gains in couriers and messengers (+21,100) and warehousing and storage (+60,500) in the transportation and warehousing sector.
• The Education and Health Services industry gained 568,000 jobs in June as more medical and dental practices opened back up. In fact, the offices of dentists subsector (+190,400) garnered the lion's share of the health care sector's 358,000 job gain. The social assistance sector (+116,900) continued to benefit from daycare centers (+80,000) and individual and family services (+27,700) subsectors.
• The Other Services sector (+357,000) saw its biggest rebound in the personal and laundry services subsector (+264,200) as barbers, hair salons, and other previously nonessential personal services businesses reopened to limited capacity.
• The Manufacturing industry posted a surprisingly strong month in June with a 356,000-job gain. Durable goods manufacturing gained 290,000 of those jobs, while nondurable goods manufacturing added 66,000 jobs for the month. Once again, transportation equipment (+193,100) led the way, but solid gains were made in the miscellaneous durable goods (+25,500), plastics and rubber products (+21,800), and machinery (+17,500) subsectors.
• The Professional and Business Services industry's gains in June (+306,000) were again clustered in only a few subsectors. Almost half of the industry's monthly gain was for temporary help services (+148,900) as employers cautiously reopened for business. Services to buildings and dwellings (janitorial, landscaping, cleaning, etc.) regained 53,100 jobs, while the higher-paying professional and technical services subsector added 62,300 jobs.
• The Construction industry gained 158,000 jobs in June as specialty trade contractor employment saw a surge in both the residential (+64,100) and nonresidential (+71,300) subsectors. The construction of buildings sector added 32,200 jobs for the month as more worksites adopt safety practices for their employees and contractors
• Government employment increased by 33,000 in June, with local government education gaining 70,300 jobs. This was offset by a loss of 25,000 state-level jobs, while Federal employment was almost unchanged.
• The Financial Activities industry gained 32,000 jobs in June, with the real estate and rental and leasing services (+22,800) sector the primary contributor. This month, the real estate subsector (+18,300) was the largest individual contributor, while rental and leasing services added only 4,500 jobs.
• The Information industry added 9,000 jobs in June, with the data processing, hosting and related services (+5,600) and motion picture and sound recording (+2,600) subsectors gaining jobs.
• The Mining and Logging industry lost 10,000 jobs in June as the support activities for mining subsector lost 7,300 jobs. A loss of another 1,200 jobs in the oil and gas extraction subsector point to continued weakness in the industry due to lower energy prices.