U.S. Economy Adds Almost One Million Jobs in July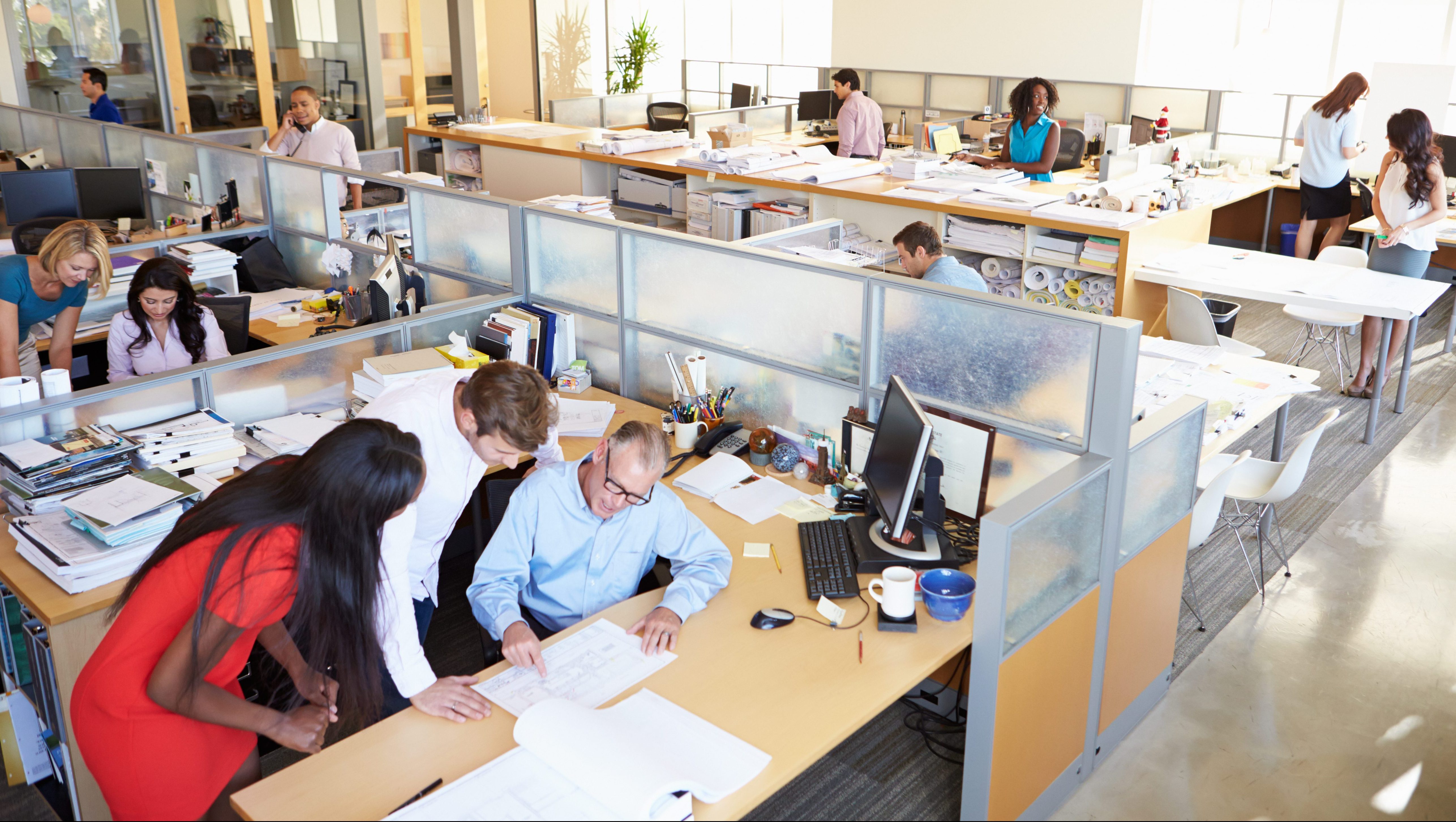 A total of 943,000 jobs were added to employer's payrolls in July, according to the latest Employment Situation report from the Bureau of Labor Statistics (BLS). That was well above expected estimates, and with upward revisions for the previous two months adding an additional 119,000 jobs, the three-month total gain in nonfarm payrolls was almost 2.5 million workers.
As they did last month, the Leisure and Hospitality and Government sectors accounted for the bulk of jobs gained or regained. In fact, the Leisure and Hospitality industry added more than 300,000 jobs each of the past four months as restaurants scramble to hire workers in the face of surging demand from pandemic-weary patrons.
The headline, or U3, unemployment rate dropped a full 50 basis points (bps) to 5.4% in July, but the civilian labor force participation rate grew only 10 bps from last month to 61.7% and is still 160 bps lower than February 2020. The employment-population ratio improved 40 bps from June to 58.4% but is also well below pre-pandemic levels.
The number of persons not in the labor force remains persistently high at more than 100 million and sits almost 5 million greater than before COVID-19 as retirees, students and those with family or childcare obligations or just not seeking work remain out of the labor force. The level of employment in the U.S. labor market is still about 5.7 million workers below the pre-pandemic employment level in February 2020.
Some economists attribute the strong summer job gains at least partially to early reductions in enhanced unemployment benefits that they blame for record-high job openings figures despite an almost equal number of unemployed. State-level employment data released in a few weeks by the BLS will provide more insight into this for the states that made those changes. The rising number of delta variant infections and subsequent discussions of increased restrictions on businesses and workers may slow the momentum of the strong economic recovery currently underway.
The competition among employers for in-demand workers is forcing companies to increase wages and other compensation offers. The annual change in average hourly earnings was $1.17 for the 12 months ending July 2021 to $30.54 per hour, a 4% annual growth rate. The average annual increase in hourly wages had been about $0.60 before the pandemic. The competition for restaurant and hospitality workers is borne out by a 9.6% increase for the year in Leisure and Hospitality industry hourly wages.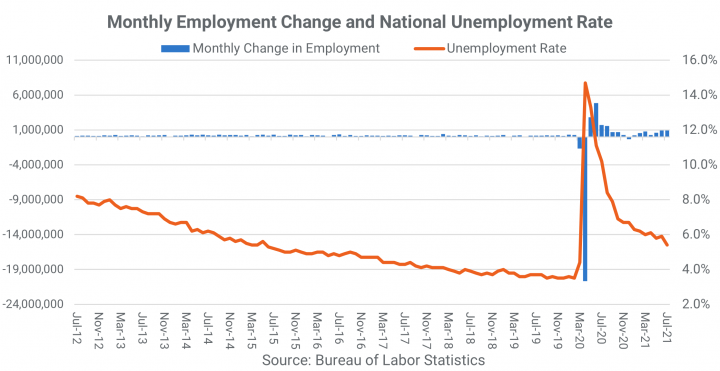 Even with the surge in hiring for Leisure and Hospitality workers, that industry is still 10.3%, or 782,000 employees, short of the pre-pandemic February 2020 level – although, its unemployment rate has fallen out of double digits at 9% in July. Mining and Logging (-7.7%, or -53,000 workers) and Information (-5.9%, or -172,000 workers) are the next two weakest industries. The Financial Activities industry is only 0.5%, or 48,000 workers, short of full recovery, while the remaining industries range from 2% to 4% below their previous levels.
The percentage of workers that telework continues to fall but the rate of decline has slowed. May to June was down 2.2% to 14.4%, while June to July was down just 1.2% to 13.2%, according to the BLS's supplemental data measuring the effects of the coronavirus pandemic on the labor market. The teleworking rate will likely begin to increase again in the next month or two as delta variant concerns return some workplaces into full time work-from-home mode. Additionally, increased productivity and employee satisfaction will undoubtedly alter the full time telework landscape going forward.
In other July BLS data, the number of people leaving or quitting their job fell from 942,000 in June to 930,000 in July and the number of unemployed reentrants was almost unchanged from last month. The number of unemployed for 27 weeks or longer fell to 3.4 million from a peak of 4.2 million in March and the average duration of unemployment fell to 29.5 weeks from 31.6 weeks last month. Those working part-time that want full-time work fell by 194,000 from last month to about 4.4 million and is a little more than half the figure from last year, while the number of workers who prefer part-time positions has increased to about 20 million.
Workers marginally attached to the labor force were down only 104,000 from last year at 1.9 million and the number of discouraged workers stood at 539,000, down 162,000. Persons marginally attached to the labor force are those who currently are neither working nor looking for work but indicate that they want and are available for a job and have looked for work sometime in the past 12 months.
The U6 unemployment rate, which includes part-timers for economic reasons and marginally attached workers, fell to 9.2% in July compared to 9.8% last month and 16.5% in July 2020.
Industry Focus
As mentioned, the Leisure and Hospitality industry continues to dominate in job gains as restaurants and bars reopen around the country. Additionally, the scheduled reopening of in-person schooling – at least for now – has boosted Government hiring as schools and universities staff up for the fall school year. Significant gains were also made in the Professional and Business Services and Education and Health Services sectors. All of the other sectors experienced job gains as well.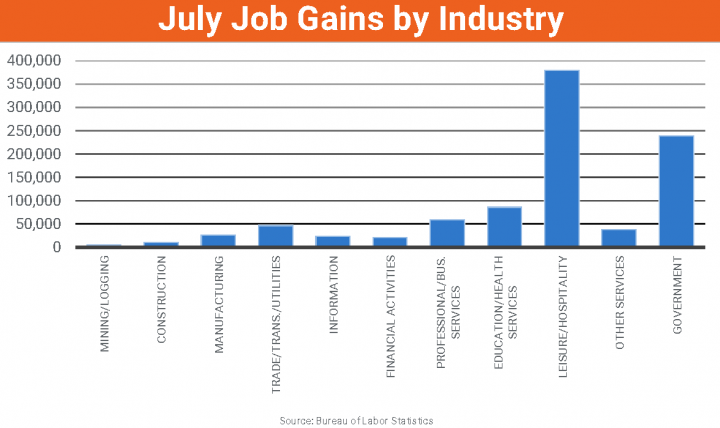 • More than 86% of the 380,000 jobs gained in the Leisure and Hospitality industry for July were in the accommodation and food services sector (+326,900), and particularly food services and drinking places (+253,200). The amusements, gambling, and entertainment subsector also had a solid gain of 40,200 jobs in July.
• Once again, the Government sector's gain of 240,000 jobs in July was due to public education workers, primarily at the local level (+220,700). Other Government subsectors experienced mild gains for the month.
• The Education and Health Services industry's monthly gain of 87,000 jobs was almost evenly split between education services (+40,000) and health care and social assistance (+46,800). Nursing and residential care facilities lost jobs for the month (-13,400) but health care (+36,800) and hospitals (+18,300) more than made up the difference.
• Professional and Business Services hiring jumped 60,000 jobs in July, with 42,700 of them in the high-paying professional and technical services subsector. Administrative and waste services added 20,200 jobs for the month, with a solid boost from temporary help services (+9,700 jobs).
• The transportation and warehousing sector of the Trade, Transportation, and Utilities industry accounted for 106% (+49,700 jobs) of the 47,000 jobs added in July. Most of that was in the transit and ground passenger transportation (+18,800) and warehousing and storage (+10,700) subsectors. Retail trade lost 5,500 jobs for the month as gasoline stations hired (+14,400) while building material and garden supply stores (-33,800) let workers go. Wholesale trade added a meager 2,800 jobs in July.
• The Other Services sector had a strong gain of 39,000 jobs in July with a jump of 17,100 jobs in membership associations and organizations, followed by personal and laundry services (+15,100).
• The Manufacturing industry gained 27,000 jobs in July, as the durable goods sector added 20,000 jobs spread across several subsectors. Nondurable goods manufacturing added only 7,000 jobs for the month, with food manufacturing (+4,000) leading the way.
• The Information industry gained a solid 24,000 jobs for the month with almost all of that in the motion picture and sound recording subsector (+17,800). The nondescript other information services subsector contributed 4,000 jobs to July's total.
• The Financial Activities industry ramped up hiring in July, adding 22,000 jobs, primarily in the real estate and rental and leasing sector. The 12,500 job gain in the rental and leasing services subsector bears out the recently reported strong apartment market metrics nationwide.
• The Construction industry had mixed gains and losses amounting to a net 11,000 jobs added for the month. The residential building subsector gained 8,300 jobs to complement the 7,500 jobs added in the nonresidential specialty trade contractors subsector. Meanwhile, the nonresidential building subsector lost 2,500 jobs in July, and heavy and civil engineering construction lost another 2,100 jobs.
• The Mining and Logging industry gained 6,000 jobs in July led by the support activities for mining subsector (+5,500). Oil and gas extraction and mining, except oil and gas each added a few hundred jobs while the logging sector lost about 200 jobs for the month.