U.S. Economic Recovery Slows Further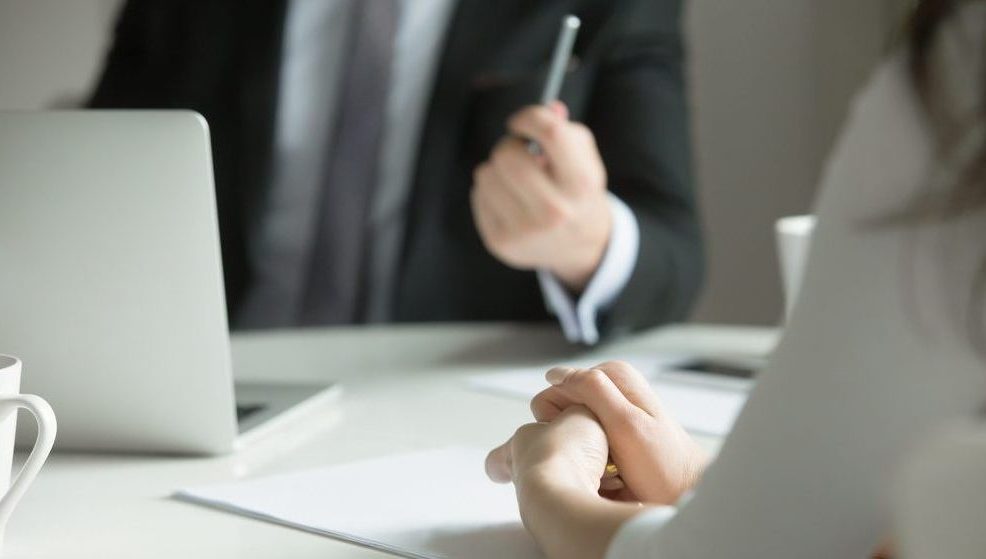 While the U.S. economy continues to recover from the devastating effect of the COVID-19 pandemic and resulting employment shutdowns, the pace of recovery has moderated.
A total of 661,000 workers were added to payrolls in September, according to the Bureau of Labor Statistics (BLS), a pace far below the 850,000 many economists expected. While private sector payroll gains surpassed estimates with a monthly gain of 877,000 jobs, Government hiring retrenched by 216,000 jobs, as schools and colleges shifted primarily to online learning.
Recently announced pending layoffs and furloughs at Disney and several major airlines bode poorly for the employment outlook in the next few months as federal COVID aid is expiring and a new deal appears elusive. September's jobs figure, while still about three times the pre-pandemic average monthly gain, was less than half of last month's revised gain of about 1.5 million jobs. From May through September, about half of the almost 23 million jobs lost initially at the start of the pandemic, have been regained.
The U3 or "headline" unemployment rate fell to 7.9% in September, a decline of 50 basis points (bps) from 8.4% in August. There is speculation that misclassifications and other errors are masking a much higher rate. Initial jobless claims data suggest that many more people are out of work than the BLS data indicates. The four-week moving average of initial claims was 867,250 for the week-ending September 26 and the total number claiming benefits exceeds 26 million. However, the benefits data may also be suspect, as some economists believe it could be inflated by duplicate applications, fraud, and other errors.
In other September BLS data, annual hourly earnings growth for all employees was 4.7% in September, slightly above August's revised annual increase and 160 bps higher than what was seen in September 2019. The monthly wage figure increased just $0.02 between August and September, but was up $1.31 from September 2019, to $29.47. The average monthly increase over the past three months was $0.05 compared to an average of $0.07 over the same three months one year ago. This indicates that wage growth during the ongoing pandemic is a bit weaker than the pre-pandemic pace. With the high number of unemployed nationally, there is less pressure on wages, especially since most of the returning jobs are in the lower-paying service industries.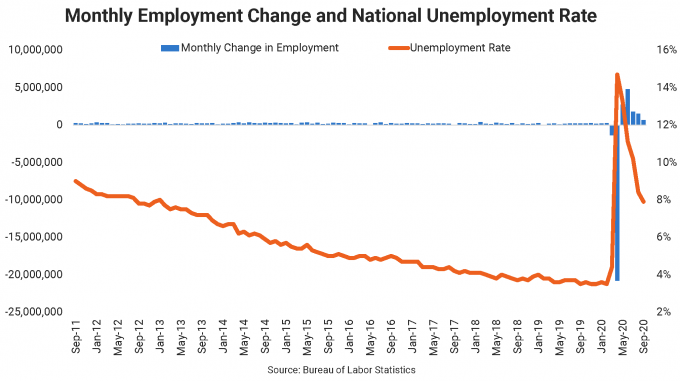 The civilian labor force (CLF) participation rate fell 30 bps to 61.7% in September and was down 180 bps from September 2019. The CLF itself was down by 695,000 from August, as many workers cannot find jobs or are unable to return to work. The employment-population ratio increased slightly from August's rate to 56.6% in September, as the number of employed generally kept pace with the population increase. The total number of unemployed (12.58 million) is about 970,000 less than in August, but that is more of a function of the smaller labor force than the re-employed. The number of people not in the labor force who currently want a job has increased by 242,000 from August to 7.2 million.
The number of unemployed workers on temporary layoff declined from 6.2 million in August to about 4.6 million in September, partly due to business reopenings, but also due to workers leaving the workforce as benefits run out. With the pandemic continuing to cause damage to the economy, the number of permanent job losers increased to 3.8 million in September. The number of employed part-time workers for economic reasons has declined from 10.8 million in April to 6.3 million in September, and the number of part-time workers for noneconomic reasons (who usually work part-time) increased to 18.9 million from 18.6 million in August.
The U6 unemployment rate, which includes part-timers for economic reasons and marginally attached workers, fell from 14.2% in August to 12.8% in September and is down from its April peak of 22.8%. Persons marginally attached to the labor force shot up by 622,000 from September 2019 to 1.9 million. Persons marginally attached to the labor force are those who currently are neither working nor looking for work but indicate that they want and are available for a job and have looked for work sometime in the past 12 months.
The number of unemployed for less than five weeks increased to 2.6 million in September from 2.3 million last month. Additionally, the 5 to 14-week category saw a decrease from 3.1 million to 2.7 million. The longer-term unemployed workers (out of work for 15 weeks or more) decreased to 7.3 million in September from 8.1 million in August, but the subcategory of unemployed for 27 weeks or more increased from 1.6 to 2.4 million workers.
Industry Focus
Many of the same hard-hit industries appear to be gaining ground during the recovery, but the pace has definitely slowed. The two hardest hit – retail and restaurants – led this month's gains by industry list, but the number of jobs gained for each is down from their averages over the past three months. Solid gains were also seen in the Professional & Business Services and Manufacturing industries. Were it not for the lack of seasonal hiring in the local education field, September's monthly gain would have been much closer to last month's. Aside from the Government sector, all other industries gained jobs in September.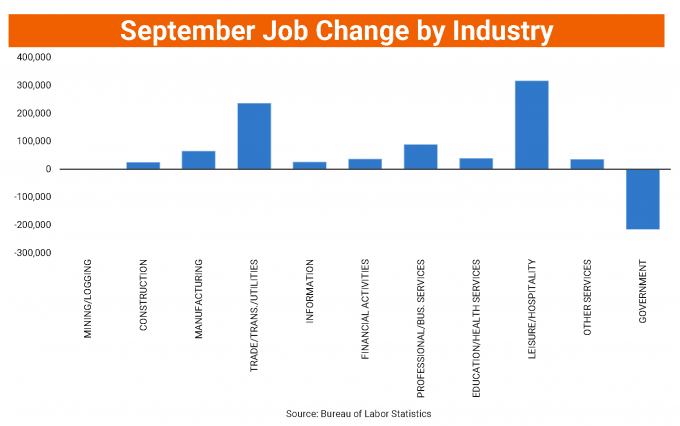 • The food services and drinking places subsector added 200,300 jobs in September, while the accommodation subsector added 50,700 jobs. Together, they contributed the lion's share of the Leisure and Hospitality industry's 318,000-job gain for the month. Continued stress on the economy from sporadic shutdowns and hotspots will keep this industry's recovery erratic at best for some time.
• The Trade, Transportation, and Utilities industry's gain of 237,000 jobs was again led by retail trade, which added 142,400 jobs in September, with the clothing stores subsector (+39,800) accounting for the bulk of that. The general merchandise stores, motor vehicles and parts, and health and personal care stores subsectors each added more than 15,000 jobs for the month. Transportation and warehousing contributed 73,600 jobs to the monthly total, while wholesale trade added 18,700 jobs in September, primarily in the durable goods subsector.
• More than half of the Professional and Business Services industry's gains in September of 89,000 jobs were in the higher-paying professional and technical services sector (+47,300), with the architectural and engineering services (+13,100) and computer systems design (+11,700) subsectors adding the bulk of them. The only other subsector with significant gains was the services to buildings and dwellings category, which gained 22,400 jobs in September.
• About two-thirds of the Manufacturing industry's gain of 66,000 jobs in September was in the durable goods sector (+46,000), as transportation equipment (+15,300) and machinery (+13,800) accounted for most of those jobs. Nondurable goods manufacturing (+20,000) was led by food manufacturing (+5,000) and printing and related support activities (+4,700).
• The Education and Health Services industry gained just 40,000 jobs in September with a 107,700-job gain in the health care and social assistance sector offset by a loss of 68,500 jobs in the educational services sector. With the trend in online learning for both public and private education, many schools need fewer bus drivers, cafeteria workers, and the like. Clinics and other medical offices (the ambulatory health care services subsector) together added 57,600 jobs for the month with little change in the hospitals and nursing care facilities subsectors.
• The Financial Activities industry (+37,000) spread monthly gains almost evenly between the finance and insurance (+16,300) and real estate and rental and leasing services (+20,000) sectors.
• The Other Services sector had a gain of 36,000 jobs in September, with the largest share of it in the membership associations (+30,600) subsector. Repair and maintenance added 4,800 jobs for the month.
• The Information industry gained 27,000 jobs, with the motion picture and sound recording (+23,200) subsector as the largest contributor. Broadcasting, except internet, added another 4,400 jobs.
• The Construction industry gained 26,000 jobs in September with residential construction getting the bulk of it. Specialty trade contractor employment grew by 17,600, but residential added 15,500 of those jobs. The construction of buildings sector added 11,900 jobs, but here nonresidential (+5,300) and residential (+6,600) contributed almost equal amounts.
• The Mining and Logging industry posted a monthly gain for the first time in nine months with a modest 1,000-job gain. Only the small subsector of coal mining lost jobs (-900) in September.
• As previously mentioned, the Government sector was the lone industry to drag on the economy for the month of September. Losses were felt at the federal (-34,000), state (-48,000), and local (-134,000) levels. Local government education lost 231,100 jobs for the month as schools opted for online learning either in place of or as an adjunct to on-campus classes.