U.S. Apartment Monthly Rent Growth Slows in October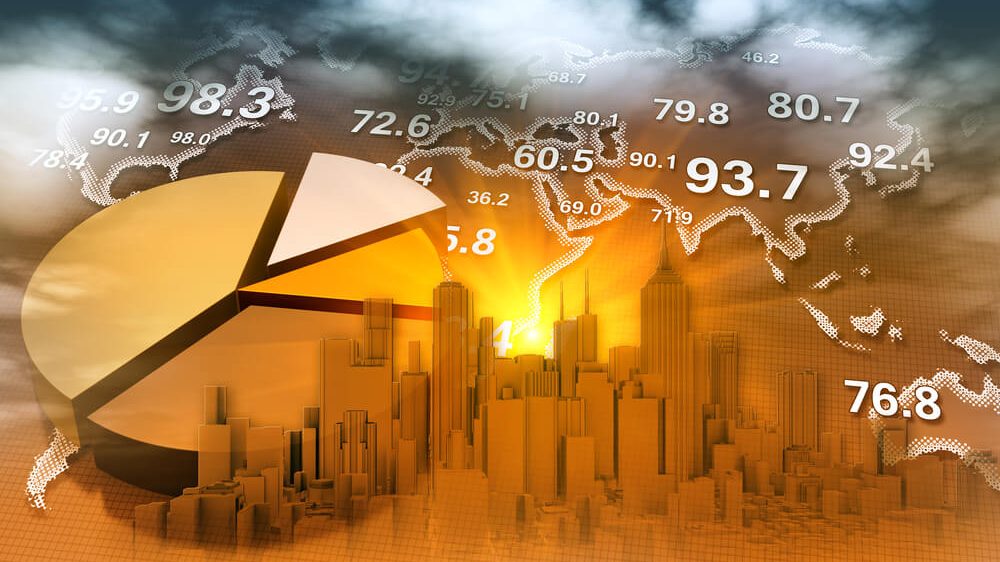 Following the normal seasonal pattern, U.S. apartment leasing activity has slowed from the frenzied pace recorded in the spring and summer months. In turn, rent growth levels are easing.
Effective asking rents for move-in leases climbed 0.6% during October, the slowest pace of growth recorded since February. At the peak seen in June and July, rents were rising more than 2% per month.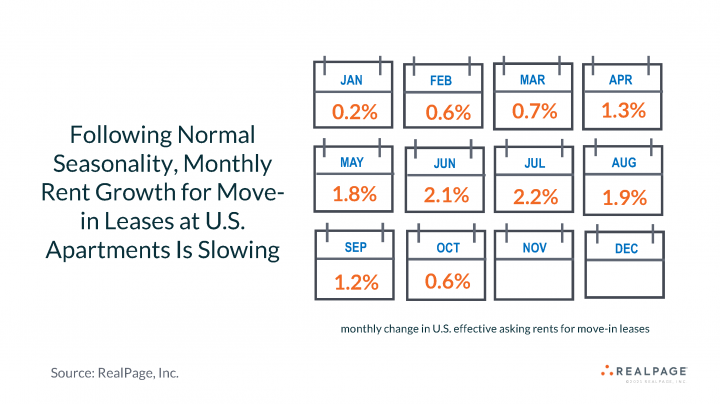 Among the 150 largest U.S. metros, Florida markets dominated the list of monthly rent growth leaders. With a 4.8% monthly price increase putting Naples in the #1 position, Florida markets accounted for nine of the country's 12 metros with the biggest rent bumps in October. Since Florida attracts snowbird renters in the colder weather months, the seasonal slowdown in leasing volumes that registers late in the year across a majority of the country does not impact Florida.
Twenty markets experienced month-to-month backtracking in prices during October. While small markets dominated the list of locations registering rent cuts, a few bigger metros also saw price reductions. Effective asking rents dropped 0.9% during the month of October in San Jose, and a similar loss of 0.7% was seen in San Francisco. Price declines of 0.1% to 0.3% occurred in Chicago, Oakland and Kansas City.
Annual Increases Remain Huge
Even with the pace of price growth slowing on a month-to-month basis, the annual jump in rents for calendar 2021 will be the biggest on record by a sizable margin.
October's effective asking rents for move-in leases topped year-ago prices by 13.1%. Annual rent growth over the past decade or so averaged between 3% and 4%, with the 2010s-era peak performance coming when prices jumped a little more than 5% during 2015.
Among the country's bigger apartment markets, West Palm Beach edged out Phoenix and Tampa to rank as the top metro for rent growth. As of October, effective asking rents for new move-in leases were up 27% in West Palm Beach, 26.7% in Phoenix and 25.8% in Tampa.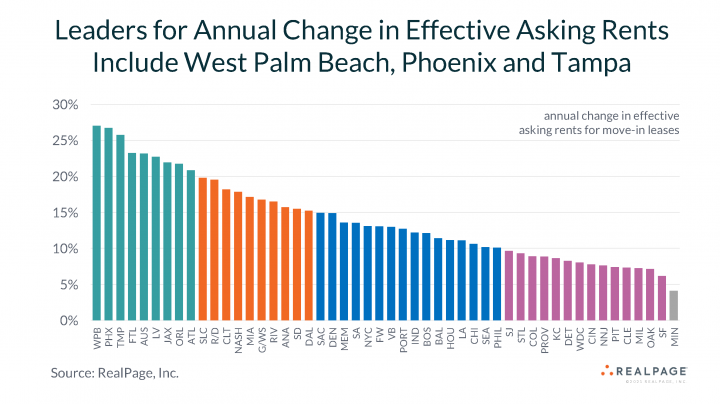 Additional larger markets posting growth in effective asking rents for new leases of 20% or more were Fort Lauderdale, Austin, Las Vegas, Jacksonville, Orlando and Atlanta.
Shifting to the other end of the performance spectrum, today's slowest rent growth for new leases in bigger markets is in metro Minneapolis/St. Paul. Prices there climbed 4.1% during the year-ending October.
Despite the fact that rent growth in the Twin Cities rarely inches ahead of the national norm, voters in the city of St. Paul just approved one of the country's most drastic rent control measures, and those in the city of Minneapolis granted local government office holders the right to enact unspecified rent control measures.
Occupancy Stays At the All-Time High
While leasing activity registered routine seasonal slowing in October, demand still managed to roughly keep pace with new product deliveries.
In turn, October's occupancy level remained sky high at 97.3%, unchanged from the record performance achieved in September.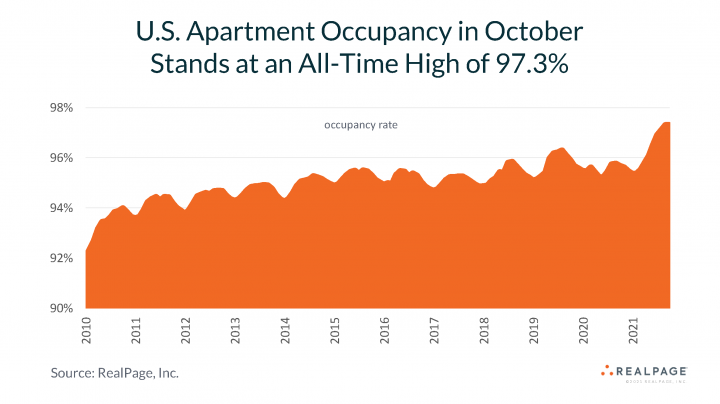 There's only one spot across the whole country where occupancy is below the level that is considered essentially full, allowing for a few vacancies that reflect normal unit turnover from one household to another. That trouble spot is Midland/Odessa in the West Texas Oil Patch. Occupancy there is at 89.5%. While low, the Midland/Odessa occupancy rate actually is up notably from the 85.3% reading seen a year ago.