U.S. Apartment Market Performance Deteriorates in May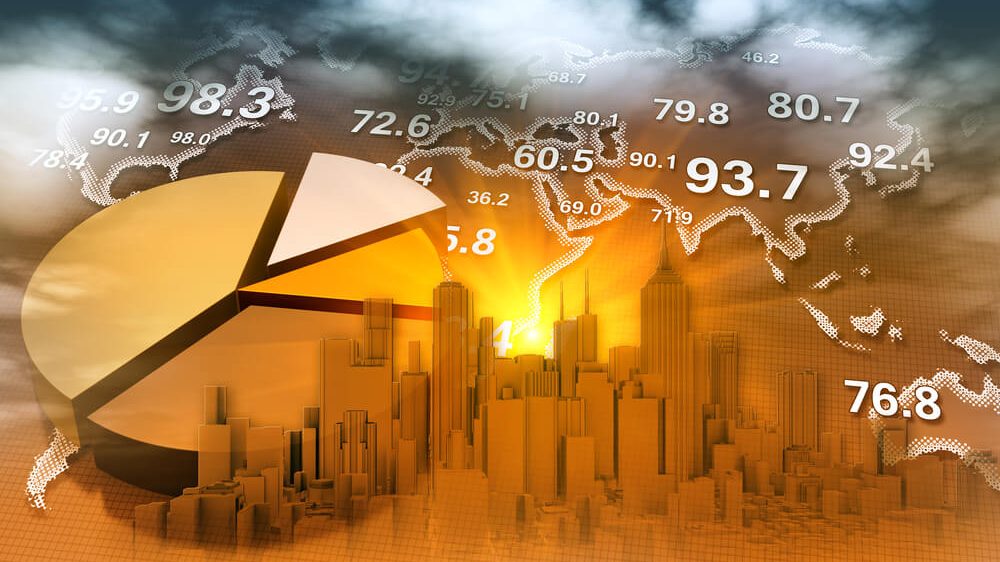 Job losses are now limiting new household formation, with demand for apartments taking a hit. Occupancy is declining from near all-time highs that were achieved just a few months ago, and property owners are cutting prices to chase the households that are looking to rent.
May's national occupancy level slipped to 95.2%. Occupancy has inched down 0.4 percentage points since momentum began to slide in mid-March. Spring is a time of year when occupancy normally tightens a bit, so the annual loss is more pronounced. May 2019 occupancy stood at 96%.
Among the nation's 50 largest markets, only New York and Virginia Beach maintain occupancy in line with year-ago results. The biggest occupancy loss since May 2019 is a decline of 2.2 percentage points in San Francisco. Occupancy is off 1.3 to 1.6 percentage points on an annual basis in Orlando, Salt Lake City, Las Vegas, Los Angeles and Raleigh/Durham.
Effective Asking Prices Drop
After month-to-month rent drops occurred in both April and May, effective asking rents are now down on an annual basis for the first time since the middle of 2010. There's a decline of 0.5% in effective asking rents from May 2019 to May 2020. Effective asking rents reflect listed prices minus stated discounts that are offered.
The country's average effective asking rent stands at $1,412.
The biggest drops in effective asking rents are in expensive West region markets. Listed prices have been slashed 4.9% in San Francisco and 4.4% in San Jose. Declines run around 3% in Los Angeles, Oakland and Denver. Elsewhere across the country, there's also a cut of about 3% in effective asking rents in Orlando, where the tourism-heavy economy is struggling.
Annual change in effective asking rents is still at least slightly positive on an annual basis in 22 of the country's 50 biggest metros. The biggest growth – gains of 2% to 2.9% – registers in Memphis, Cincinnati, Phoenix, Greensboro/Winston-Salem, Virginia Beach and Riverside/San Bernardino.
Declines in Executed Lease Prices Are More Severe
Many of the new-resident apartment leases signed in recent weeks were for prices meaningfully under the levels that effective asking rents would suggest. Looking at RealPage's exclusive actual lease transaction information, May 2020's achieved rents for new-resident leases run 3.8% below the lease transaction prices generated in May 2019.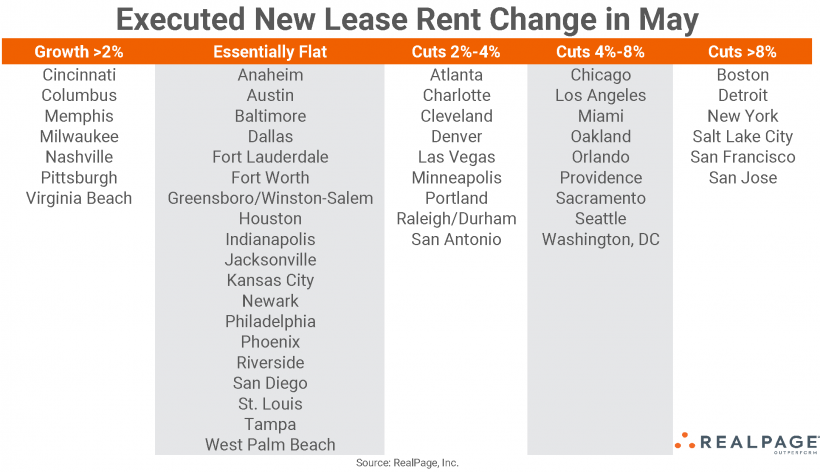 Executed lease price cuts go to 8% or deeper – twice the national norm – in a half-dozen markets: Boston, Detroit, New York, Salt Lake City, San Francisco and San Jose.
In contrast, executed lease prices for new residents still are up at least 2% annually in seven markets: Cincinnati, Columbus, Memphis, Milwaukee, Nashville, Pittsburgh and Virginia Beach.