U.S. Apartment Market Performance Continues to Surge in August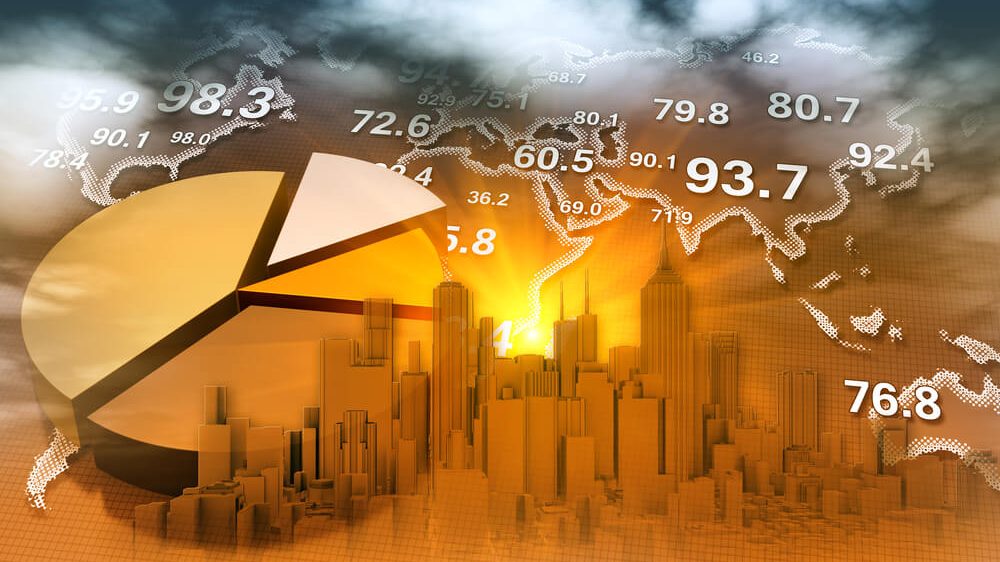 August brought yet another set of new records for U.S. apartment rent growth and occupancy.
Effective asking prices for new renters jumped 1.8% just in the month of August, driving asking prices up 10.3% year-over-year. The country's average monthly rent for new residents just moving in reached $1,582.
Rents also are up significantly for those staying in place when initial leases expire, but the pace of price growth is slower than for those moving from one property to another. Those signing renewal leases in August experienced price increases averaging 5.2%.
Pushing rents upward, occupancy is also at a new all-time record level. Today's rate is at 97.1%. August 2021 is the first time that occupancy has ever topped the 97% mark.
Helping to stimulate demand for moderately priced apartments, there's a wave of young adults now forming new households, often after living with their parents when COVID-19 first emerged.
Demand for luxury rental product also is unusually strong, propelled in part by a job market that is in much better shape in high-paying employment sectors than in low-wage positions. Also, some would-be housing buyers cannot find product to purchase, and some households who took advantage of high pricing and sold their homes now are living in rental units at least for a while.
Big Rent Growth Remains Widespread
Effective asking rents are up from year-ago prices in 148 of the country's 150 largest metros. In the exceptions, pricing is flat compared to August 2020 rates in San Francisco, and rents are down 1.9% in the West Texas Oil Patch's Midland/Odessa area.
In the biggest increase, effective asking rents are up roughly 24% in Phoenix as well as a trio of smaller metros: Boise, ID, Naples, FL and North Port/Sarasota, FL.
Half of the country's 50 biggest metros register annual growth in effective asking rents that reach 10% or more.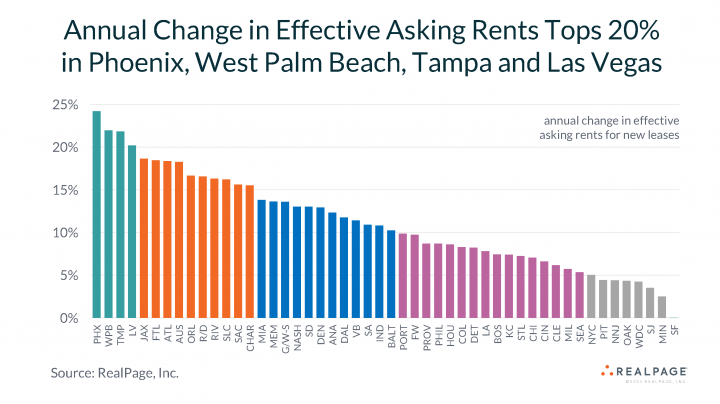 Among the gateway metros where price cuts were the norm in 2020, effective asking rents are now up 7% to 8% year-over-year across Los Angeles, Boston and Chicago. Annual increases are at roughly 3% to 5% in Seattle, New York, Northern New Jersey and the Bay Area's Oakland and San Jose metros.
San Francisco should see annual rent change turn positive in September.
Small Metros Are Occupancy Leaders
Small markets dominate the list of the country's apartment occupancy leaders, in part because there's so little construction activity in these locations.
Occupancy reaches 99% or better in a quartet of small-metro locations: Manchester, NH, Salisbury, MD, Allentown, PA and Fresno, CA.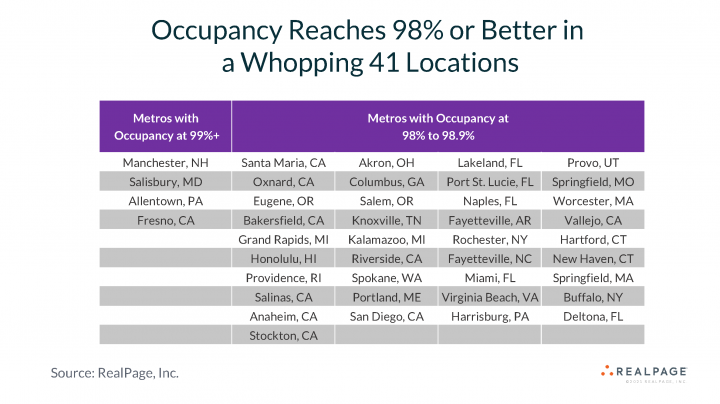 Among big metros, occupancy leaders are Providence, Anaheim, Riverside/San Bernardino, San Diego, Miami and Virginia Beach. All have occupancy rates that reach 98% or better as of July.
The only locations with occupancy below the essentially full mark of 95% are Midland/Odessa, TX (89.1%) and College Station/Bryan, TX (91.8%).
Has Performance Momentum Peaked?
Demand for apartments usually follows a seasonal pattern, with fewer moves occurring as the weather cools. Less leasing activity in September through February or March usually means that occupancy backtracks a little and rent growth slows.
While RealPage analysts anticipate that the normal seasonality will register again over the coming few months, there are wild cards in the performance outlook. First, a resurgence of the COVID pandemic could throw economic recovery off track. Second, the number of apartment leases that will reach their expiration point through the rest of 2021 is unusually big compared to the late-in-the-year norm. Last year's leasing pattern was disrupted, pushing demand from the first half of the year into the final months of 2020.