U.S. Apartment Demand Rebounds as Leasing Surges in Sun Belt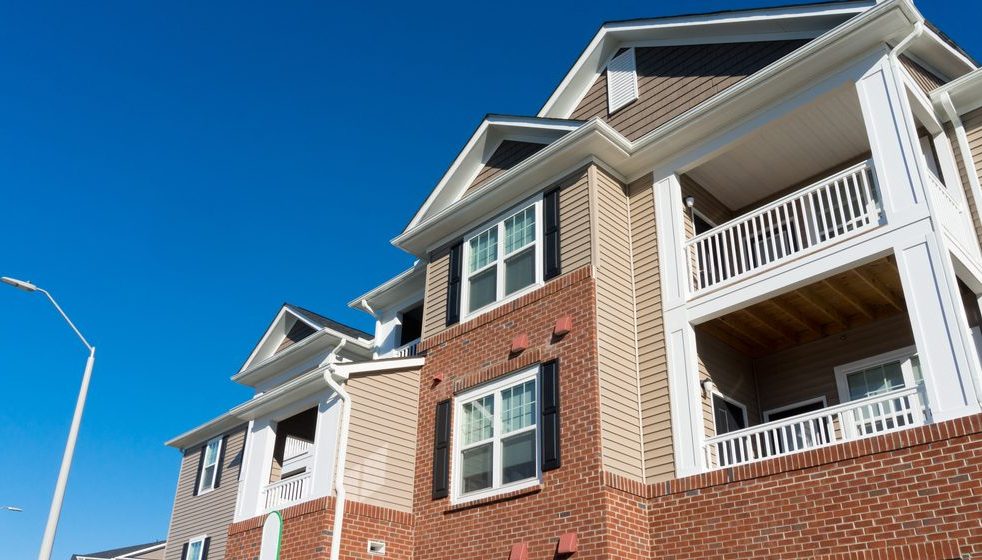 U.S. apartment leasing bounced back in 3rd quarter, led by a resurgence in the nation's Sun Belt.
The occupied apartment count across the 150 largest U.S. markets climbed by 146,517 units, on net, in the July through September time frame. That's the largest 3rd quarter demand figure since before the Great Recession and signals that, after big losses earlier in the year, enough job growth has occurred to allow new household formation to return in most areas.
This quarter's product absorption pace is also more than four times the minimal demand for about 34,000 apartments recorded in 2nd quarter, which normally is the seasonal peak in leasing activity. However, leasing activity was limited from mid-March through mid-May by government stay-home orders hurting economic activity and restricting mobility among would-be apartment seekers.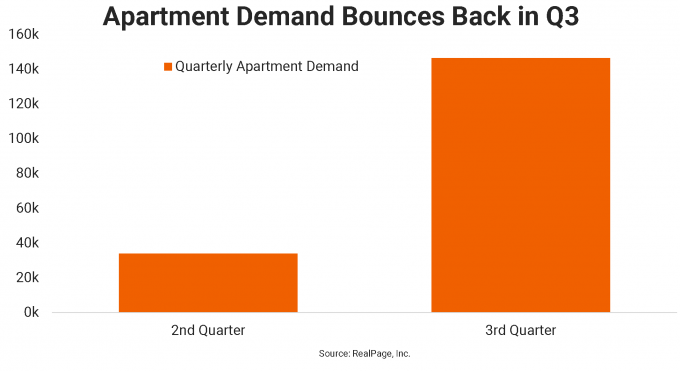 As those COVID-19 restrictions were lifted in many areas, the economy began to reopen, some lost jobs were restored, and apartment shoppers rented new apartments at a meaningful pace. Since June, the number of new leases signed each month topped the year-earlier numbers, sometimes growing at a double-digit pace.
Though U.S. apartment demand bounced back in 3rd quarter, the rebound wasn't uniform across individual markets, and some areas saw spotty performance. Leasing activity was generally best in the Sun Belt and particularly robust in three markets: Dallas/Fort Worth, Atlanta and Houston.
Dallas/Fort Worth led the country for apartment demand in the quarter, with nearly 9,000 units absorbed. Atlanta followed with demand for just over 8,000 units, and Houston's demand came in third at roughly 7,750 units. Combined, these markets accounted for 17% of the nation's total demand from July through September.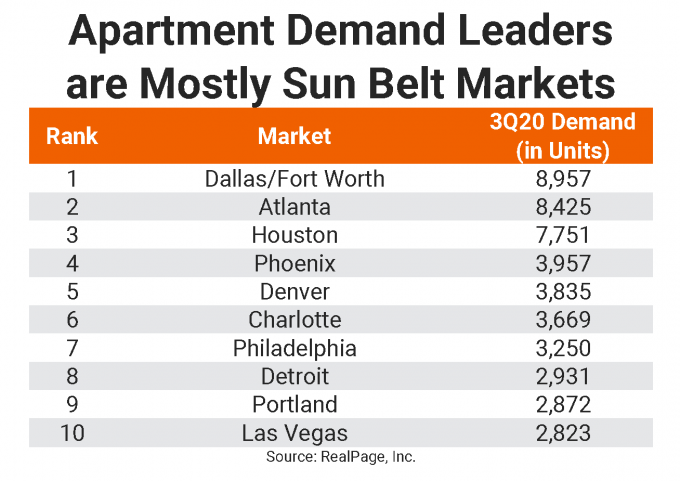 Strong absorption in Dallas/Fort Worth is not surprising. Even though the market was impacted by COVID-19 in 2nd quarter, it still led the nation for absorption from April through June. Demand in 3rd quarter, however, is more than double the 3,800 units the Metroplex absorbed a quarter ago.
Atlanta's quarterly demand performance is well ahead of the norm for this market, which averaged at about 2,500 units during the past five years. Demand here in 3rd quarter was nearly five times the 2nd quarter figure.
Houston, on the other hand, has faced myriad challenges – including a weakening oil industry – recently, in addition to the pandemic. However, the market brushed off these struggles in 3rd quarter, as demand shot up to more than four times the 2nd quarter total.
Leasing activity also was solid during the quarter in Phoenix, Denver and Charlotte, with each absorbing between 3,600 units and 4,000 units – another 8% of the U.S. total.
Strong leasing activity in these and other Sun Belt markets reflect that they have managed to avoid some of the most severe impacts of the COVID-19 outbreak. Job losses in this region were generally not as deep as in many gateway markets, and Sun Belt markets began adding jobs again more quickly once stay-home orders were lifted.
Gateway markets, however, continue to struggle.
Apartment demand remained weak 3rd quarter these markets, which are some of the country's most expensive areas. New York suffered net move-outs from another 11,705 units during the quarter, and San Francisco lost 3,637 apartment households, on net.
Meanwhile, essentially no demand for apartments registered during the quarter across Seattle, Chicago and Washington, DC.