The country's massive job cuts suffered at the beginning of the 2nd quarter took a big toll on apartment leasing activity. Demand that registered from April through June was limited to 33,966 units across the country's 150 largest markets – about one-fourth of the average 2nd quarter apartment product absorption realized during the previous five years.
There's normally significant seasonality seen in apartment demand. Leasing usually peaks during the 2nd quarter, although 3rd quarter product absorption typically is substantial too.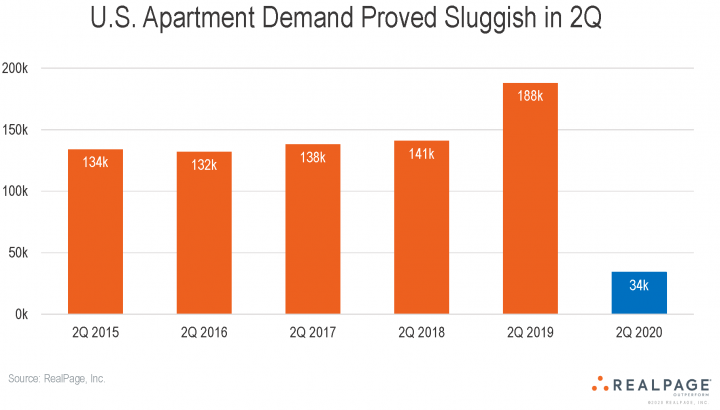 Nearly all of the nation's 2nd quarter demand registered in the month of June, as leasing activity in many locations was very limited from mid-March through mid-May.
Sun Belt Markets Lead for Demand
North Texas has been the country's top apartment leasing center throughout recent years, and that pattern held in 2nd quarter. Three-month demand came in at 2,257 units in metro Dallas and 1,244 units in neighboring metro Fort Worth. Even with the nation's best product absorption results, however, mid-2020 demand for about 3,800 units in North Texas fell drastically short of mid-2019's demand for roughly 13,000 apartments.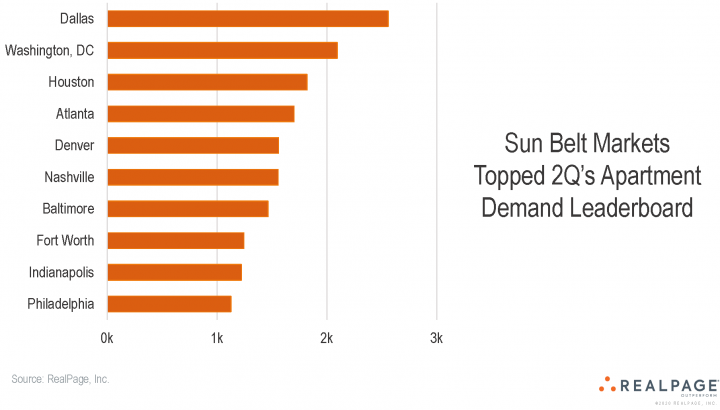 Metro Washington, DC was the only other location across the country to post 2nd quarter demand for more than 2,000 units. Quarterly absorption exceeded 1,000 apartments in another nine markets: Houston, Atlanta, Denver, Nashville, Baltimore, Indianapolis, Philadelphia, Kansas City and Minneapolis-St. Paul.
Net Move-Outs Register in Some Spots
About three in 10 of the country's 150 biggest markets suffered net move-outs from their apartment stocks in 2nd quarter. Apartment renter losses were minor in most of these locations, but sizable backtracking occurred in a few markets.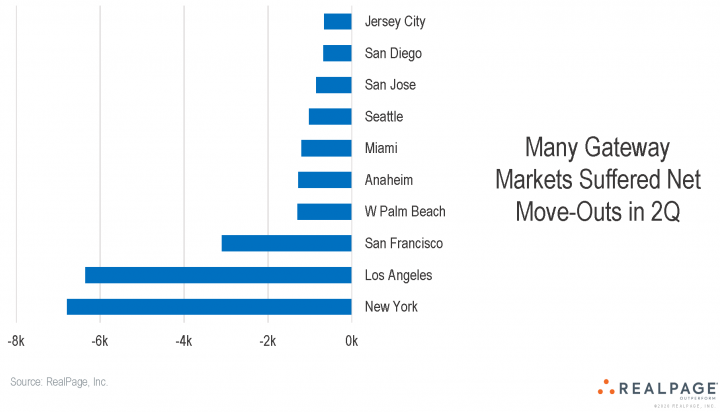 There were move-outs from 6,786 apartments in metro New York, while metro Los Angeles lost 6,347 apartment renter households during the quarter. Move-outs registered for 3,101 units, on net, in San Francisco and 1,000 units to 1,300 units across West Palm Beach, Anaheim, Miami and Seattle.
Urban Core Neighborhoods Struggle Most
The weakest demand performances generally were seen in urban core neighborhoods. That was especially true in Gateway metros across the Northeast and along the West Coast.
Meaningful net move-outs occurred across much of Manhattan, metro Boston's Fenway and Cambridge neighborhoods, the downtown and South of Market areas of metro San Francisco, and metro Seattle's downtown and South Lake Union zones. These very dense and very expensive neighborhoods appeared to lose households to the suburbs, in some cases likely to for-sale housing product.
Urban core demand results proved mixed in the Sun Belt. Apartment product absorption remained mildly positive in the urban core for a few markets like Charlotte and Nashville, while the change in the occupied unit count was slightly negative in downtown and downtown-adjacent submarkets across the key Texas metros, Atlanta and Miami.
In those Sun Belts locations, demand by neighborhood tended to follow the pattern that's normal during a recession. Urban core locations struggled a bit, not because of notable loss of residents to the suburbs, but because the downtown markets are heavy on young roommate households that dissolved due to job loss. Young adults who experience job interruptions frequently return to live with Mom and Dad, at least for a while.
The country's best 2nd quarter urban core apartment demand performances generally were seen across the Midwest. These markets tended to avoid the especially big employment losses recorded elsewhere during recent months, and almost without exception they continued to realize some urban core apartment demand during 2nd quarter.