Top Secondary Markets for Rent Growth in 3Q 2017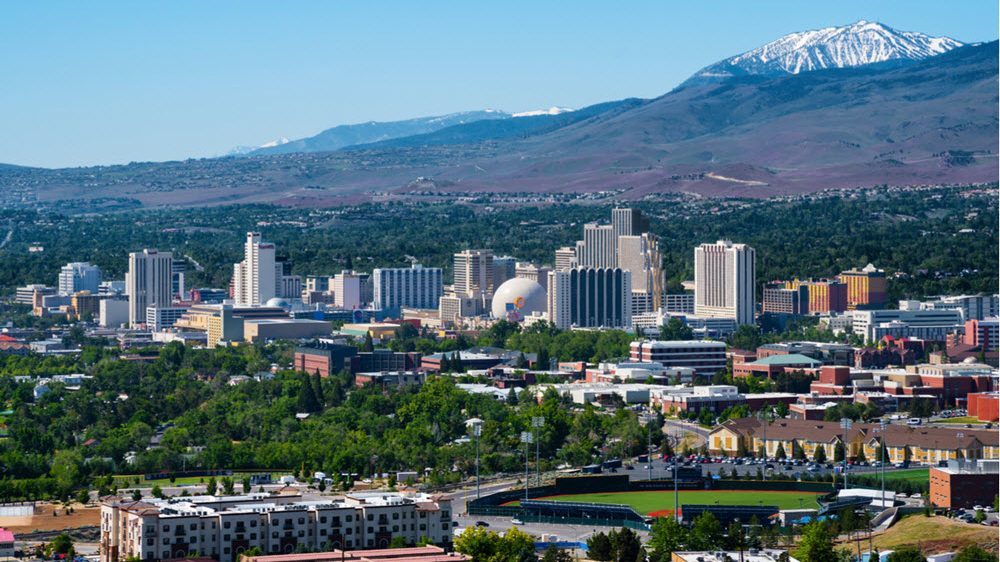 The trend of moderating rent growth seen in many major markets hasn't made its way into many secondary markets yet. In turn, the nation's top three markets for annual rent growth in 3rd quarter 2017 were smaller metros in the West and South regions. However, there is a wide performance range among secondary markets as a group.
The nation's leader for annual rent growth in 3rd quarter 2017 was Reno. The West region metro registered an impressive 11.6% rent hike in the year-ending 3rd quarter 2017. Reno has seen double-digit annual growth in four of the five most recent quarters. The market has benefited from a diversification of its job base away from the traditional driver, tourism. In turn, job growth has surged with the addition of many major employers in recent years. Meanwhile, apartment construction has not increased to the same degree, yielding very tight occupancy. In the 12-month period ending 3rd quarter 2017, Reno received 663 new units – an annual figure matching the three-year average. For the same three-year period, annual demand averaged 735 units.
Similar trends of solid hiring levels and limited supply are present in the nation's #2 and #3 metros for rent growth: Colorado Springs and Palm Bay/Melbourne/Titusville. Both markets, like Reno, have maintained high occupancy rates and strong rent growth in recent years. In the year-ending 3rd quarter 2017, Colorado Springs registered a 6.8% rent increase, while Palm Bay/Melbourne/Titusville saw growth of 6.6%.
Meanwhile, Southern California's small Ventura County metro logged rent growth of 6.4%, just 0.1 points behind the nation's #4 metro, Sacramento. Several other secondary metros saw rent growth of around 5% in the year-ending 3rd quarter 2017.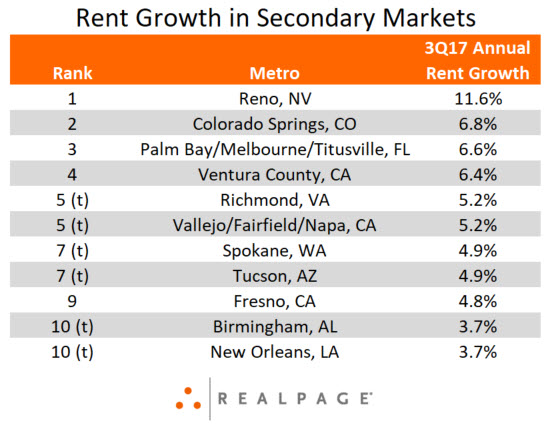 By comparison, annual rent growth measured 2.7%  nationally in 3rd quarter 2017, with the average increase of the top 50 U.S. markets matching that performance. At the same time, the nation's 50 secondary markets generated annual rent growth of 2.4%, as many secondary metros were among the weakest performers. In fact, seven of the eight U.S. metros to see annual rent cuts in 3rd quarter 2017 were secondary metros, highlighting the wide performance range among smaller markets.