Top Markets for Slowing Apartment Deliveries in 2018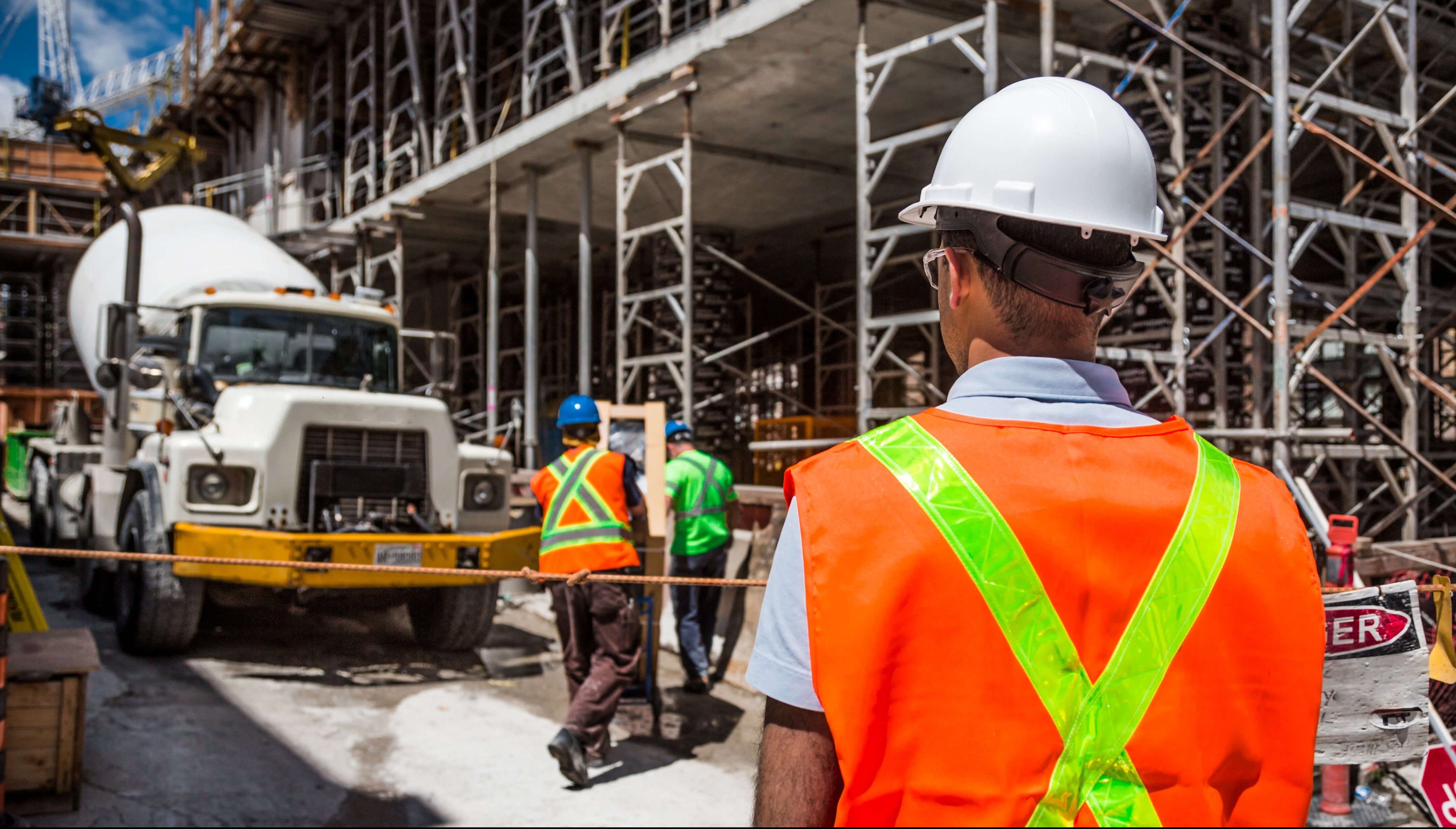 Following a year of record apartment supply volumes, deliveries should decelerate in 2018. For the nation overall, the slowdown is relatively modest, as expected completion volumes land 4.3% shy of the 2017 count.
Some individual metros, however, will experience sharp drops.
Among the nation's 50 largest metros, Houston, West Palm Beach and Virginia Beach are expected to see the largest declines, with 2018 inventory additions slashed by 47% or more from 2017 levels. In Houston, one of the 15 metros that led the nation in development activity throughout the current cycle, only about 8,000 units of new supply are expected to hit the market in 2018. It's been almost four years since annual apartment completions fell below the 10,000-unit mark in this metro.
By comparison, Houston recorded the nation's second-largest supply volume in 2017. The metro received nearly 20,000 new units last year, the tail end of a supply wave that began in 2013 following a sharp upturn in the market's performance. However, as turbulence in the energy industry began to erode fundamentals in the market in 2016, construction starts plunged and activity hasn't yet recovered.
Meanwhile, in West Palm Beach, just over 1,700 units are set to complete in 2018, which represents a return to more historically normal levels after a big supply push in 2017. In Virginia Beach, the roughly 1,200 apartments slated for delivery in 2018 grades well below the market's long-term average. The slowdown isn't surprising, as operators of existing properties have struggled to fill units while pushing rents meaningfully in recent years.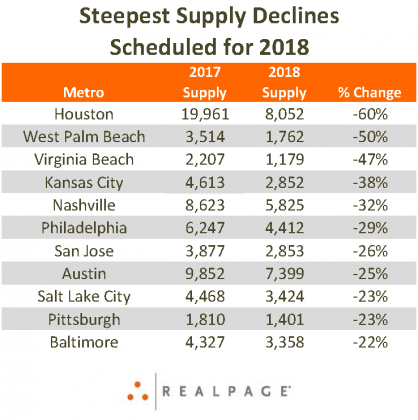 In Kansas City, almost 2,900 units are scheduled to hit the market in 2018. This supply level, while still elevated for the metro historically, is 38% below the record-high delivery volume the metro received in 2017.
Nashville is expected to see almost 5,900 units come online in 2018, with that volume registering 32% below 2017 deliveries. While that seems like a breather after last year's supply barrage, projected deliveries in Music City are still well above the historic average and will be hitting the market at a time when the metro is already struggling to work through a swollen inventory base.
Deliveries in 2018 should be 25% to 29% below 2017 additions in Philadelphia, San Jose and Austin. Since RealPage has been tracking Philadelphia, the market has consistently seen annual apartment additions hovering at or below the 2,000-unit mark. At the end of 2013, construction activity accelerated and hit a peak in 2017 at over 6,000 units. While deliveries will be 29% lower in 2018, scheduled supply doubles the long-term historical norm.
Elevated apartment supply volumes haven't posed much of a problem in San Jose. Though deliveries have run well above historical norms in recent years, this underserved Bay Area market has managed to absorb new supply at a healthy stride.
Austin joined Houston on the list of metros leading the nation in apartment deliveries throughout the most recent cycle. The Texas capital has endured a development spree that swelled the inventory base by 18% in the past four years. While dropping deliveries by about a quarter, scheduled additions totaling close to 7,400 units will still register well above the metro's historic average.
The volume of product additions is expected to drop 22% to 23% in Salt Lake City, Pittsburgh and Baltimore in 2018. For Salt Lake City and Pittsburgh, next year's delivery volumes should be back in line with historic norms. In Baltimore, however, even a drop of 22% in completion volumes leaves 2018 deliveries at about 3,400 units, a level well above the metro's historic average.