Top Markets for Job Gains Continue Improving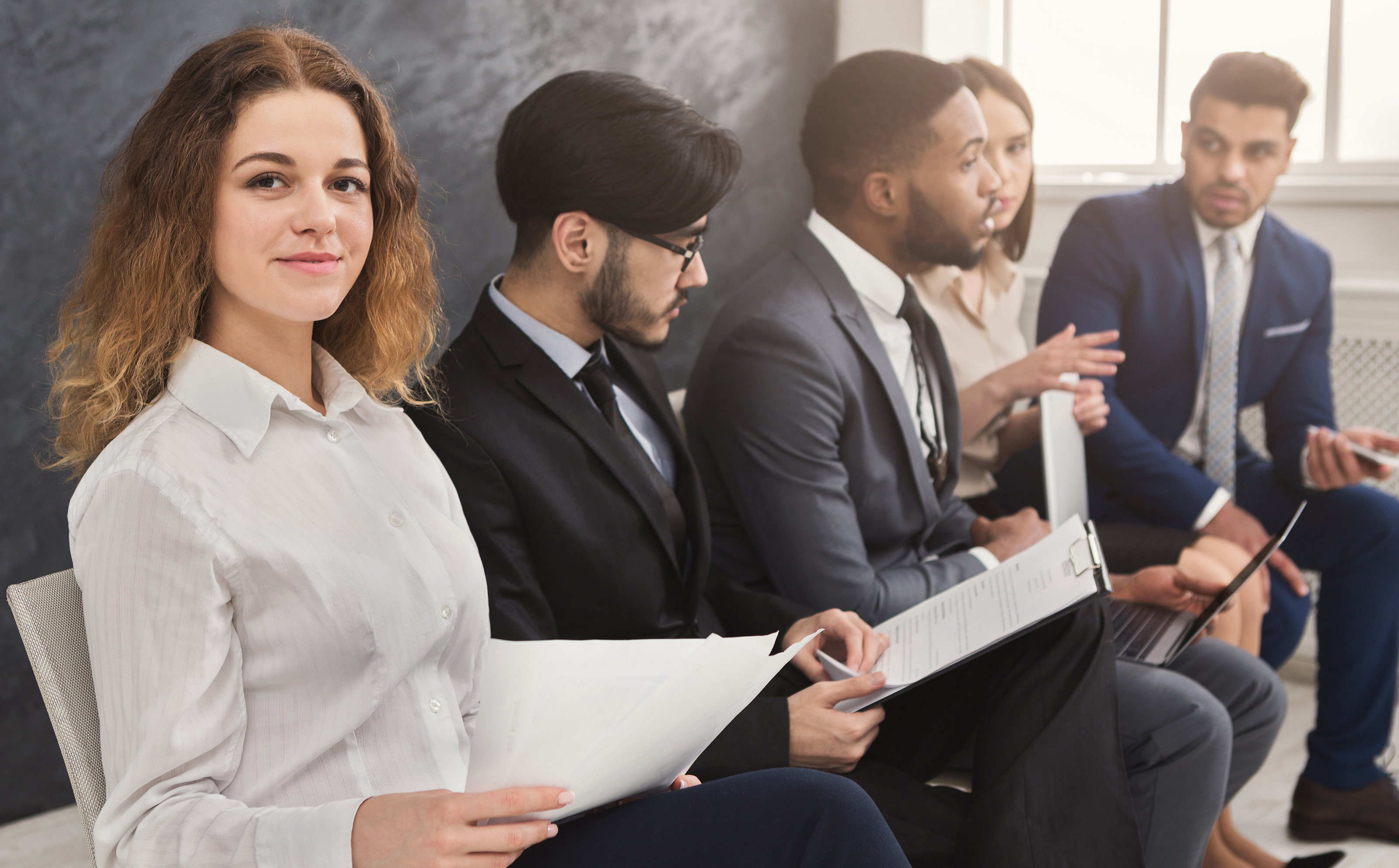 The list of top job gain markets in November was little changed from October with nine markets returning to the list and a few changing places. All but two of the top 10 had improved annual job gains compared to last month.
New York retained the #1 spot on the list with almost 280,000 jobs added in the 12 months ending in November, according to the Bureau of Labor Statistics (BLS). Los Angeles added 250,900 jobs for the same period, returning in the #2 spot. Chicago moved up a spot to #3 in November with 162,300 jobs gained for the year, while Dallas jumped from #6 in October to #4 in November with 156,300 additional jobs. The top four markets added at least 21,000 jobs to their annual totals compared to last month.
Houston remained in the #5 spot with an annual gain of 142,700 jobs, and Boston tumbled from #3 on the list last month to #6 in November with 142,100 jobs added. Atlanta, Washington, DC and Phoenix returned in the same spots as last month with 120,000 to 140,000 jobs gained. Philadelphia replaced Seattle on the top 10 list at #10 with an annual gain of 110,000 jobs.
Philadelphia also added more than 21,000 more jobs than October's annual figure. Houston, Atlanta and Washington, DC had more moderate improvement in their annual job gain totals compared to last month, while Boston and Phoenix were both down slightly.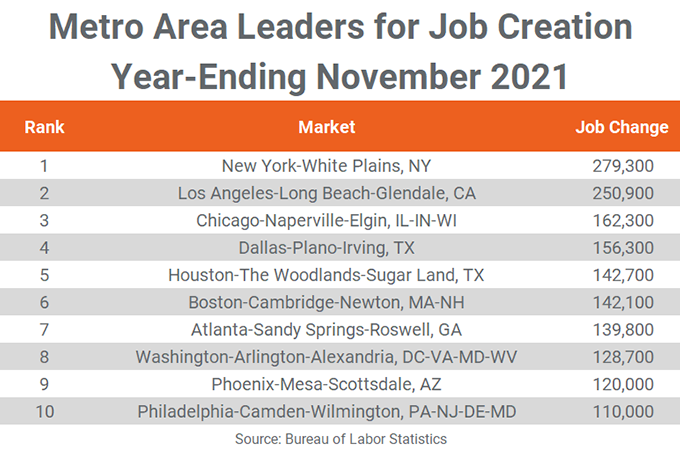 Dallas and Phoenix are still the only top 10 job gain markets to have recovered all the jobs lost since February 2020, despite eight consecutive months of positive employment trends. Atlanta is less than 5,000 employees below pre-pandemic employment levels, while Houston, Boston, Washington, DC and Philadelphia are each roughly 50,000 to 80,000 shy of full recovery. Chicago has about 127,000 jobs to make up and Los Angeles has about twice that volume left to go but New York is still more than 420,000 jobs below February 2020 employment.
Forty-seven of the 150 markets RealPage tracks have regained all the jobs lost during the pandemic compared to 37 last month. In addition to Dallas and Phoenix, Austin, Salt Lake City, Fort Worth, Tampa and Jacksonville, FL are at least 20,000 workers above their pre-pandemic levels. Major markets that are less than 1% from pre-pandemic employment levels include Memphis, Denver, Omaha, Indianapolis and Nashville. Markets that still have a long road to full recovery include Midland/Odessa, Urban Honolulu, New Orleans, Oakland, Las Vegas and Orlando. Each are still 5% or more below February 2020 employment levels.
Comparing annual job gain on a month-over-month basis, about 90 of the 150 markets had higher annual job gains in November than in October as the remaining 60 markets were unchanged or declined slightly. These month-over-month comparisons of not seasonally adjusted labor data from the BLS can sometimes be misleading, but nonetheless give an idea of overall trends.
With job gains still challenged by the Delta and now Omicron variants and other hiring difficulties, only the top 10 markets had annual job gains of 100,000 or more compared to 23 in April. Another 15 markets gained between 50,000 and 99,999 jobs, the same as in October. Of the top 150 markets, only Richmond, VA had an annual job loss from last November.
Annual percentage change in employment continues to be strong and, with increasing job gains, the top performers have seen improving job growth as well. Eight of October's top 10 returned in November with Naples, FL and Midland-Odessa, TX replacing Anaheim and Seattle on the top job growth markets list. Six of the top 10 growth markets had better annual growth than last month but none had double-digit growth as Urban Honolulu's growth comeback begins to slow.
Compared to October's list, the range of job growth continued to tighten, with the difference between #1 and #10 dropping 200 basis points, led by the slowing growth in Urban Honolulu. Job growth in this market fell from 10.5% in October to 7.7% in November as the market begins to normalize post-pandemic.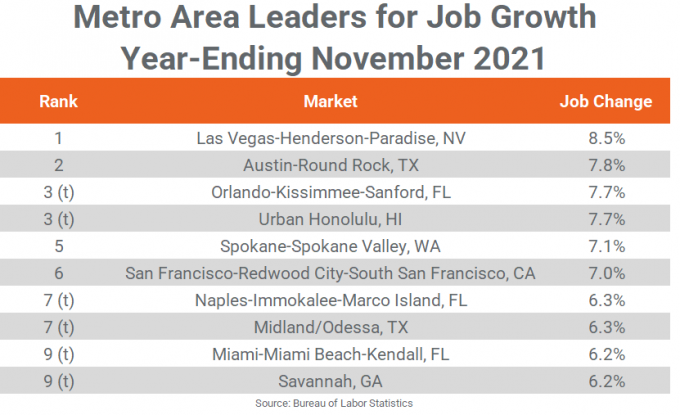 As was the case last month, the weakest large markets for percentage growth had growth rates of less than 2% and were mostly in the Midwest (Columbus, OH, Tulsa, Cleveland, St. Louis, Nassau County-Suffolk County, NY and Virginia Beach). In addition to the top 10, strong job growth markets include Anaheim, Los Angeles, Seattle, Dallas, Portland, OR and Phoenix. Fifty-seven markets had annual job growth rates above the national average of 4.1% compared to 56 in October.