Top Markets for Apartment Demand in 2nd Quarter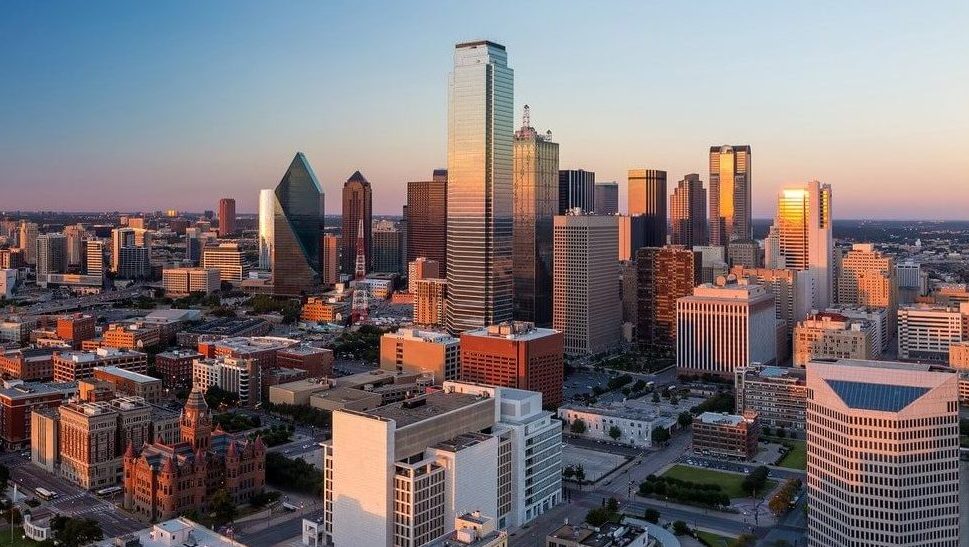 U.S. apartment renters came out in force in 2nd quarter, leasing more apartments from April to June than in any other quarter in almost 10 years. Leasing activity was particularly robust in many of the nation's largest local markets.
The 176,500 apartments absorbed in 2nd quarter pushed national occupancy to 95.9%, a rate the U.S. hasn't seen in nearly two decades. Such strong demand comes as the nation enters the period known as prime leasing season, when most apartment leases are signed for the year. Warmer weather and the end of the academic year are two factors encouraging renters to lease new apartments.
Eleven markets absorbed more than 4,000 units in 2nd quarter alone. Excluding New York, by far the largest U.S. market, these top-performers contributed 35% of nation's demand in the quarter, while accounting for only 27% of total U.S. apartments.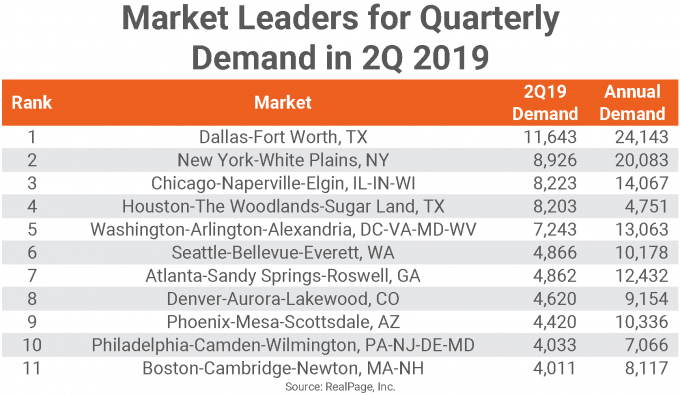 In Dallas/Fort Worth, 2nd quarter apartment demand reached over 11,600 units, a 20-year high, underscoring North Texas' strong job market and in-migration. The Dallas-Plano-Irving side of the market saw the lion's share of that demand with about 8,800 units absorbed, while the Fort Worth-Arlington side logged about 2,900 units of demand in 2nd quarter. Healthy demand here should be good news to developers because North Texas deliveries are expected to climb to a 30-year high in the coming 12 months, when nearly 30,000 units are scheduled to come online.
New York typically ranks on the list of high-absorption markets based on its sheer size alone, as the market has nearly 1.9 million conventional apartment units. But 2nd quarter's absorption tally of nearly 9,000 units more than quadruples the market's three-month inventory gain of about 2,000 apartments. Annual demand, at over 20,000 units, is also far above annual supply as about 13,700 units were delivered in the past year. Completions are expected to slow a bit moving forward, as 10,200 are set to deliver within the next 12 months.
Chicago, which tends to experience more seasonality than other major markets around the U.S., generally needs a strong showing in prime leasing season to boost the market for the remainder of the year. Fortunately, 2nd quarter proved solid, with demand for over 8,200 units accounting for over 58% of the market's annual absorption volume and nearly matching the 12-month supply tally of 9,600 units. The quarterly demand figure was the highest in nine years.
Still recovering from post-Hurricane Harvey fall out, Houston saw strong absorption in 2nd quarter, which likely made many apartment developers breathe a bit easier. Recent demand for roughly 8,200 units made up for two quarters of resident loss and took the annual tally to nearly 5,000 units. While this quarter's solid demand showing is a start, the market will need to keep its momentum going to absorb new deliveries in the coming year, which are scheduled to climb to 13,700 units.
Washington, DC logged apartment demand for about 7,200 units in 2nd quarter, a seven-year high for the market. This solid performance took the annual volume to 13,000 units. While that tally beat out new supply volumes totaling more than 8,500 units, another big wave of supply is scheduled for coming year. Nearly 16,900 units are set to be completed in the next 12 months, growing the market's stock by 2.7%.
Rounding out the top 10 quarterly demand performers, Seattle, Atlanta, Denver, Phoenix and Philadelphia all recorded between 39% and 57% of their annual demand volumes during 2nd quarter 2019.
Most of these five markets hit a near-term demand record this quarter. Seattle's demand has been strong in 2019 so far, with demand the 4,866 units absorbed in 2nd quarter adding to the solid absorption of 3,700 units in 1st quarter. Boston's quarterly absorption hit an 11-year high. Phoenix hasn't seen quarterly demand surpass current levels since 2000. Denver's 2nd quarter absorption also reached a more than 19-year high. Quarterly demand in Philly hit a five-year high. While strong in national picture, Atlanta's absorption was in line several performances in recent years.
On the bottom of the absorption list, the laggards in 2nd quarter were Sacramento, Virginia Beach, Pittsburgh, Providence, West Palm Beach and Cleveland, which all logged less than 1,000 units of demand in 2nd quarter. That said, only one of the 50 largest apartment markets in the U.S. recorded softening occupancy in 2nd quarter. West Palm Beach lost a mere 10 basis points (bps) of occupancy between 1st and 2nd quarters. The remaining 49 of the nation's largest apartment markets saw occupancy strengthen.
Of the top 10 markets quarterly demand markets, all saw occupancy strengthen at least 40 bps in 2nd quarter. Denver and Houston saw the largest surge in occupancy in the past three months, gaining 90 bps over 1st quarter.