Top Job Growth Markets Separate From the Pack in September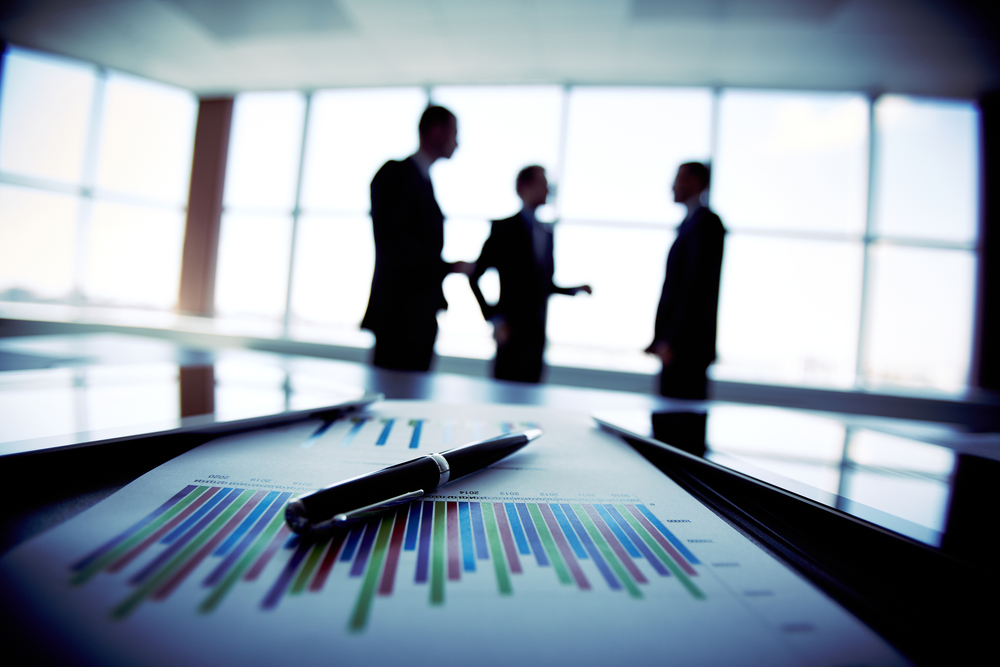 Job numbers from September reveal a widening gap between the country's top job growth markets and all other U.S. markets.
U.S. employers added more than 2.5 million jobs in the year-ending September 2016, growing the nation's employment base 1.8%, according to preliminary data from the Bureau of Labor Statistics. But that growth was disproportionately driven by a pair of large metros: New York and Dallas.
Among U.S. metropolitan areas, New York was the recurring leader, expanding by 147,900 net jobs, or 1.8%, during the year-ending September 2016. For the same period, Dallas created 101,300 jobs. Those performances topped the #3 metro, Atlanta, by more than 24,000 jobs gained in the past year.
Most of the other usual suspects, like Los Angeles, Washington, DC and Seattle returned to the top 10, but logged fewer net gains than in the year-ending August 2016. The trend knocked Philadelphia from the leaderboard and allowed Detroit to creep into the #7 slot. The Motor City added 56,500 net jobs over a 12-month period. Professional and Business Services contributed more than 37% of Detroit's gains, while Education and Health Services accounted for 18.2% of metro additions.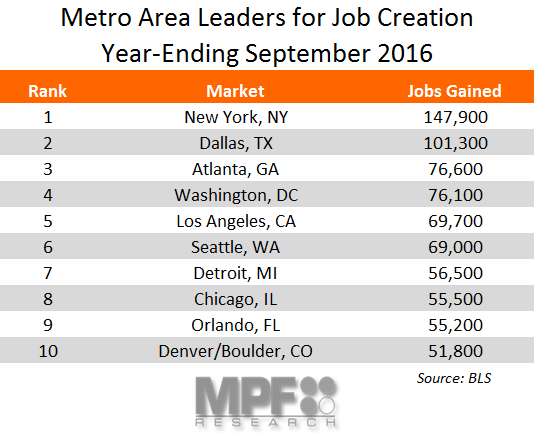 September's metro-level percent-change leaderboard experienced a more pronounced shuffling, with Orlando ranking #1. Leading multiple Sunshine State staples, the Orlando market, which experienced year-over-year base growth of 4.7%, managed to knock Reno from the top spot.
Still, Reno added 9,800 jobs to register an impressive base growth of 4.6%. Reno's most significant gains occurred within the industries of Government and Trade/Transportation/Utilities. Both sectors individually accounted for 3,000 net jobs for the year-ending September 2016.
Two metros absent from year-ending August 2016's leaderboard, Denver/Boulder and Charleston, also landed on the latest list. While most sectors in Charleston saw respectable gains, the most noteworthy spike manifested in Professional/Business Services opportunities. Over a 12-month period, the industry expanded by 8.2%, or more than 4,000 net jobs.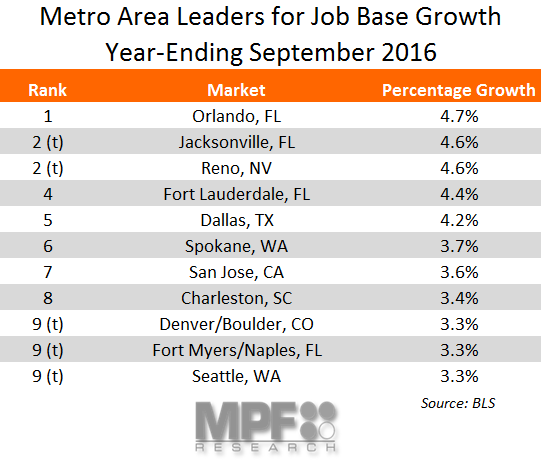 Meanwhile, Spokane's economy is heating up steadily. With the year-over-year base growth of 3.7%, the northwest market rose three spots. Additionally, the metro's overall robustness is becoming more evident. Spokane ranks #2 for small market occupancy levels within the nation.