July's Top Job Gain Markets Still Improving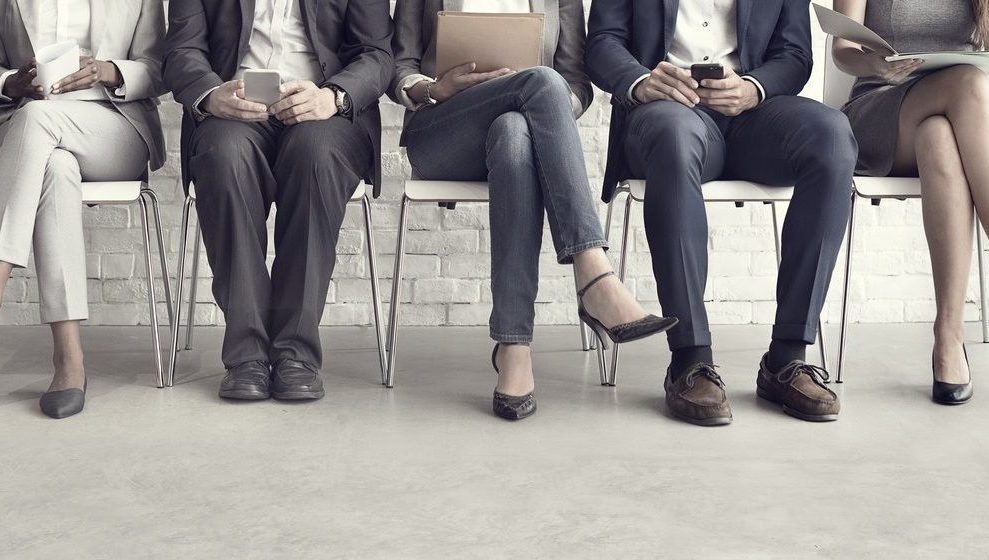 The top 10 markets for annual job gains through July 2018 picked up some steam in the past month, adding 112,900 more jobs collectively than they did in the 12 months ending in June.
Together, July's top 10 job gainers created 751,900 jobs compared to 639,000 last month. Year-over-year, the top 10 added more than 256,000 jobs above their total for the year-ending July 2017.
Nine of the top 10 metros from June returned in the list for July, with only the top three metros holding their previous positions. New York continued to hold the #1 spot for annual job gains, with 121,000 jobs added in the year-ending July. Houston continues to roar back, adding 101,800 jobs – compared to just 28,100 in July 2017 – keeping the Bayou City at #2. Meanwhile, Dallas remained in the #3 spot with 89,600 new jobs.
Los Angeles fell out of the top 10 this month as Washington, DC moved into L.A.'s #4 spot in June. With 77,100 jobs added in the year-ending July, DC moved up from #6 in June. Boston and Philadelphia each moved up two spots to #5 and #6, respectively, each with close to 62,000 jobs added.
Phoenix fell back to #7 from #5 in June with 61,300 jobs added in July. Seattle moved up to #8 from #10 last month, adding 60,800 jobs in the latest count. Chicago cracked the top 10 with 59,600 jobs for July – more than twice the annual total one year ago – and Atlanta, at #9 last month, rounded out the top 10 with 57,000 jobs.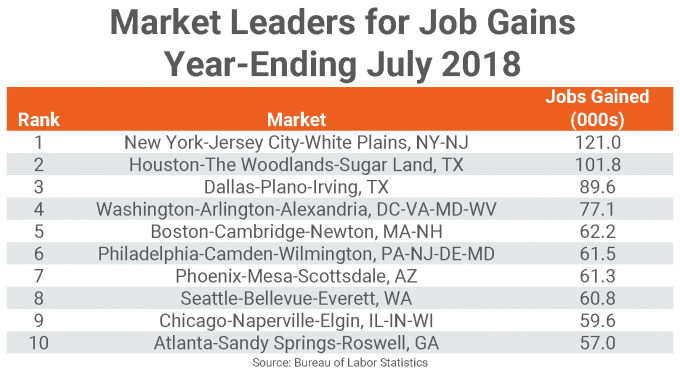 In addition to annual gains made by this month's top 10 over their performance last year, 10 of the next 15 metros added more jobs in the 12 months ending in July 2018 than the same period one year ago. Five of those 10 added 14,000 to 25,000 more jobs to their respective economies than the previous year: Las Vegas, Minneapolis-St. Paul, Orlando, Denver and Cleveland.
With the top 10 job gain markets in July 2018 adding 751,900 jobs over the year, they accounted for more than 31% of the nation's total job gains during that period. If comparing job growth on a percentage basis for the top 10 metros, Seattle led the pack with 3.6%, followed closely by Dallas and Houston with 3.5% and 3.4%, respectively. Despite leading the nation in job gains, New York's size limits its annual growth to just 1.7%.
A few markets are continuing to struggle with their employment base. Savannah, GA is experiencing contraction in Leisure/Hospitality Services and Local Government, while Dayton, OH's losses are in Education and all subsectors of Government. Corpus Christi continues to shed jobs in Leisure/Hospitality Services and Naples' Retail Trade subsector is still soft. Salisbury, MD lost the most jobs of the top 150 markets, with particularly sharp declines in Local Government, Leisure/Hospitality Services and Retail Trade.
With the addition of 30 markets to the list, the annual percent-change leaderboard saw some new markets joining the list – Midland/Odessa, Provo, Trenton, Boise City, Las Vegas and College Station – along with several familiar faces – Colorado Springs, Reno and Tacoma. In addition to Tacoma, Reno, and Colorado Springs, Orlando and Raleigh returned from last month's list.
Midland/Odessa's job growth of 6.7% led all markets, while the #9 metro grew by 3.7% compared to the national average of 1.6%. Smaller markets tend to generate larger percentage growth rates with lower job gain figures compared to larger markets. Thus, they tend to lead the list.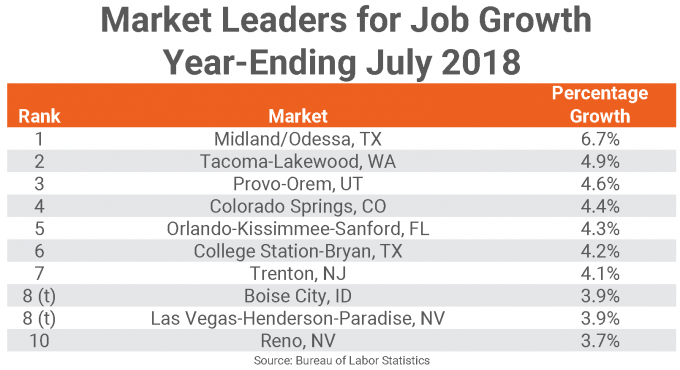 Larger metros tend to have more diverse economies with job gains spread across several employment sectors, while smaller markets tend to see growth in only a few sectors. For Midland, Mining/Logging tends to drive job growth. In Reno, it is Manufacturing, and Tacoma gained in Retail Trade and Leisure/Hospitality Services. Colorado Springs and Boise City are two exceptions, as their gains are spread among several industries.