Top Job Gain Markets Gaining Momentum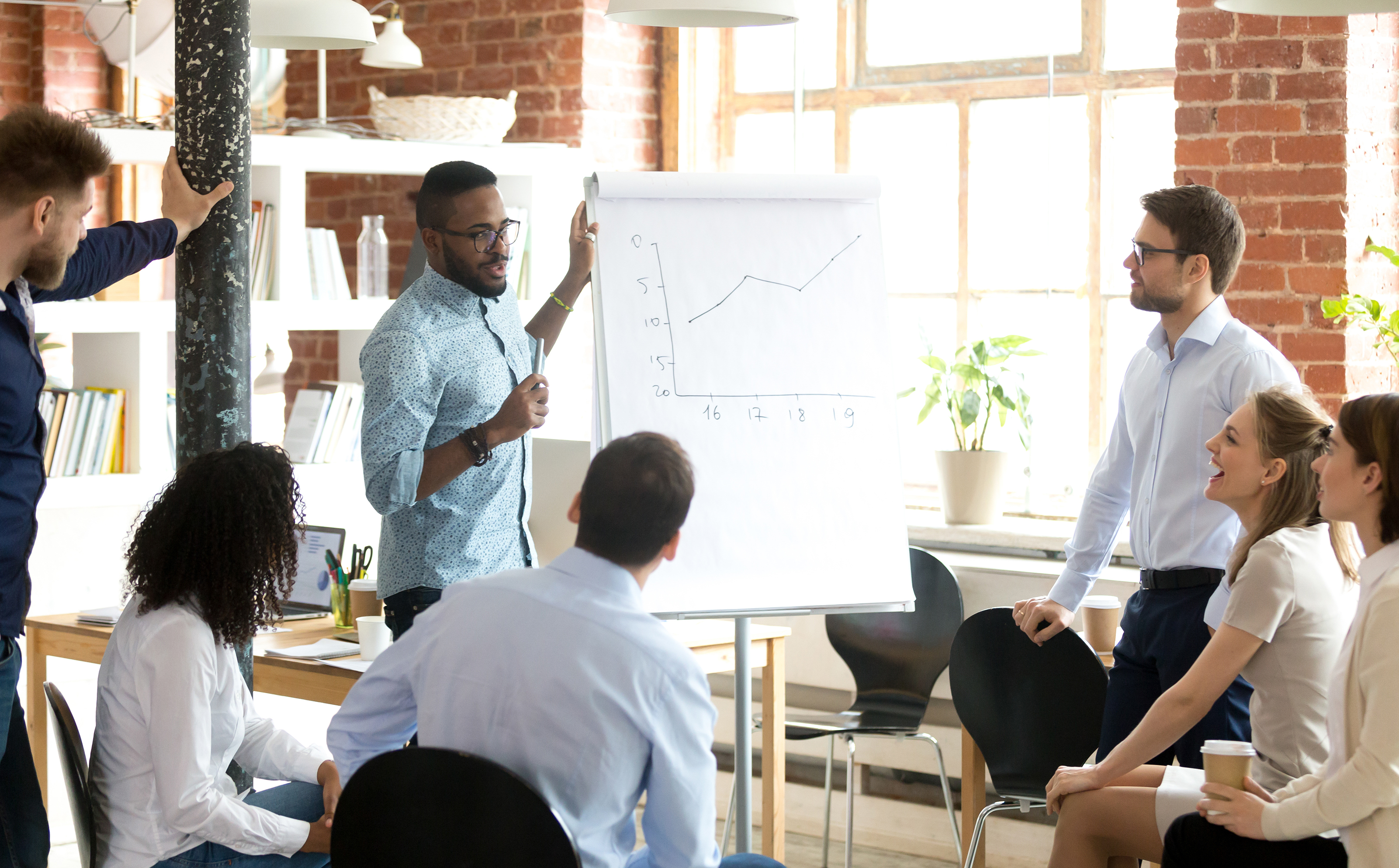 After enduring various obstacles and setbacks, metro-level employment gains appear to be building momentum coming out of the COVID-19 pandemic recession and subsequent complications. Benchmark revisions to historical employment data has resulted in much stronger job gain totals for the majority of major markets around the country.
In fact, the first four markets in this month's top 10 job gain markets gained an average of 33,000 jobs apiece when comparing the initial December 2021 totals to recently revised figures from the Bureau of Labor Statistics (BLS). The range of positive benchmark revisions for these four markets was 32,000 to 43,000 additional jobs. This was quite an impressive improvement when factoring in Omicron, labor shortages, and wage inflation during that time.
Nine of January's top 10 markets returned to the list in February and several changed places. The first four markets returned in order with New York still leading the country with almost 390,000 jobs gained for the 12 months ending in February. Los Angeles and Chicago followed at #2 and #3 with 324,200 and 221,800 jobs gained, respectively.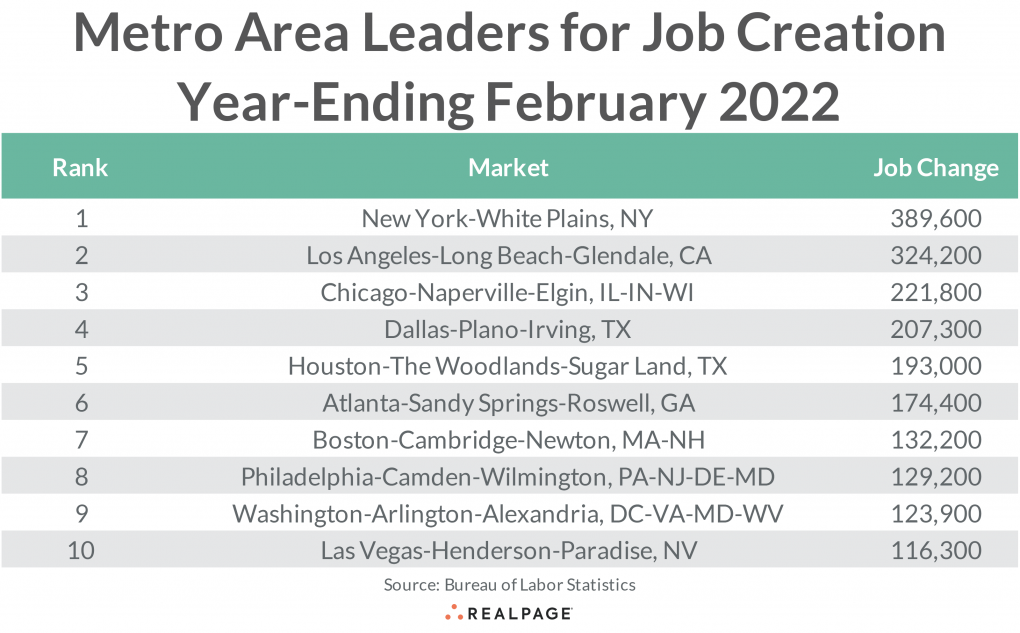 The metro division of Dallas-Plano-Irving returned at #4 with 207,300 jobs gained, more than 21,000 jobs greater than the annual total in January. At #5, Houston had the strongest month-over-month improvement with 193,000 jobs gained through February, 39,300 more than in January.
Atlanta slipped back one spot this month, changing places with Houston at #6 with 174,400 jobs gained, while Boston remained in the #7 spot with an annual gain of 132,200 jobs. Philadelphia was again #8 on the top 10 list, adding 129,200 jobs to the local economy.
Washington, DC jumped back onto the top 10 list at #9, gaining 123,900 jobs for the year, while last month's #10 – Las Vegas – retained its spot with 116,300 jobs gained.
Dallas and Atlanta remain the only top 10 markets to have regained all the jobs lost since February 2020. However, with Houston building momentum and benefiting from higher oil prices, that market is not far (-16,700 jobs) from returning to pre-pandemic employment levels. Several major markets that are in the top 25 for job gains have recovered their pre-COVID employment figures, including Austin, Riverside, Phoenix, Denver, Tampa, San Antonio and Fort Worth.
A full 50, or one-third, of the top 150 markets have regained all previously lost jobs, and three markets that employ at least one million workers are less than 10,000 jobs away from regaining a positive status (Miami, Orlando and Columbus, OH). Unfortunately, some of the largest markets still have many thousands of jobs to recover before they reach pre-pandemic levels (New York, Los Angeles, Chicago, Washington, DC, Boston, Minneapolis and Philadelphia).
Comparing annual job gains on a month-over-month basis, 88 of our 150 markets had higher annual job gains in February than in January as the remaining 73 markets were unchanged or declined slightly. These month-over-month comparisons of not seasonally adjusted labor data from the BLS can sometimes be misleading, but nonetheless give an idea of overall trends.
As the challenges for job gains by the Delta and Omicron variants and other hiring difficulties recede but still continue, 14 markets had annual job gains of 100,000 or more compared to 17 in January and 13 in December. Another 18 markets gained between 50,000 and 99,999 jobs, three more than last month. None of RealPage's top 150 markets had an annual job loss from last February.
Annual percentage change in employment continues to be strong and with increasing job gains, the top performers have seen improving job growth as well. Nine of January's top 10 returned in February with half of those nine in California, compared to Florida and Texas markets earlier in the recovery.
Las Vegas continues to lead the top 150 for percentage annual growth in employment at 12.7%. Orlando moved up into the #2 spot with a 9.2% gain, as two of the hardest hit markets during pandemic lockdowns are now regaining their footing.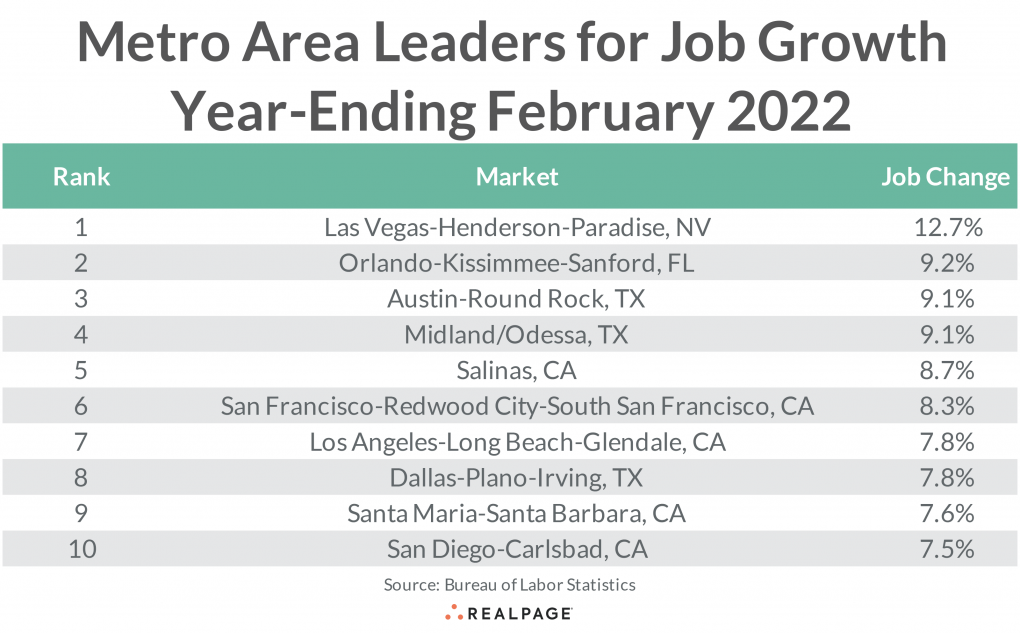 Austin's tech-centric economy helped boost employment by 9.1% in February, while the oil and gas industry is responsible for Midland/Odessa's similar 9.1% growth. The small California markets of Salinas and Santa Maria-Santa Barbara are experiencing strong percentage growth rates on generally small bases, but nearby San Francisco and Los Angeles are seeing real recovery in employment growth rates.
Dallas was the only new market on the top job growth list with 7.8% annual growth, almost identical to Los Angeles and slightly higher than the #10 market San Diego.
Compared to January's list, the levels of job growth shifted downward, with the difference between #1 and #10 averaging about 20 bps higher than last month. Job growth in the top market fell 100 bps while the #10 market was 160 bps lower than January's #10. Additionally, none of the top 10 in January were below 8% growth.
The weakest markets for percentage growth are primarily in the Deep South and industrial Midwest, with a few Northeast markets in the mix. Major markets with sub-3% growth include Kansas City, Pittsburgh, Omaha, Minneapolis, Columbus, OH, Cincinnati and Milwaukee. In addition to the top 10, strong job growth markets include Miami, San Antonio, Fort Worth, Houston and Nashville. Fifty-eight markets had annual job growth rates above the not seasonally adjusted national average of 4.8% compared to 66 in January.