Top Job Gain Markets Finish 2021 Strong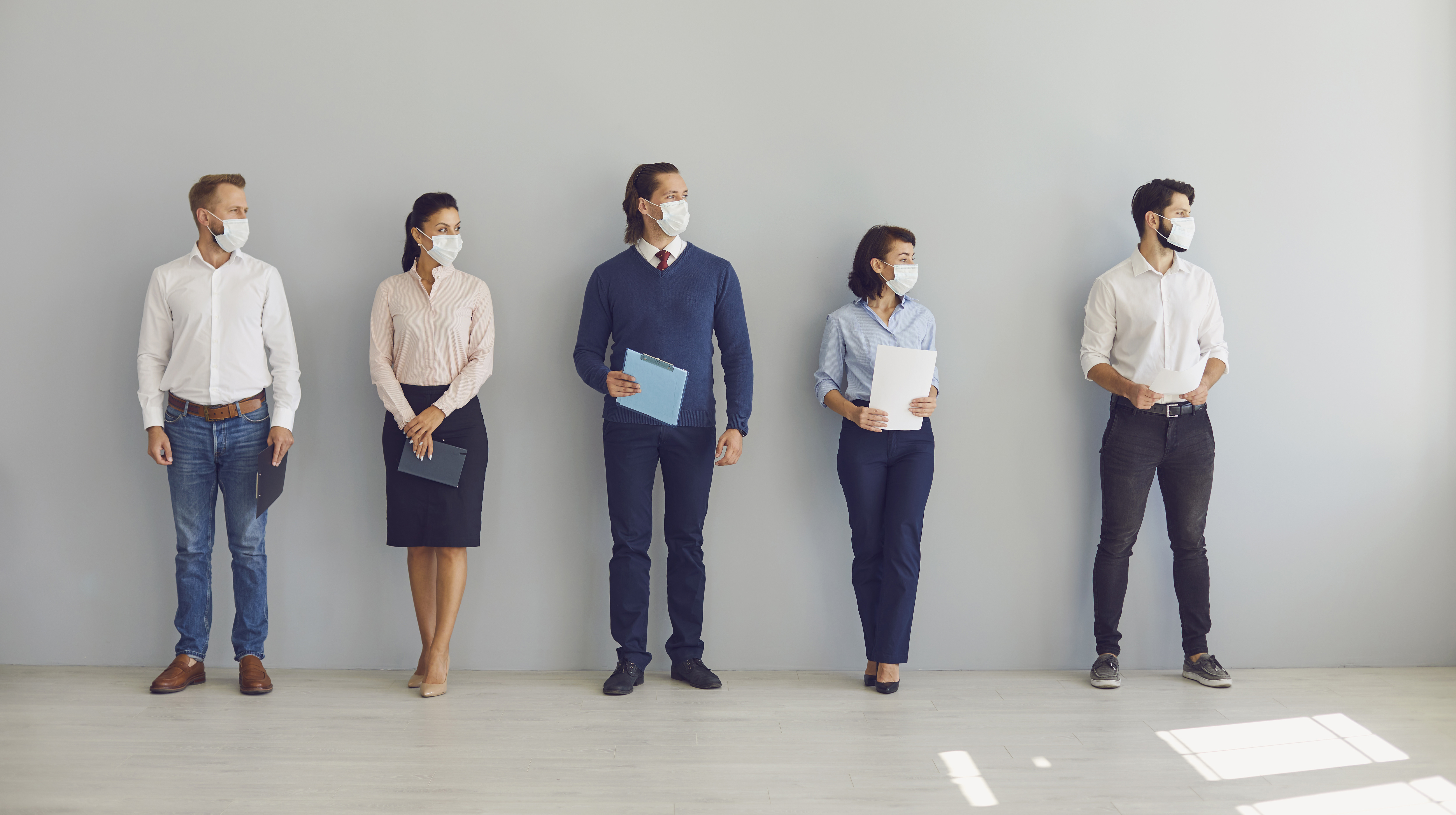 Despite the headwinds of increasing COVID-19 cases around the country, difficulty in filling vacant positions, and concerns about soaring inflation, all of the top 10 markets for job gains in November returned to the list in December. Only a few markets moved around the list.
As it typically does, New York tops the list of top job gain markets with over 338,000 jobs added in 2021. That was an improvement of more than 21% from November's annual total, or about 60,000 additional jobs, according to the Bureau of Labor Statistics (BLS).
Los Angeles and Chicago returned in the #2 and #3 spots, respectively, with 282,300 jobs gained in LA, while the Windy City added 191,400 jobs for the year. In both markets, those totals were about 30,000 jobs greater than November stats.
Boston replaced Dallas at the #4 spot this month with an annual gain of 157,800 jobs in 2021, which was almost 16,000 more than last month. Houston retained the #5 spot by adding 151,800 jobs in 2021. That total was only around 9,000 more than in November.
Dallas slipped two spots to #6, adding 144,900 jobs in 2021. That was down about 11,000 jobs from November's 12-month total. Atlanta and Washington, DC returned in the same spots, gaining 141,100 and 134,700 jobs, respectively.
Philadelphia moved up one spot to #9 with an annual gain of 134,100 jobs in 2021. That was an improvement of 24,100 jobs from last month. Phoenix switched places with Philadelphia but still added almost 3,000 more jobs than last month's annual figure to total 122,700 new jobs for the year.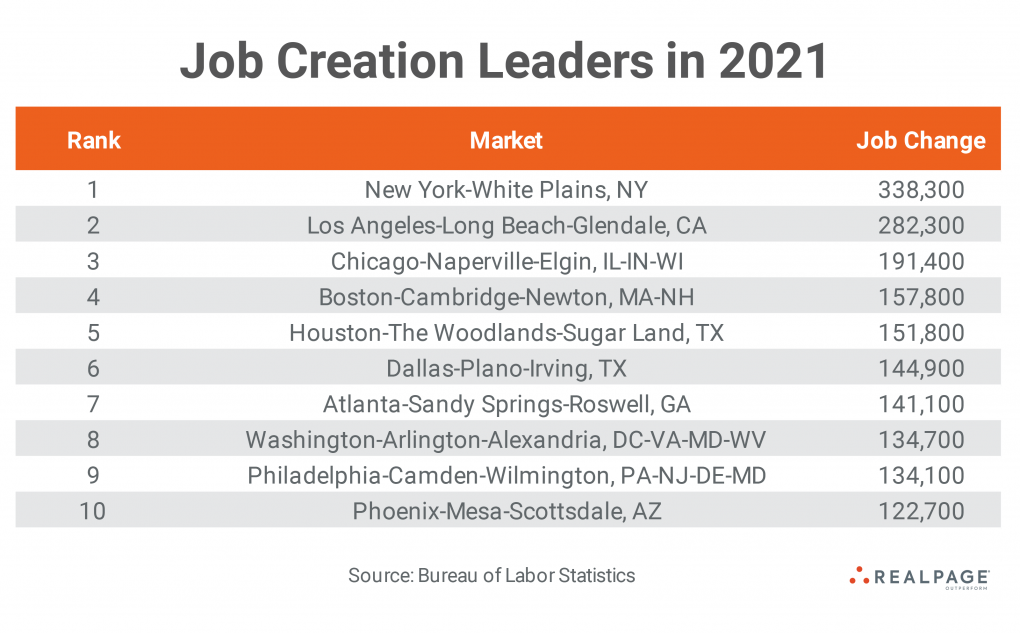 This month, Atlanta joined Dallas and Phoenix as the only top 10 job gain markets to have recovered all of the jobs lost since February 2020, despite nine consecutive months of positive employment trends. Increasing oil prices have buoyed Houston's recovery, as that market is only 44,700 jobs away from pre-pandemic employment levels. The northeastern markets of Boston, Philadelphia and Washington, DC are each about 50,000 to 80,000 employees short of pre-COVID levels, while the big markets of Chicago, Los Angeles and New York have roughly 120,000 to 400,000 jobs to regain before reaching full recovery.
Forty-eight of the 150 markets RealPage tracks have regained all of the jobs lost during the pandemic compared to 47 last month. In addition to Dallas, Atlanta and Phoenix, other markets with at least 20,000 workers above pre-pandemic levels include Austin, Salt Lake City, Fort Worth, Tampa and Jacksonville, FL. Major markets that are less than 1% from pre-pandemic employment levels include: Cincinnati, Riverside, Seattle, Columbus, OH, and Oklahoma City. Markets that still have a long road to full recovery include Midland/Odessa, Urban Honolulu, New Orleans, Oakland, Las Vegas and Orlando. Each are still 5% or more below February 2020 employment levels.
Comparing annual job increases on a month-over-month basis, 102 of the 150 largest U.S. markets had higher gains in December than in November as the remaining 48 markets were unchanged or declined slightly. These month-over-month comparisons of not seasonally-adjusted labor data from the BLS can sometimes be misleading, but nonetheless give an idea of overall trends.
Despite continuing challenges for job gains by the Delta and now Omicron variants and other hiring difficulties, 13 markets had annual job gains of 100,000 or more compared to only the top 10 in November and 23 in April. Another 14 markets gained between 50,000 and 99,999 jobs, one less than last month. None of RealPage's top 150 markets had an annual job loss from last December.
Annual percentage change in employment continues to be strong and with increasing job gains, the top performers have seen improving job growth as well. Only five of November's top 10 returned in December with more markets on the West Coast making the top job growth list compared to Florida and Texas markets earlier in the recovery.
Las Vegas continues to lead the top 150 for percentage annual growth in employment at 8.8%. In addition to San Francisco and Spokane, other markets that jumped into the top growth markets this month include Santa Rosa, CA, Portland, OR, Anaheim and Los Angeles.
Compared to November's list, the range of job growth shifted upward, with the difference between #1 and #10 averaging about 50 bps higher than last month. Job growth in the top market rose 30 bps while the #10 market was 70 bps higher than November's #10.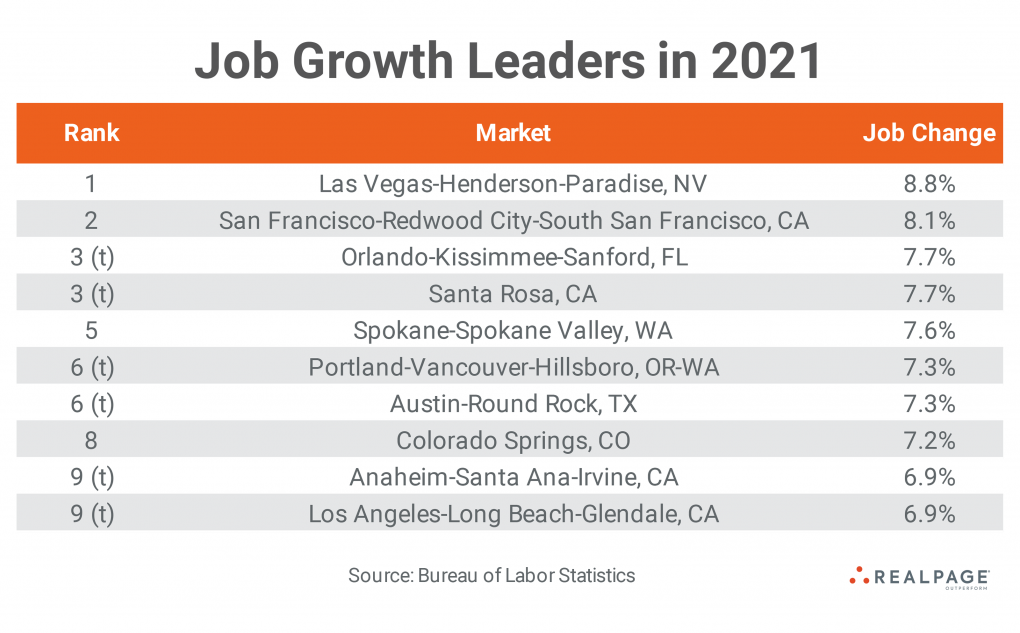 The weakest markets for percentage growth are primarily in the Deep South and Midwest, with a few Northeast markets in the mix. Major markets with less than 3% growth include Greensboro/Winston-Salem, Memphis, Milwaukee, Indianapolis, Cleveland, Baltimore, St. Louis, and Columbus, OH. In addition to the top 10, strong job growth markets include: Seattle, Denver, Detroit, Boston, San Jose and Miami. Sixty-one markets had annual job growth rates above the national average of 4.4% compared to 47 in November.