Top Markets for Rent Growth Shuffle in January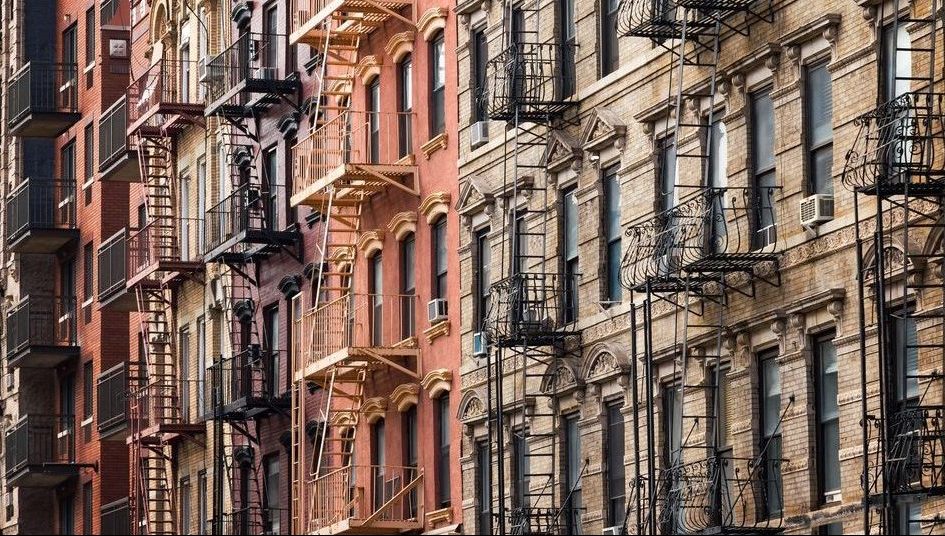 The U.S. apartment market started 2020 in better occupancy shape than it did any other year in nearly two decades.
U.S. apartment occupancy hit 95.5% last month, the best January occupancy rate since the early 2000s. That rate was down somewhat from a 20-plus-year high of 96.3% achieved in August. But occupancy typically softens in winter, as many renters opt not to move in the coldest months.
January's occupancy still registers above the nation's long-term average. At 95.5%, occupancy stands 30 basis points (bps) above year-ago figures and a mere 10 bps below December's rate.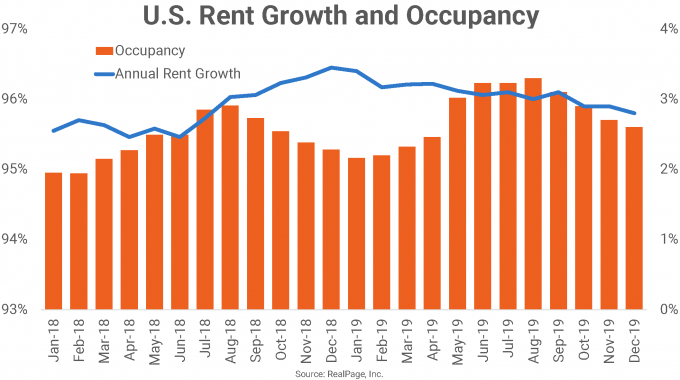 Rents across the U.S. have been growing at an annual rate around 3% over most of the last three years. In the year-ending January, the U.S. grew rents 2.9%, about 50 bps below the year-ago rate.
Of the nation's 50 largest apartment markets, only seven have experienced softening occupancy from year-ago levels. And most of those markets saw only marginal softening of 10 bps. Of those same 50 markets, about half lost a bit of steam in occupancy in January, though most only by 10 or 20 bps, again attributable to a seasonal slump in leasing.
All four regions of the country experienced strengthening occupancy over the past year.
For the first time in several months, the local market leaderboard for rent growth has shuffled around and welcomed a few newcomers. Though Phoenix and Las Vegas have claimed the top two spots for rent growth among the nation's largest markets for 16 months running, Nashville rose to the second spot in January with 5% annual rent growth.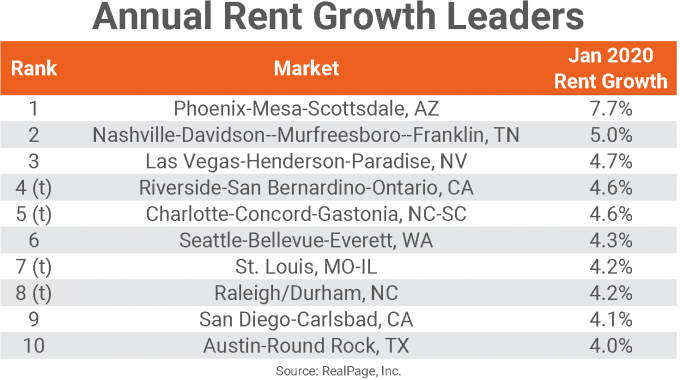 Greensboro/Winston-Salem and Sacramento both lost significant momentum from December – 90 bps and 100 bps, respectively – to fall out of the top 10 for annual rent growth. Cincinnati also fell out, though annual rent growth there remained stagnant from December. Those three markets made room for three newcomers that all saw significant rent growth momentum in January. Seattle, San Diego and St. Louis gained 80 bps, 40 bps and 50 bps in annual rent growth, respectively.
Outside the top 10, already-strong Memphis (+100 bps), Boston (+60 bps) and Indianapolis (+60 bps) all gained rent growth momentum from December. Several laggard markets, such as Chicago (+70 bps), Miami (+70 bps) and Columbus (+60 bps), also gained momentum, but still stand below the national norm.
Rent growth laggards among the nation's largest apartment markets include Houston (0.7%) and a trio of California markets comprised of Oakland (1.1%), San Francisco (1.4%) and Los Angeles (1.5%).