Top Apartment Markets for Renewal Lease Rent Growth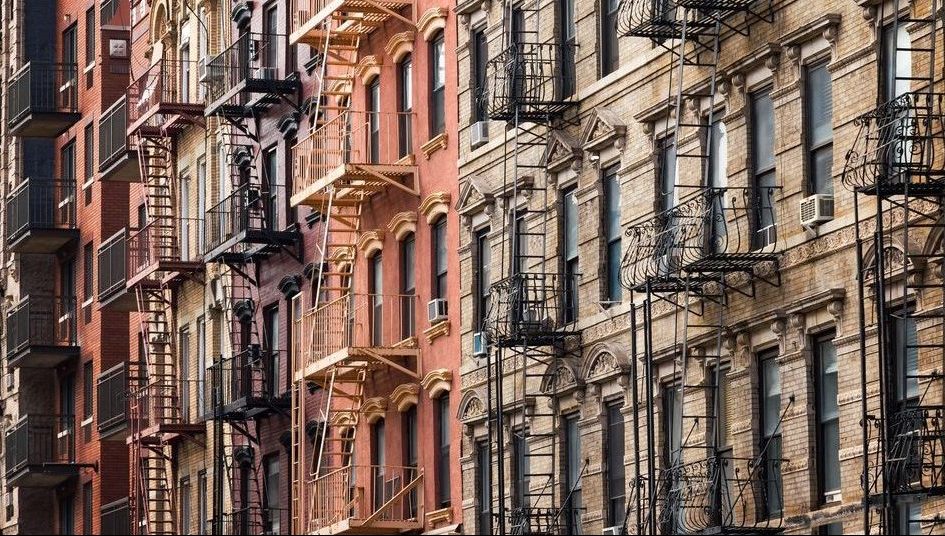 Apartment resident retention is at an all-time high, and renters in some markets are paying a premium to stay put.
In 1st quarter 2019, 53.1% of U.S. apartment renters with expiring leases choose to renew rather than move out. Nationally, the average rent increase in the renewed lease was 4.6%. But several individual markets are seeing increases above 5%.
At the top of the list are Las Vegas and Phoenix. The fact that these two markets are seeing the highest renewal rent growth isn't necessarily surprisingly, as they also lead for new-lease rent growth.
Las Vegas recorded the nation's strongest showing in 1st quarter, with renewal rent growth at 6.4%, the biggest increase this market has seen in at least a decade. Renewal conversions also reached a high point in early 2019 at 54.5%, despite such strong rent growth for those staying in their lease. While new-lease rent growth in Las Vegas is also elevated at 8% annually in 1st quarter 2019, prices have grown only 27% in total this cycle, which ranks among the lowest upturns across the largest 50 markets since 2010 and keeps effective rental rates relatively affordable on a national scale.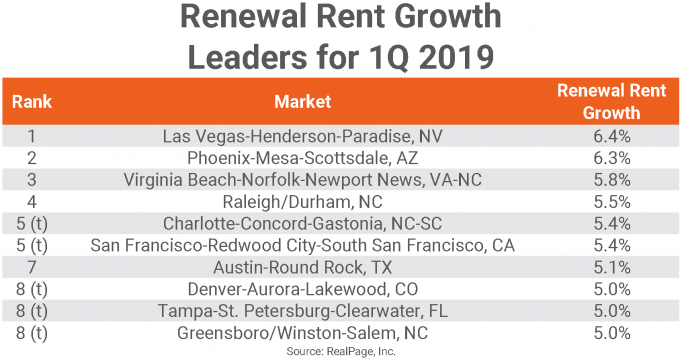 Renewal rent growth in Phoenix is strong at 6.3%, well ahead of the five-year average. While gains have been strong recently, peak renewal rent growth for this market hit in 2006 at nearly 10%. Renewal conversions have also been steadily increasing and peaked at 50% in 1st quarter 2019. This market was also a new-lease rent growth leader during the current cycle. The 8.1% annual increase in 1st quarter took total rent change over the past nine years to more than 40%. The progress Phoenix has made recently is especially impressive given the heavy volumes of supply received in the current cycle.
At #3 for renewal rent growth is perhaps a surprise  – Virginia Beach. For this market, this is a sizable figure – one that the market has seen for two quarters in a row now. Before that, renewal rent growth was much lower, lingering between 3% and 4% for most of the past decade. Renewal conversions here are also strong at 55.6%, but the climb to that point was more gradual. Success in renewal rates and pricing is significant for Virginia Beach, a slow-growth market with a federal government-based economy and strong competition from single-family homes. New-lease rent growth here only amounted to 2.3% in the past year.
Renewal rent growth near 6% in Raleigh/Durham is about in line with what this market has seen for much of the past seven years. Renewal rates here have seen a slow and steady incline, landing at 51%. While not surprising, given the strong economic footing supporting this market, a national leadership role for Raleigh/Durham is expressly noteworthy, given how much apartment construction activity this area has seen during the current economic cycle.
Charlotte and San Francisco both recorded renewal rent growth of 5.4% in early 2019. Both were among the nation's top construction markets over the course of the cycle, and both have experienced strong population and employment growth in recent years. Renewal conversion rates in Charlotte are a bit softer than the other markets on this list, at just 49.7%, but renewal rent growth has remained steadily at or above the 5% mark for much of the past three years.
In San Francisco, renewal rent growth has jumped recently, with the recent 5.4% increase up 108 basis points from a year ago. That's the largest year-over-year increase nationally. At the same time, renewal conversion rates have also been climbing, landing at 55.8% in early 2019.
In Austin, renewal rent growth of 5.4% is slightly above the eight-year average for this market, which peaked in late 2011 at 8.6%. When leases expire, 49.9% of residents stay in their units. This volume has climbed in the past two years but isn't uncommon for the market.
Three markets – Tampa, Denver and Greensboro/Winston-Salem – round out the top 10 for renewal rent growth, each with increases of 5.0%. In Tampa, that increase is a bit above the long-term norm, but on par for the most recent performances. The same can be seen in renewal conversion rates. The 51.6% renewal rate seen here in early 2019 is about in line with what the market has seen recently, but above the historical average. Tampa is also an historical underperformer in new-lease rent growth and occupancy, but the market has seen some sizable improvement in recent years, as the economy has diversified and strengthened.
Despite seeing solid renewal rent growth, Denver is seeing a relatively low renewal rate. Only 49.3% of residents renew their leases upon expiration. Denver maintains a profile consistent with over high turnover markets, with elevated new supply volumes, solid job growth and a relatively young population.
Renewal rent growth has also steadily improved in Greensboro/Winston-Salem, with the 5.0% recent increase a recent peak for the market. A relatively large number of residents also sign more than one lease for their existing unit, as the renewal conversion rate landed at 54.1% in early 2019.