Tight U.S. Apartment Occupancy Spurs Rent Rebound in March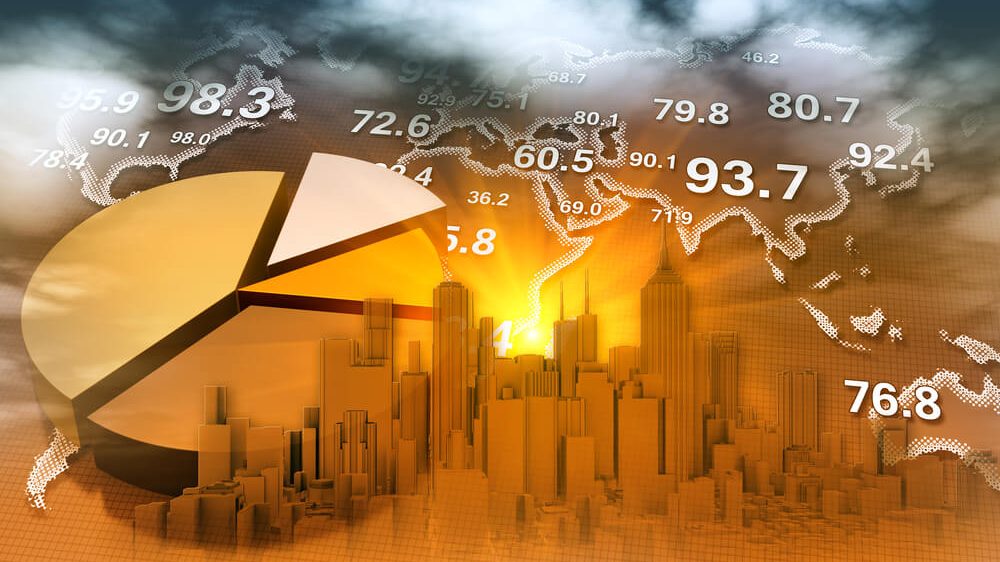 U.S. apartment occupancy remains in great shape as of March 2021. In turn, healthy occupancy is allowing rents to climb in most places, although the differences in pricing power from metro to metro – or even from neighborhood to neighborhood – are unusually big.
The Market Remains Tight
Apartment occupancy across the country's 150 largest metros stands at 95.5% in March.
There's been minimal movement in results of late, with occupancy bouncing around between 95.2% and 95.8% since late 2019.  This stable occupancy is very healthy viewed relative to the long-term standard and is especially impressive considering the vulnerability in performance that seemed possible when COVID-19 first emerged.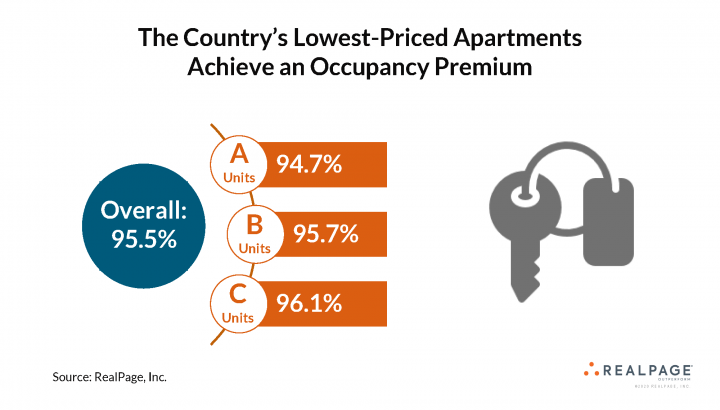 The most affordable apartments are the country's best occupancy performers, with the rate coming in at 96.1% in Class C properties. Middle-tier Class B projects are 95.7% occupied.
The leasing environment is somewhat more competitive for luxury communities, as occupancy in the Class A product niche stands at 94.7%. Some stabilized Class A assets are having trouble holding onto residents who are being drawn to brand new completions offering rent discounts during the initial lease-up period.
Rent Results Are Mixed
Effective asking rents for new leases in March are up 0.7% from February's pricing, with rent growth registering in 135 of the 150 largest metros.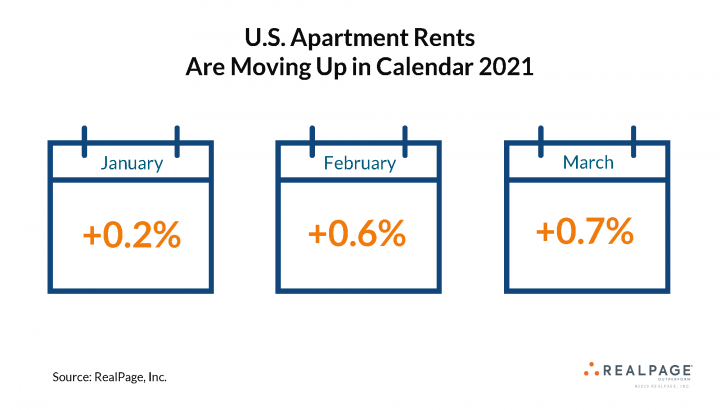 Among the nation's 50 biggest metros, Jacksonville registers the most momentum for the month of March with pricing up 1.9%. Rents are up 1.4% to 1.6% on a month-to-month basis in another five locations – Phoenix, Salt Lake City, San Francisco, Riverside/San Bernardino and Austin.
The meaningful bump in rents during March is especially good news for San Francisco and Austin, since those metros suffered big price declines earlier. Other previously hard-hit metros displaying green shoots on the pricing front in March include Chicago, Boston, Seattle, Oakland, Washington, DC, Newark-Jersey City and Los Angeles.
However, a couple of the top 50 metros continue to record monthly price cuts in March. Effective asking rents are off 0.5% in San Jose and 0.3% in New York.
Turning to annual rent change, pricing is up in 124 of the top 150 metros. However, the national shift in effective asking rents is still slightly negative at -0.7%, since some of the largest markets have suffered substantial declines.
The best rent growth performer among the country's 50 biggest metros is Riverside/San Bernardino. Effective asking rents in Southern California's Inland Empire are up a whopping 10.4% year-over-year.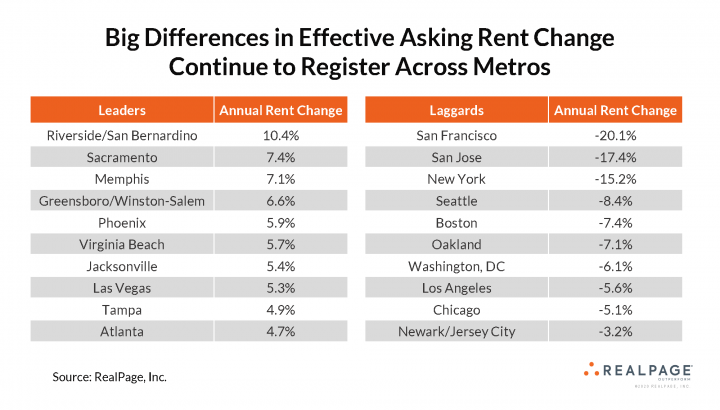 Sacramento and Memphis are next on the list with pricing up 7.4% and 7.1% respectively. Greensboro/Winston-Salem registers 6.6% annual rent growth.
Additional markets posting annual rent growth of at least 5% are Phoenix, Virginia Beach, Jacksonville and Las Vegas. Completing the list of the nation's 10 best rent growth performers among the biggest markets, Tampa and Atlanta register increases just below the 5% mark.
At the other end of the spectrum for performance, effective asking rent change as of March is at -20.1% in San Francisco, -17.4% in San Jose and -15.2% in New York.
Annual declines in the range of roughly 5% to 8% register in Seattle, Boston, Oakland, Washington, DC, Los Angeles and Chicago. Pricing faltered by about 3% in Newark-Jersey City.