Texas, North Carolina Dominate Fastest-Growing Apartment Markets List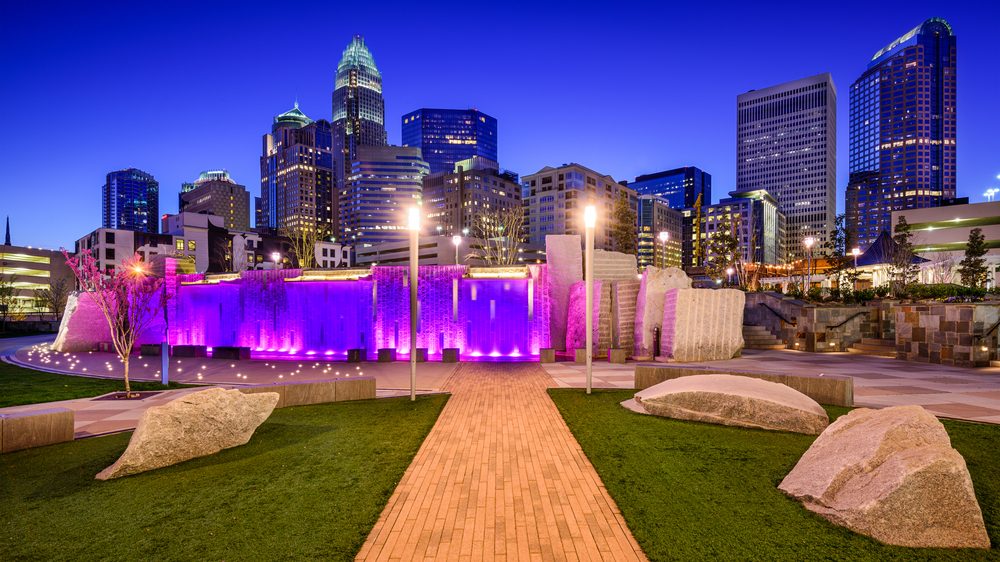 As the current economic cycle continues – as of June 2018, the National Bureau of Economic Research officially has the nation in its 107th month of expansion, the second longest cycle since the mid-1800s – apartment building has steadily ramped up.
In all but one year since 2010, year-over-year development figures have increased at the national level, all the way to nearly 320,000 units in 2017. There is an ever-so-marginal increase in expected supply in 2018 from 2017's total, but the difference of fewer than 4,000 units indicates the nation is currently at a plateau in terms of supply.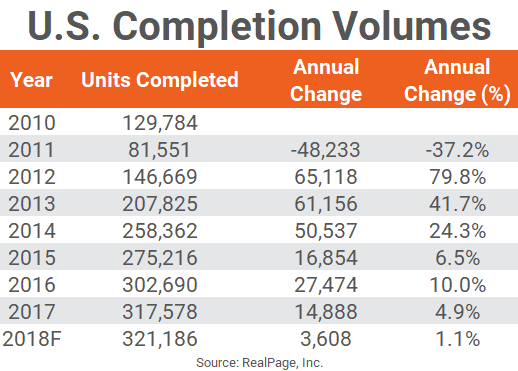 In total, about 1.5 million units have completed in the U.S. during the current cycle. Those units translated to an 11.1% increase in the total apartment stock. In some major markets, however, inventory expansion has been much greater. The top 10 market-level expansion rates landed at 17.3% or higher.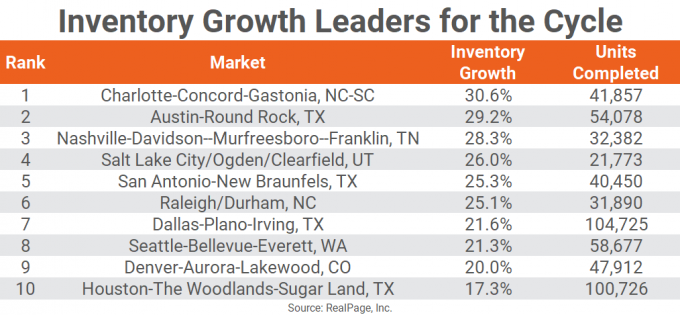 In terms of percent inventory growth, no other market has grown faster in the past eight years than Charlotte. While the total number of units delivered isn't the highest, the market's total inventory growth on a percentage basis – 30.6% – tops all other markets.  While most of Charlotte's submarkets have received substantial new completions since 2010, development has been concentrated in one in particular – Uptown/South End. That central submarket received 10,150 units over the past eight years, about 3,000 more apartments than the submarket had heading into the cycle. The resulting inventory growth rate – about 140% – is among the highest submarket expansion rates nationally.
Next on the inventory growth leader list is the Texas capital. Austin is often cited as one of the nation's fastest-growing metropolitan areas, so it's no surprise that apartment development would follow suit. Over the cycle, inventory there has expanded 29.2%.
In other words, of the nearly 240,000 units in Austin, about one in five was built in the past eight years. Even more staggering is inventory growth since 2000. Austin's inventory has grown 75% since then. To further extend the comparison, the 102,000 units built since 2000 means that about 43% of the market's apartment stock has been built in the past 18 years.
Nashville ranks third on the list, as the market has expanded 26.3% over the course of the cycle. Central Nashville has been especially active, with inventory growth measuring 93% in that submarket during that period.
Salt Lake City, at fourth on the list, may come as a surprise to some, considering the relative lack of attention compared to the preceding three markets. And while the absolute volume of development – just over 20,500 units – is the lowest on our list, the existing base has still grown an impressive 24.5%.
Rounding out the top five is another central Texas city. San Antonio's expansion of nearly 39,000 units has increased inventory 24.4%. The northern and western areas of San Antonio have unquestionably been the fastest growing within the market. The Far Northwest San Antonio submarket has expanded by nearly 8,800 units – inventory growth of 90.2% – while Far North Central San Antonio and Far West San Antonio have grown 63.3% and 60.2%, respectively during that period.
Raleigh, Dallas, Seattle, Denver and Houston comprise the remaining top 10 markets. With the inclusion of Dallas and Houston, four of the nation's top 10 inventory growth leaders are in the Lone Star State. With Raleigh, North Carolina has two.
In contrast, several markets have seen very little inventory growth during this high-development cycle. The 10 lowest-growth markets recorded inventory expansion rates below 6.5%.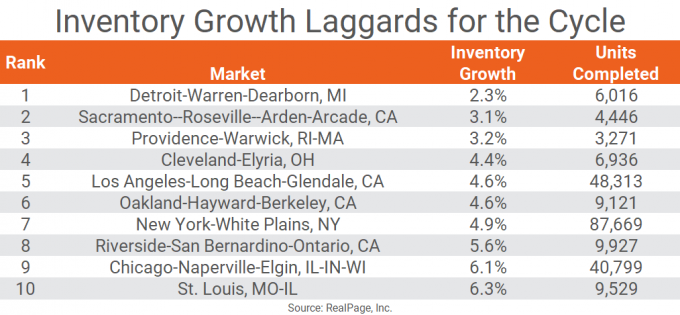 Los Angeles, New York and Chicago land among the lower inventory growth markets. But the relative low percentage is more a function of those three market's sheer size than development activity. That's especially true in New York, which received nearly 85,000 units in the cycle, the nation's third largest completion volume behind Houston and Dallas.
Sacramento and Riverside are two markets where lack of new inventory has helped keep rent growth and occupancy performance strong late into the cycle. Cleveland and St. Louis are two markets that have generally lagged in terms of economic growth this cycle, so lack of development in those markets is not surprising.
Detroit is an intriguing market on this list, given that the metro area is experiencing somewhat of an economic resurgence, ranking among the nation's top 15 in terms of average real gross metro product (RGMP) this cycle. Detroit's apartment performance has responded to the economic growth, with year-over-year rent change averaging 3.7% since 2011, while occupancy has increased from 92.9% in 2010 to 95.9% in mid-2018, a 300 basis point improvement.