Texas Pair Lead for Job Growth as Slowing Continues in New York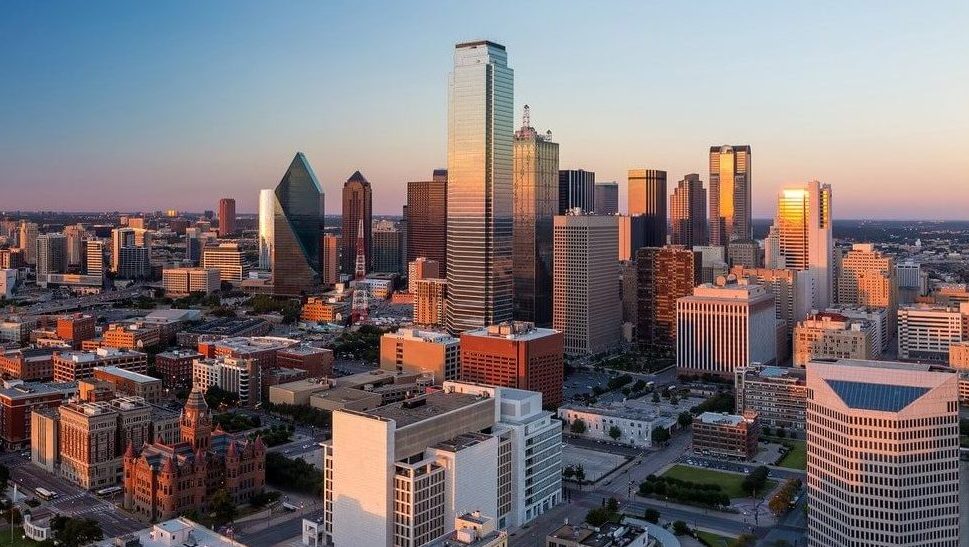 Dallas and Houston remained as the top leaders for job gains in the most recent employment data release as hiring continues to slow in New York.
Dallas added 97,800 jobs for the year-ending November while Houston gained 85,500 jobs, according to the Bureau of Labor Statistics.
Los Angeles landed in the #3 spot by adding 81,900 positions in the past year. Los Angeles saw the most year-over-year gains out of any market, with current job growth coming in 39,900 positions ahead of employment gains from the year-ending November 2018.
New York added 77,300 jobs in the past year, ranking the market as the #4 biggest job gainer nationwide. This is the second month in a row New York has missed out on a top three spot among major U.S. markets, which is where the Big Apple typically resides.
While still relatively healthy, job gains in New York are nearly 13,000 positions below the previous year's gains. Pulling down job growth in New York were deep cuts in the Financial Activities workforce, while jobs were also cut in the Mining, Logging and Construction and the Trade, Transportation and Utilities sectors.
Growing by roughly 50,000 to 60,000 jobs in the past year were Atlanta, Washington, DC, Phoenix and Seattle. Rounding out the top 10 were San Francisco, which moved up in the rankings this month with the gain of 39,600 jobs, and Boston, which replaced Orlando in the #10 spot with 39,000 jobs gained.
Six of the nation's top 10 job growth markets saw more jobs gained in the 12 months ending in November than in the 12-month period ending in October. Upturns were most notable in Los Angeles, New York, Dallas, Washington, DC, Houston, and Atlanta, which created from 2,000 to 20,200 jobs more than what was gained in the year-ending October. The remainder of the markets saw job growth decrease between 1,300 and 1,900 jobs, with the steepest decline hitting Boston.
Total gains of the top 10 national markets combined increased from October, up 9.6% or about 57,000 more jobs added. The 653,100 jobs added in the top 10 markets comprised 29% of the total U.S. employment gain for the year.
Aside from Orlando being bumped to the #11 spot, seven of the next nine in the top 20 spots were returning metros. Philadelphia (at #20) was the only metro returning to its previous spot from last month while Riverside, San Jose, San Antonio, and Tampa remained within one to three spots of their previous rankings. San Diego jumped to the #13 spot in November, up from #19 in October and Denver climbed five spots to #12. Las Vegas and Austin joined the top 20 at #18 and #19, respectively. Chicago tumbled from #13 to #22, after landing in the top 10 as recently as September.
Outside of the top 10 list, the largest improvements in annual job gains occurred in Raleigh/Durham, Jacksonville, Nassau County-Suffolk County, NY, and San Antonio with an average increase of about 19,100 additional jobs gained than the year before.
There were several markets that saw annual job gains slow by at least 10,000 jobs from the previous 12 months. In addition to New York, significant slowing in job gains occurred in Phoenix, Detroit, Chicago, Minneapolis-St. Paul, Pittsburgh, Sacramento, and Nashville. Fifty-eight of the 150 markets on the list gained fewer jobs for the year-ending in November than the preceding 12 months. That's 20 fewer than last month.
Thirteen of RealPage's top 150 markets lost jobs in the year-ending November 2019, five less than last month but one more than last year. Detroit, Pittsburgh and Minneapolis are the only markets of significant size that lost jobs in November.
Dallas was the only major market to make the top 10 list of metro areas for job growth as a percentage of total employment for November 2019. However, other familiar metros in the top growth list were Reno, NV, Wilmington, NC, Myrtle Beach, SC, Fayetteville, AR. and Provo, UT. Other smaller metros to join the top 10 growth list were: Champaign-Urbana, IL, Colorado Springs, and the Florida markets of Naples, Jacksonville, and Palm Bay.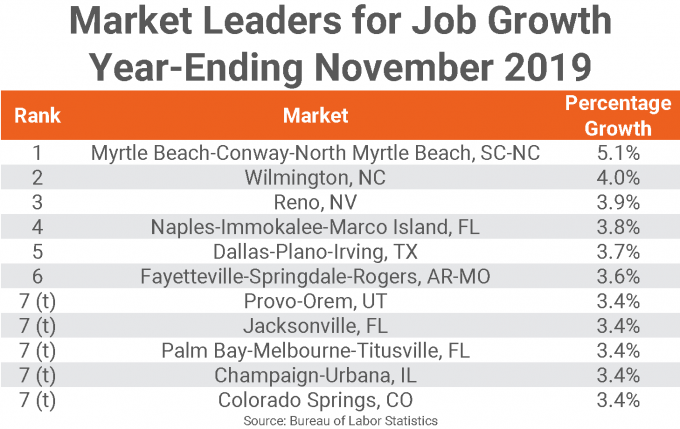 Comparing current annual job growth rates with those from one year ago for the top 10 markets, only Champaign-Urbana, IL went from loss to growth. Looking at the greatest change in growth rates from one year ago for all 150 markets, Champaign-Urbana, IL, Jacksonville, FL, and Wilmington, NC improved by at least 250 basis points (bps). Metros with declining growth rates included: Midland/Odessa, TX (-890 bps), Reno, NV (-290 bps), Charleston-North Charleston, SC (-290 bps), and Davenport, IA (-260 bps). Most of these experienced sharply slowing job growth, with only Davenport turning to job losses in November.